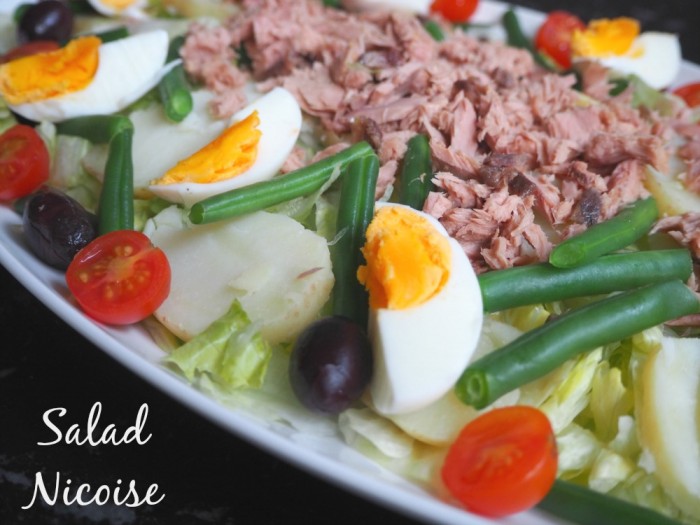 Serves 2 very generously
I love this salad, it's packed with protein, fresh and filling. You can just as easily make this salad in a bowl but I just think it looks showstoppingly (yes, I totally just made up my own adjective) good on a platter. Anchovies are optional but highly recommended because anchovies make everything better!
Ingredients
75 g green beans, topped and tailed
2 eggs
4 medium new pototoes , cooked and sliced
12 cherry tomatoes, halved
1/2 iceberg lettuce, roughly chopped
185g can tuna in  spring water, drained a
10 pitted black olives
2 anchovies (optional)
FOR THE DRESSING
1 tablespoon white wine vinegar
2 tablespoons olive oil
Salt and pepper
How to
Bring a pan of water to the boil, cook the beans for 1 minute in the boiling water.  Lift the beans out with a slotted spoon and refresh under cold running water.
 Turn down the heat, add the eggs to the pan and simmer for 5-6 minutes (or 3-4 minutes if you like your eggs really runny). Meanwhile, slice the green beans.
When the eggs are ready, plunge them  into cold water. When they're cool enough to handle, drain, shell and cut into quarters.
Layer the salad on a platter. Start with the lettuce and top with the potatoes. Place the tuna in the centre of the platter, placing the beans around it. Arrange the olives and tomatoes around the outside of the platter and scatter the anchovies over the top.
Make the dressing and dress the salad. Serve  topped with the egg slices.
Other info
Prep time and Cooking time:  30 minutes