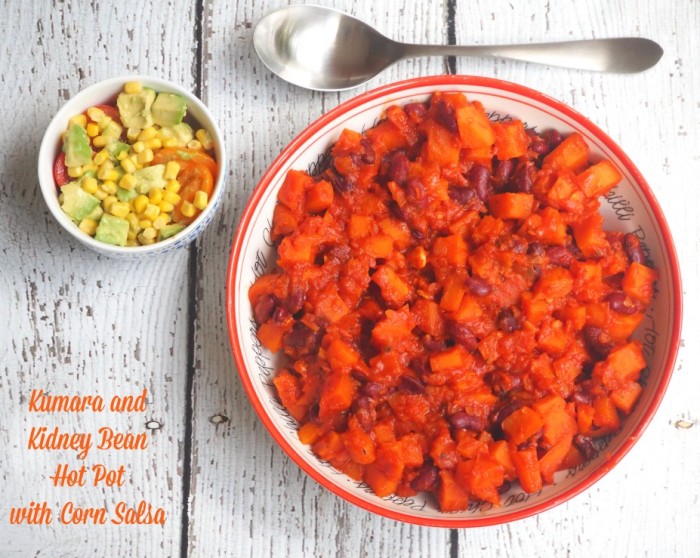 Serves 6
This is a winner dinner and a perfect way to start my Meatless Monday initiative. It's cheap, it's full of flavour and it's easy to prepare. Best of all, it's low GI, low fat and freezer friendly. I love the way the  freshness of the salsa cuts through the heat of the hot pot. A meatless marvel!
Ingredients
1 tablespoon olive oil
1 brown onion, finely chopped
2 garlic cloves, crushed
2 medium (800g) kumara, chopped
1 1/2 cups (390g) tomato passata
400g kidney beans, rinsed and drained
1 tablespoon Mexican seasoning mix
FOR THE CORN SALSA
1 avocado, finely chopped
310g can sweetcorn, drained
100g cherry tomatoes, quartered
2 tablespoons torn mint leaves
1 tablespoon extra virgin olive oil
2 teaspoons lime juice
Steamed rice or tortillas, to serve
How to
Heat olive oil in a large saucepan on  medium. Cook onion, stirring occasionally, for about  5 minutes, until softened slightly. Add garlic and cook, stirring, for about 30 seconds, until fragrant.
Stir in the kumara,  passata and 1 cup of water. Bring to the boil and then reduce heat to low and simmer, covered for 30-35 minutes, until kumara is tender.
Add kidney beans and Mexican seasoning and simmer for about another 5 minutes.
To make corn salsa, combine avocado, sweetcorn, tomato, mint, extra virgin olive oil and lime juice in a bowl and mix gently.
Serve hotpot with corn salsa and steamed rice or tortillas.
Other Info
Preparation Time: 20 minutes   Cooking Time: 35 minutes
TIP! To feed a crowd, serve with corn chips, sour cream and salsa.
TO FREEZE: Make the recipe to the end of step 3. Transfer to an airtight container, cool at room temperature until the steam subsides, cover, chill in fridge, then freeze up to 3 months. Thaw in fridge overnight. To reheat, place in a saucepan on low heat and stir until heated through. Continue recipe from Step 4 to serve.