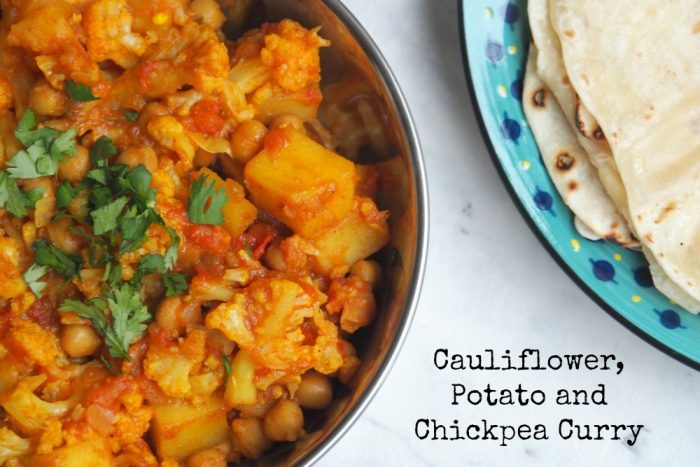 Serves 4, low iodine
I could have totally done with this recipe when I was at university because it won't bust your budget but it will fill your belly full of yum. Incidentally, I had a cooking bible when I was at uni called Grub on a Grant, and I still have it to this day. I never cook with ti, yet I can't bear to part with it. Anyway, I reckon this curry would be right at home in that cookbook.
This curry is a low budget, low iodine but nutrient rich curry. It's full of pantry staples and produced a dish that's nutritious, spicy and very, very nicey. The curry is meant to be dry, but if you like your curry a bit saucier, feel free to add some vegetable stock during cooking to keep your curry on the wetter side.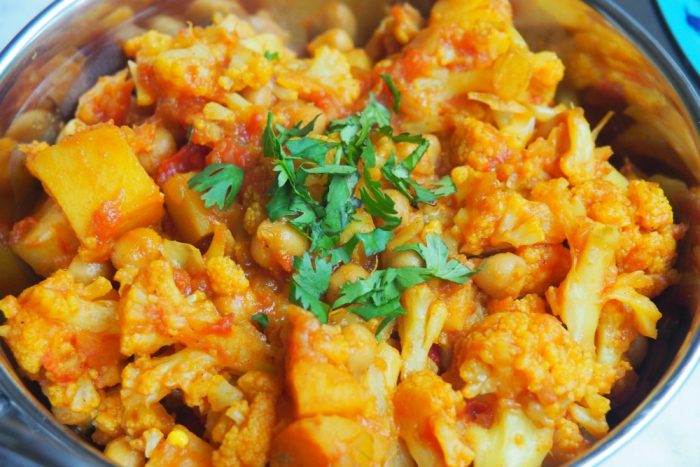 Ingredients
1 tablespoon vegetable oil
1 large onion, chopped
thumb size piece of ginger, grated
3 garlic cloves, finely chopped
½ teaspoon turmeric
1 teaspoon ground cumin
1 long green chilli, deseeded and finely chopped
1 teaspoon curry powder , or to taste (if you're iodine free, check the salt content)
440g can chopped tomatoes (no added salt)
2 potatoes, peeled and cut into 2cm chunks
1 cauliflower, cut into  small florets
1/4 cup vegetable stock (optional – skip if on low iodine diet)
1 x 400g chickpeas
Squeeze of lemon juice
Handful of coriander , roughly chopped, to serve
Rotis and natural yoghurt, to serve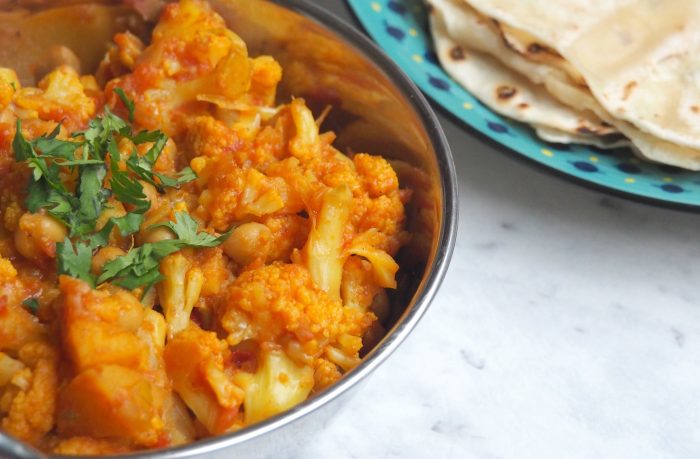 How to
 Heat the oil in a saucepan. Cook the onion for 10 minutes until soft, then add the ginger, garlic, chopped chilli, turmeric, cumin and curry powder. Cook for 1 minute more until fragrant.
Stir in the tomatoes and add the potatoes, add the stock, if using,  and season to taste. Cover with a lid and gently cook for 10 minutes, stirring occasionally.
Then add the cauliflower and cook, covered for a further 30 minutes or until the vegetables are tender.
Add the chickpeas, stir through and heat for 2-3 minutes.
When the vegetables are cooked, stir in a squeeze of lemon juice and scatter with coriander.
Serve with rice. If you're not eating iodine free, push the boat out and serve this with some natural yoghurt and some rotis.
Other info
Preparation Time: 15 minutes    Cooking Time: 40-50 minutes