Hooray! It's Australia Day! This morning, I head down to Darling Harbour in the centre of the city, to join thousands of others, to celebrate Australia Day in the most colourful way possible! It's also Tracey's birthday, so we have twice as many reasons to celebrate. We're so excited to be taking part in the MS Colour Run.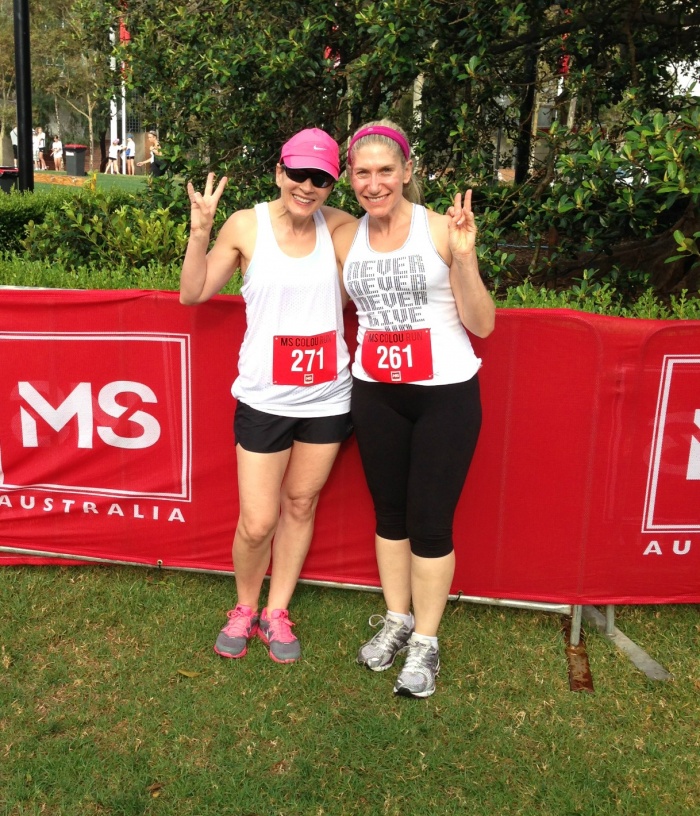 Today we're running to support MS Australia. MS stands for Multiple Sclerosis, a disease of the central nervous system affecting more young adult Australians than any other neurological condition. People are typically diagnosed in their twenties and thirties. Interestingly three times more women are affected by MS than men and it is more common in cooler climates. In Australia, over 20,000 people currently have MS, however this figure is increasing as diagnosis methods become more advanced. It seems that everyone knows someone with MS, so I'm stoked to be able to support such a worthy cause. All the money raised today will be used to fund services and support for the 23,000 Australians who live with this condition.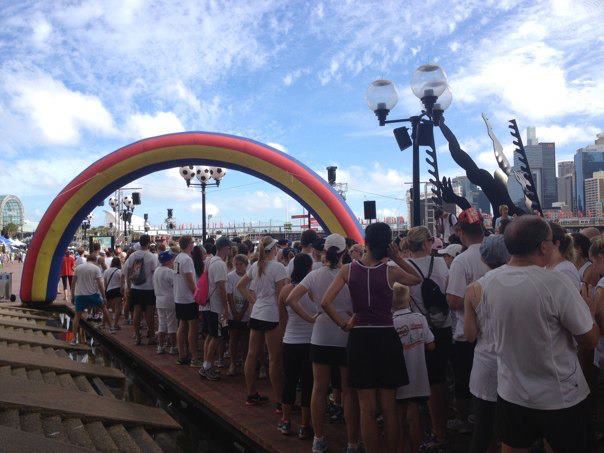 This is my first Colour Run and it's Colour with a capital C. This 5km romp round the harbour is non-competitive, crazy and very, very colourful. Despite the super sizzling conditions, we can't help but run with a  smile on our face and a spring in our step. It's pretty simple – we rock up in a white t-shirt and after passing through five Colour Stations along the course we arrive at the Finish in a VERY colourful t-shirt. Why live life in black and white, when you can live life in colour?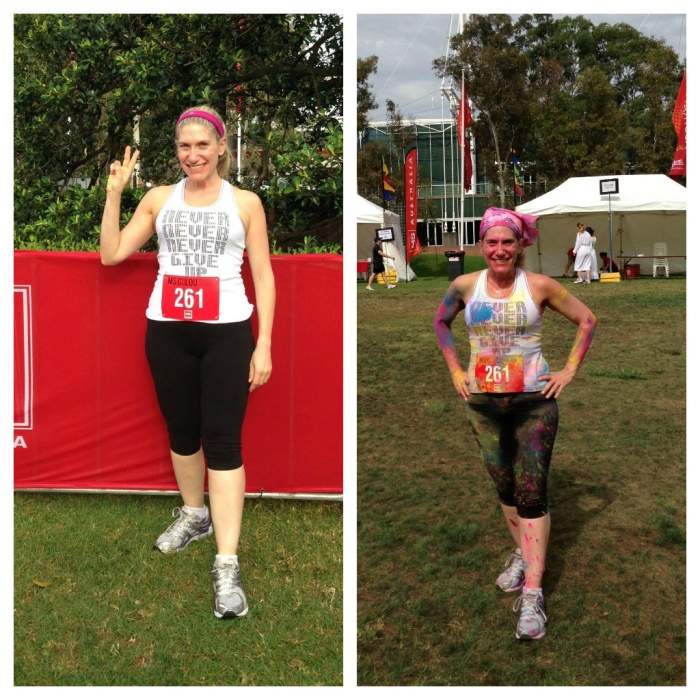 At the Colour Stations the amazing MS volunteers shower us with Rainbow Dust. Each station uses a different colour  – Yellow, Blue, Green, Pink, Purple. It is marvelous, messy and a lot of fun. It's the first time I have ever sweated the colours of  the rainbow!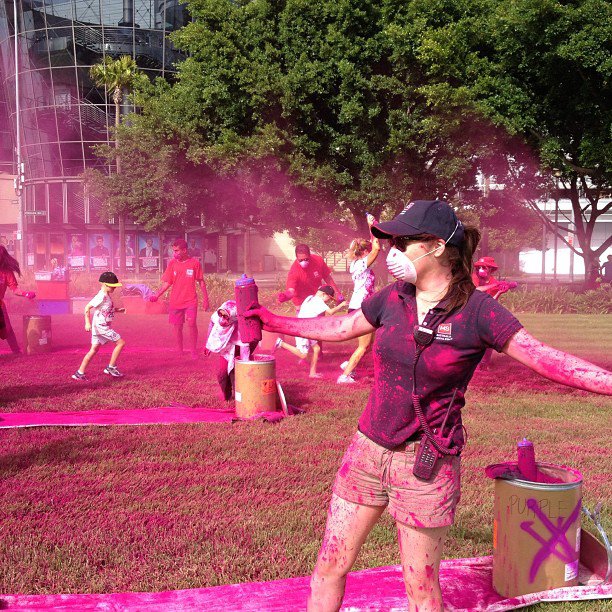 Running in the heat is hard, running with friends is  fun, running for MS is magic and running in colour is cool. What a crazy, colourful morning!  Amazingly we still have enough energy to colour ourselves Australian with some gorgeous green and gold rainbow dust before we head home.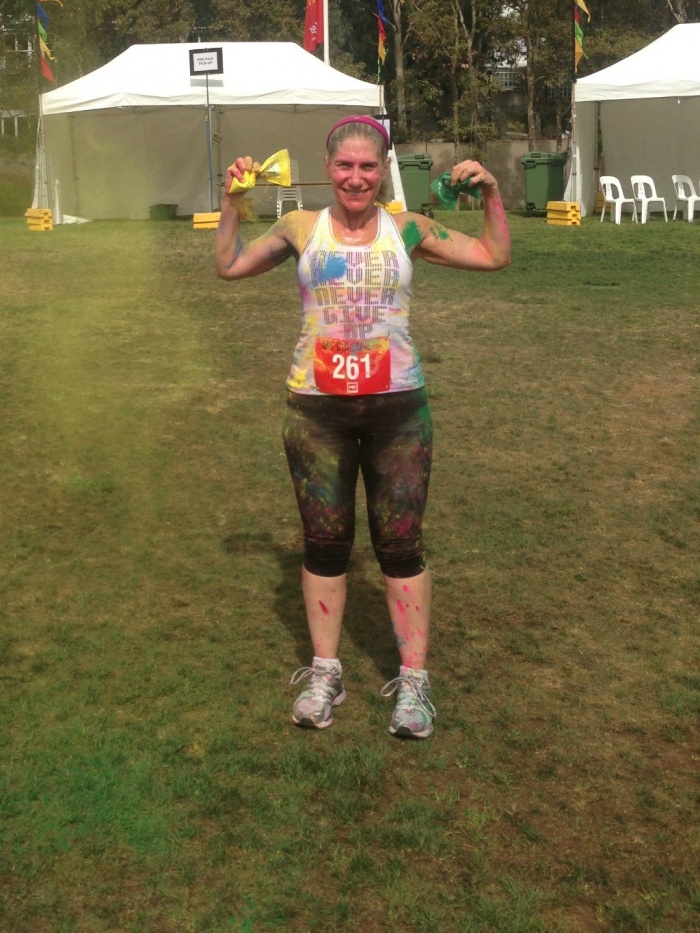 We are quite a sight to behold as we stroll through town. I finally find a way to clear a crowded train carriage! For some reason, no one wants to stand too close to me!
The rainbow dust comes  off my clothes with a whizz round in the washing machine and comes out of my hair with ease. However, my body is still rainbow coloured, despite two showers and vigorous scrubbing. It looks like I'm officially going to be coloured green and gold this Australia Day!
I did the hard yakka with the running but my friends and family haven't been sitting idle. They have dug deep and splashed their cash to sponsor me and help raise funds for people with MS, to the tune of over $200. That's the cherry on the top of my Colour Run cake! The run may be done, but it's not too late or too difficult to donate. Sponsorship is just one click away… just click here.
 Happy Australia Day y'all! Wherever you are today, and whatever you're doing, I hope you have an amazing technicolour day!