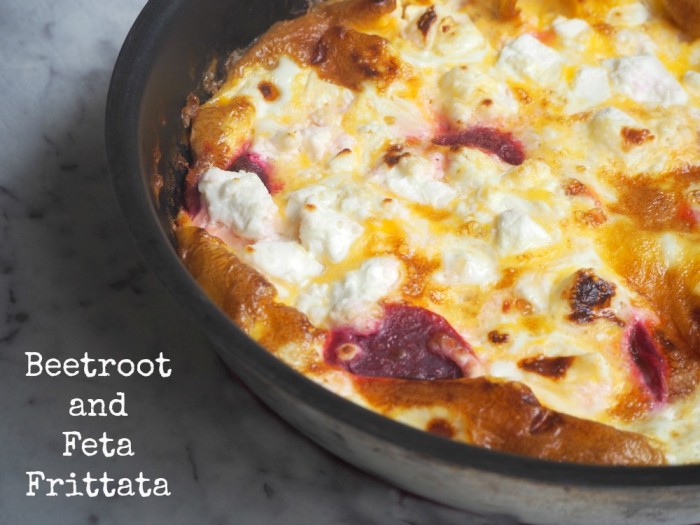 I know beetroot and feta sound a bit wrong, but this fantastic frittata tastes soooo right! It's such a tasty but simple supper to start the week. It's cheap, fast and meat free! This recipe only serves 2 but it's easily doubled, just use a larger pan.
serves 2
Ingredients
1 tablespoon olive oil
1 onion, halved and sliced
225g can sliced beetroot, drained
100g feta cheese, crumbled
4 eggs, lightly beaten
2 cups salad leaves, to serve
How to
Preheat grill on high.
Heat oil in a medium frying pan on medium heat. Cook onion, stirring for about 5 minutes until onion has softened and is golden. Pat beetroot dry with a paper towel.
Arrange beetroot slices over onion. Top with feta.
 Pour the egg over the beetroot, onion and feta  and cook for 2-3 minutes, until set underneath. Place under the grill and cook for 2-3 minutes, until puffed and golden. Serve with salad.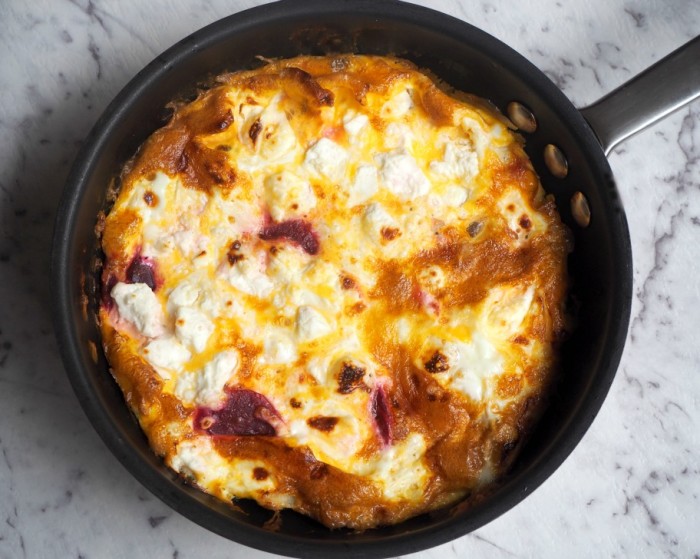 Other info
Prep time: 10 minutes Cooking time: 10 minutes
TIP!  You can replace the feta with fresh ricotta, if you like.
Note: If your frying pan doesn't have a heatproof handle, just wrap the handle in several layers of foil to protect it during the grilling of the frittata. Be careful when removing the pan – the handle with be super hot!