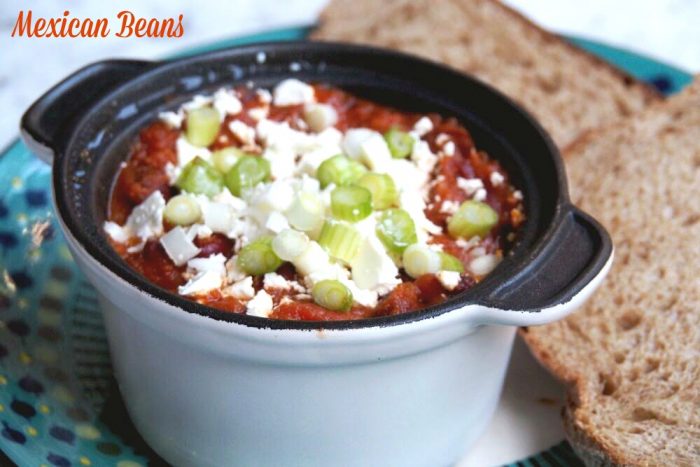 Serves 2-4 (easily doubled)
These beans are hearty and wholesome and they freeze fabulously, so cook a batch for tonight and freeze one for later! They're more smoky and sweet than spicy hot so they're sure to make friends with the whole family. If you like your  food red hot, top with some chopped fresh chilli or some jalapenos!
I've recently updated this recipe with some tasty tweaks and a Thermomix conversion which means these beans just got better. Serve them on toast, with a baked potato, tortillas or rice. However, you serve them, they're a treat to eat!
Ingredients
1 tablespoons olive oil
1 large onions,
2 cloves of garlic
2 teaspoons smoky paprika
2 teaspoons ground cumin
1 tablespoon apple cider vinegar
2 teaspoons brown sugar
1 x 400g tin tomatoes
1 x 400g tin kidney beans
2 spring onions, sliced, to serve
Crumbled feta, to serve
How to – Traditional
Chop onion and crush garlic. Heat the oil in a large saucepan on medium-low. Add the onion and garlic and cook, stirring, for 5 minutes, until softened.
Stir in the dry spices and cook, stirring, for about 30 seconds or until fragrant. Stir in vinegar, sugar and tomato. Simmer, uncovered, for 10 minutes, until thickened slightly.
Add the beans and simmer, uncovered, stirring occasionally, for 10 minutes, until heated through.
 Sprinkle with onion and feta to serve.
How to – Thermomix
Add garlic, onion and oil to TM bowl and chop for 5 seconds  on speed 7. 
Scrape down sides of bowl and saute for 5 minutes on Varoma  on speed 1.
Add the cumin and paprika and saute for a further 1 minute  on  Varoma  on speed 1.
Season well and add all the other ingredients and cook for 17 minutes at  100C  on reverse + speed soft.
 Sprinkle with onion and feta to serve.
Other info
Prep Time: 15 minutes    Cooking time: 30 minutes
These beans are freezer friendly, simply cool at room temperature until the steam subsides, chill in the fridge until cold and then freeze. Beans can be frozen for up to 3 months and are best frozen on the day they are made.