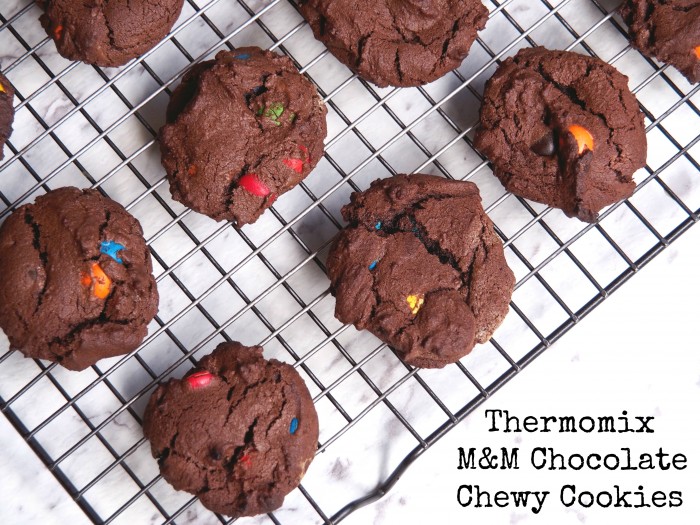 Makes about 24 cookies
These cookies are chocolatey, chewy and super colourful and you can whip them up in the thermie in less time than it takes you to go to the shops.
If you use peanut M&Ms, your cookies will have a real crunch, but if like me, you can't decided on which candy to use, you can hedge your bets and use a bag of M&M Mix Ups!
Ingredients
125g butter, softened
1 teaspoon vanilla extract
250g brown sugar
1 egg
150g plain flour
35g self-raising flour
1/2 teaspoon bicarbonate of soda
35g cocoa powder
110g  M&Ms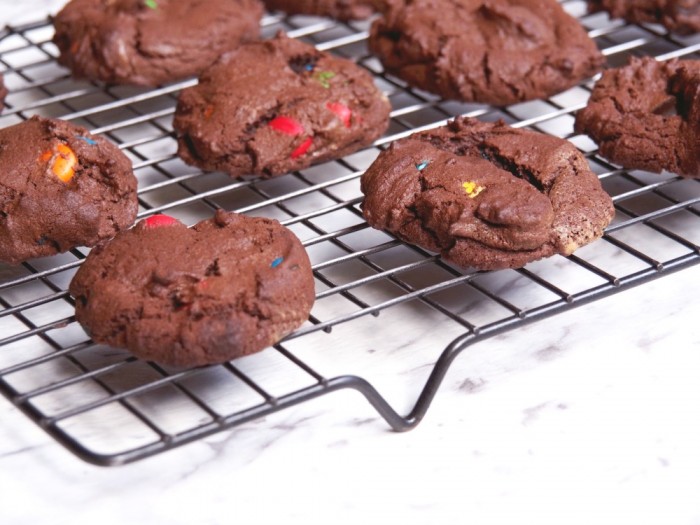 How to
Heat oven to 180C/160C fan-forced. Line two baking trays with baking paper.
Add the butter, extract, sugar and egg to TM bowl and mix on speed 6  for  30 seconds. Scrape bowl and lid.
 Add the flours, cocoa and bicarbonate of soda . Set the dial to the closed lid position  and mix for 40 seconds  on interval speed.
Add the M&Ms. Mix for 2o seconds on reverse and speed 2.
Place level tablespoons of mixture onto the trays – you'll get about 24 out of this mix. Make sure they are really well spaced (about 5cm) as the cookies spread as they bake.
Bake for about 10 minutes. Cool on the baking trays for 5 minutes, then lift onto racks and leave to cool completely. 
Other info
Preparation  Time: 5 minutes  Cooking time:  10 minutes
TIP! Try adding a variety of M&Ms or some chocolate melts for a chunkier and more chocolatey cookie!