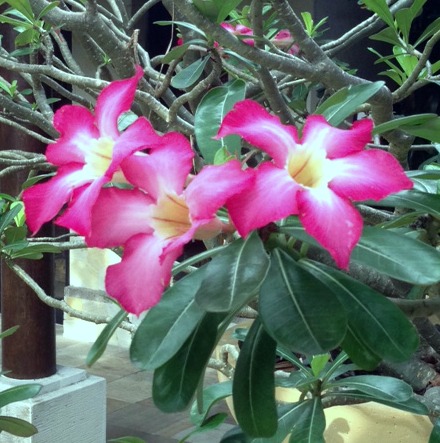 Ever since my first Cancer diagnosis we had promised ourselves a romantic getaway to get over the trauma. But, by the time we had time to go on holiday I'd gotten Cancer again and the subsequent battery of tests and treatment took their toll; financially, emotionally, physically and in terms of time. But things settled down, we got back into the grind and although a holiday was still the top of the list of things to do, somehow life just got in the way. It must be true what they say about time flying by when you're having fun because the last 2 years have flown by faster than the speed of light!
We really wanted to try and get away for our sixth wedding anniversary last month but that wasn't to be, so we finally secured a spot for the first week in March. After the deal was signed, sealed and delivered I realised that it's two years to the day since I got my first Cancer diagnosis. Spooky. But in a good way.
A lot has happened in the last two years and although it isn't all exactly how I would have planned, we've learnt a lot and lived a lot, and what a ride it's been! A lot has happened since the last time we came to Bali too, way back in 2005, when we embarked on our first love getaway together. The heady days of young love and wrinkle free skin! It's only taken us eight years to get back to this island paradise!
I loved Bali in 2005 and I love it even more now. The Balinese people radiate inner peace and happiness. The whole place feels calm and peaceful, I feel like I'm on the set of Eat, Pray, Love. Man, I love that movie!
We seriously splashed out on the hotel, with an uber luxurious upgrade to a suite that's as big as our apartment. In fact I take that back, it's bigger than our apartment! There's also a beautiful kid free pool, surrounded by bales (kind of like a sunbed with a gazebo,) a restaurant where they serve the best breakfasts and high tea, and a lounge with a cocktail menu as long as your arm. All I have to think about is eating, sleeping and what time I need to go to the gym. I sleep like a baby, eat like a pig and run like the wind. It's perfect.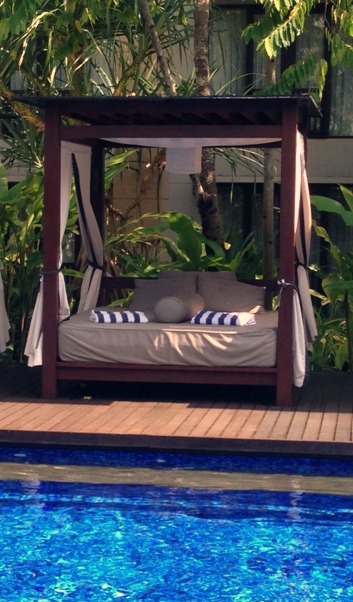 My mind is so still. Everything is quiet and peaceful, inside and out. My batteries are really recharged. The change of scenery is refreshing – it provides an opportunity to look at things with a fresh perspective. It's a time for reflection, to regroup and to realise how truly blessed I am. I am happy, I am healthy and I am here.
It seems a bit crazy that I have travelled 4615 km to find inner peace and calm. I wonder why I don't feel like this at home but then I remember that sometimes life just gets in the way. But that's okay. It's my life and I am lucky to have it.
If you could go anywhere in the world to recharge your batteries, where would you go?