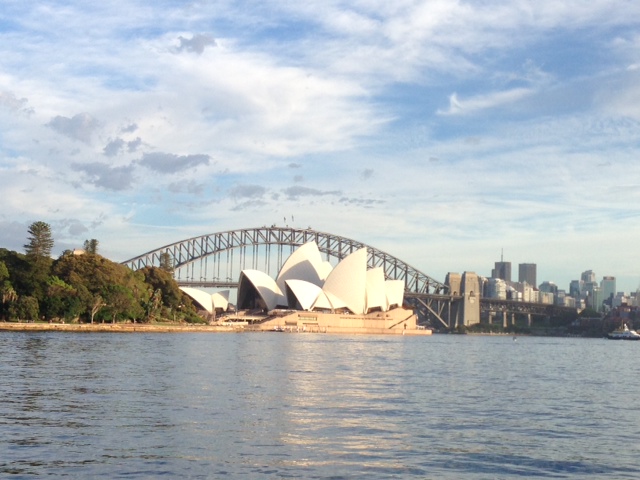 I can't say I love getting up early in the mornings, I just do. Early rising is rather a pleasurable habit to have in the land of Oz where the sun shines so much, it's  quite a treat to get up, out and make the most of the day. Having said that, I've been feeling so pooped lately, waking up whatever the hour, is just sooo hard to do.
However, I have an apartment to pack, a life to live and a half marathon to run… in Canberra, in 3 weeks! Sleeping is just not an option. My body is my alarm clock au naturel and it has me up and out of the house before the sun!  I can't say I'm willing or able as I set off, but I soon find my happy pace.
The sun rises, my music is motivating, the scenery is stunning and I'm having fun on my run. I'm not the only bird catching the worm this morning. There are so many bodies bustling about making the most of the day, some at work and some at play. There are the people with pooches, the builders a-building, the holidaymakers holidaying (it's cruise season and the harbour is home to another big ship,) the tourists sightseeing in the sunshine and runners running rings round the town.
It's bustling but in a easy-early-morning kind of way before anyone has a chance to get too stressed, too busy, too hot or to have their feathers too ruffled. I'm loving it and my endorphins are wild and free. I manage to clock up a tidy 15km which is a neat little notch on my  half marathon yard post. It also sets me up for my Saturday really rather nicely. Now I'm ready to seize the day! Good Morning, world!
What about you? Are you a Morning Person or a Night Person?