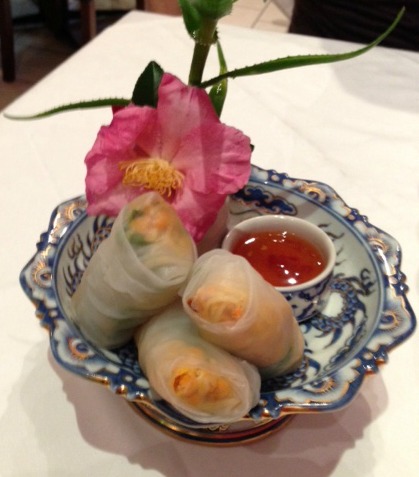 The novelty of packing boxes has worn off and it's safe to say  I wouldn't be sad if I never looked another brown box again. Packing is hard and hungry work. It's also pretty tiring. When I'm tired, I'm edibly dangerous. I usually eat anything and everything in my path in  an attempt to refuel and recharge, whether I'm hungry or not, whether it's healthy or not! Of course, it doesn't give me any extra energy, it just feeds my anxiety!
That said, I've been making an extra special effort to plan ahead so at least mealtimes can be homemade and healthy. By the end of last week however, energy levels and patience were at an all time low, and we decided to go out to eat. We hadn't been out for what seemed like forever and as much as I love making a mess, I really rather relished a night out of the kitchen.
I love the fact that the hardest thing about eating out is choosing what to eat. But on this occasion I wasn't even menu-ly challenged as we went to our local Thai, where we've eaten so many times, I think I know the menu off by heart! So the second hardest thing was sitting and waiting. I was starving, Marvin! The best bit of course,  was that the food was as pretty as a picture (see above,) and  there was no washing up! All I had to do at the end, was roll home and stretch out on the sofa! Bliss.
However, the worst bit was that I spent most of the meal thinking how I could have made food equally delicious, if not moreso, at home for a fraction of the price and a whole lot more healthy. It was all a bit MSG-y (I think I've just discovered a new adjective,) it just didn't taste like home.
Maybe it's my age, maybe it's my tastebuds or maybe I'm just a penny pincher, but I'm starting to feel that eating out isn't all that it's cracked up to be. Sure it's easy but it's not always best. When it comes to dinner, there's no place like home! Home cooked meals are invariably healthier (at least at our place,) cheaper, made with love, can be eaten in pyjamas and there's always the option for seconds or leftovers for lunch the next day . I've said it before and I'll say it again, eating in is the new eating out! Do you agree?
What's your all time winner dinner? Is it a home cooked delight or a restaurant dish?