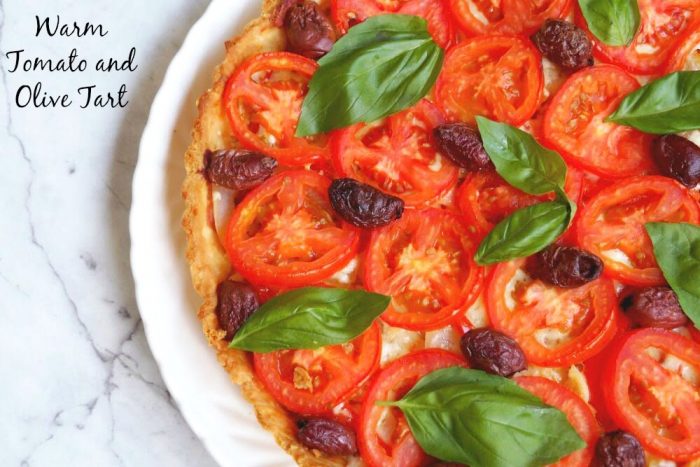 Serves 4
This fabulous flan takes Meatless Mondays to a whole new level. The fancy shmancy level! It looks as pretty as a picture, and tastes wonderful too, yet it's ridiculously simple to prepare. Make this and your Monday will be both meatless and marvellous!
If you're tight for time, you can use ready made pastry sheets but if you have the time, you should totally make your own, it's easy! Because in this house we always ask for more cheese, please, I like to whip up a batch of the cheesy shortcrust in this recipe.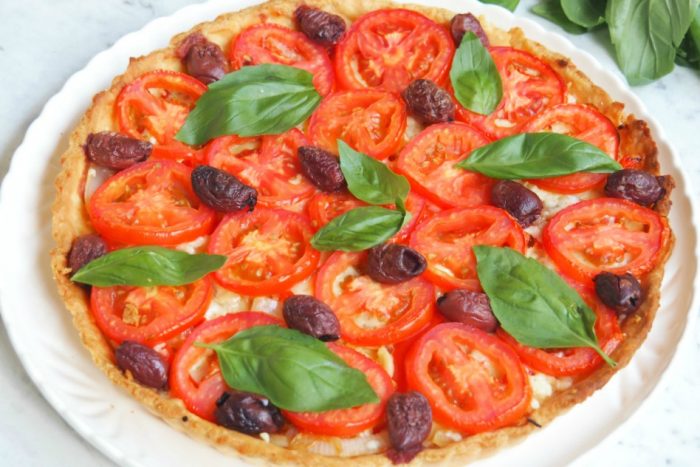 Ingredients
2 sheets frozen shortcrust pastry, thawed
1 tablespoon olive oil
1 red capsicum, cut into thin strips
1 brown onion, halved and sliced
2 tablespoons Dijon mustard
1 cup (125g) cheddar cheese, grated
3 vine tomatoes, sliced
1/4 cup (60g)  pitted black olives
a handful of  basil leaves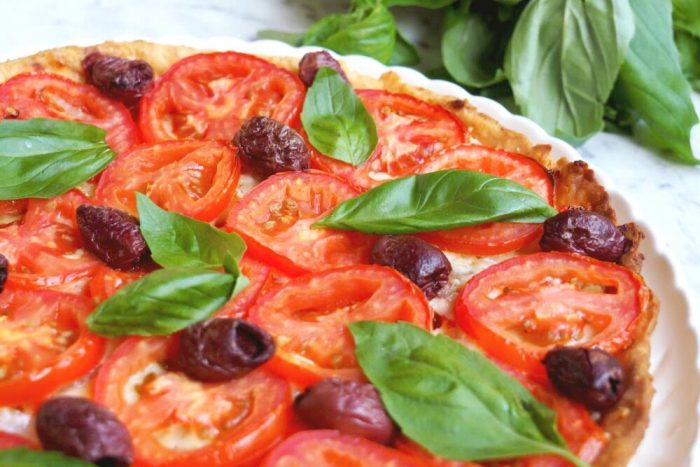 How to
Preheat oven to 190C/170C fan-forced. Cut one of the sheets of pastry lengthways into four. Join the pieces to the other pastry sheet to make one big square. Carefully ease the pastry into a 23cm loose bottomed flan pan, gently pressing around the edges. Trim the excess pastry.
Cover with baking paper  and fill with baking weights or dried  beans. Blind bake for 10 minutes or until the edges are starting to colour. Remove the paper and weights and bake for another 5  minutes until the base is just golden.
Meanwhile, heat the olive oil in a frying pan on medium heat. Cook the capsicum and onion for about 10 minutes, until softened. Season well.
 Spread the mustard over the tart base. Top with the capsicum/onion mixture and then the cheese. Top with the tomatoes and olives.  Bake for  about 12-15 minutes, until the tomatoes are tender. Scatter over the basil leaves.
Slice the tart into wedges and serve with a simple salad.
Other info
Prep time: 10 minutes   Cooking Time: 30 minutes
TIP!
You can use almost any type of cheese like cheddar, swiss cheese or even feta in this recipe.