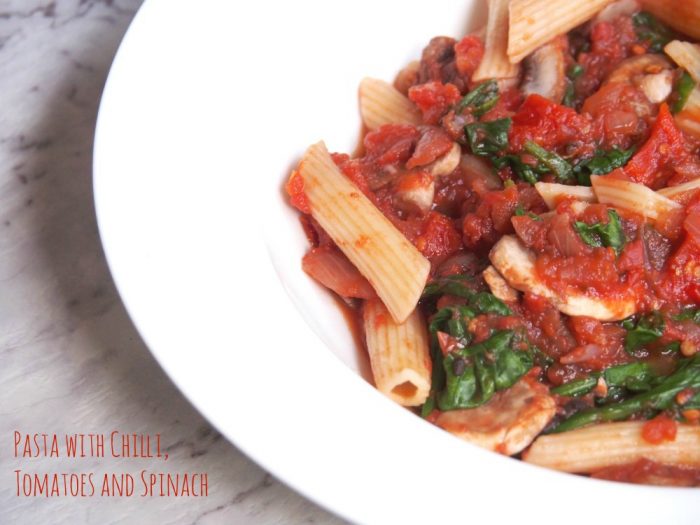 Serves 2
When I lived in London and was teaching, I went through a phase where I had tuna pasta every single night. This was partly because it was so delicious but mostly because it was quick, cheap and easy #teacherlyf
I like to think that this is the modern, vegetarian and new improved twist on that humble dinner dish, because this too is quick, cheap and easy.  I love that almost all of the ingredients are pantry staples although the mushrooms and spinach bring some value added extra vitamins to the party.
Have you ever eaten a meal on repeat?
Ingredients
2 teaspoons olive oil
1 onion, finely chopped
2 garlic cloves, crushed
½ teaspoon dried chilli flakes
200g large pasta shapes, for example, rigatoni or penne
400g can chopped tomatoes (no added salt)
1 tablespoon tomato paste
150g mushrooms, sliced
100ml red wine
½ teaspoon dried oregano
50g sundried tomatoes
125g bag baby spinach leaves
25g grated cheese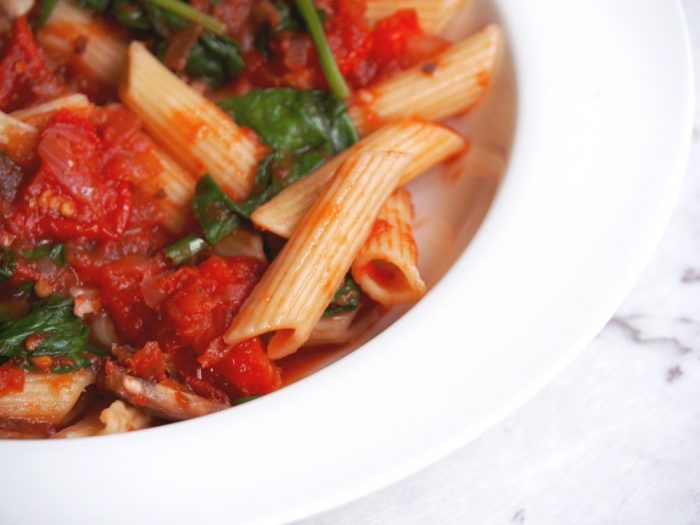 How to
Heat the oil in a non-stick frying pan and gently fry the onion, garlic and chilli flakes, stirring regularly, for about 5 minutes – just add a little water if they begin to stick.
Cook pasta following pack instructions. Add the tomatoes, wine, tomato paste, mushrooms, sundried tomatoes and oregano (and sundried tomatoes) to the frying pan and stir to combine. Season well with black pepper. Bring to a gentle simmer and cook, stirring occasionally, for 10 minutes.
Add the spinach to the pan and cook for 1-2 minutes until wilted. Drain the pasta and tip into the pan with the sauce. Toss to combine,  and serve.
Sprinkle the pasta and sauce with some grated cheese.
Other info
Prep Time: 10 minutes  Cooking Time:  20 minutes