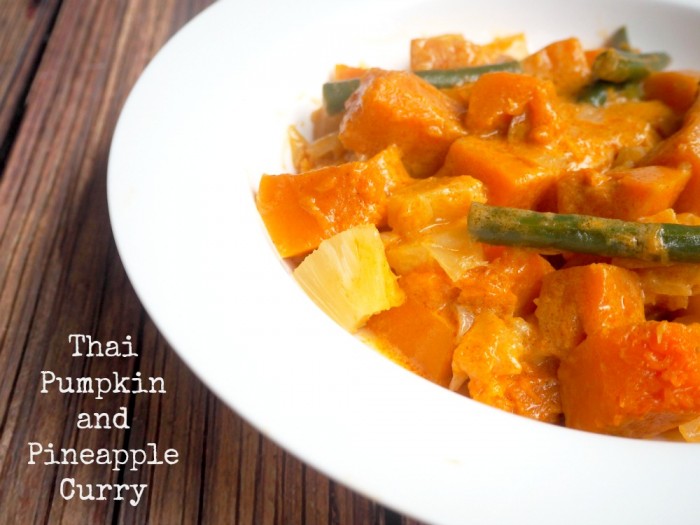 Serves 4
I know pumpkin and pineapple might sound so wrong, but trust me, it tastes so right! This curry is vegan, dairy free and packed full of flavour. I love that so many of the ingredients are always in the pantry so this makes a great standby supper! 
Ingredients
1 tablespoon coconut  oil
1 onion, chopped
4 teaspoons Thai red curry paste
500g pumpkin, peeled, seeded and chopped into chunks
200ml vegetable stock
200ml coconut milk
150g  green beans, trimmed
small can pineapple chunks in juice, drained
chopped corinader leaves, to garnish (optional)
How to
1. Heat the oil in a wok or pan. Fry the onions for about 5 minutes until softened.
2. Stir in the red curry paste, then add the pumpkin, coconut milk and stock. Simmer for about 25-30 minutes until the pumpkin is tender. Add the green beans ten minutes into cooking.
3. Stir in the pineapple, at the end of cooking just for a few minutes until the pineapple is heated through.
4. Sprinkle with the coriander leaves (if using) and serve the curry in bowls with some steamed rice on the side.