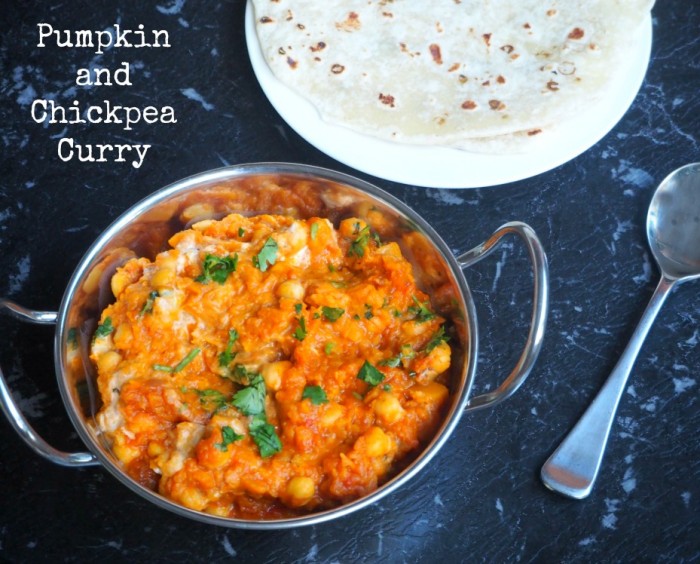 Serves 4
This veggie curry is cheap, easy, super healthy and freezer friendly! I love stuffing this in the slow cooker but sometimes I need my  curry in a hurry, so I've converted it to the Thermomix too. However, you cook it, you're gonna love it!
Ingredients
1 tablespoon olive oil
600-800g pumpkin diced into 2cm cubes
1 red onion, diced
2 tablespoons mild curry paste (I like korma)
400g can chopped tomatoes
400g can chickpeas , rinsed and drained
small handful coriander , chopped
3 tablespoons Greek style yoghurt
Rotis to serve
How to – Slow Cooker
Heat the slow cooker if necessary.  Mix the oil, onion and curry paste in the slow cooker pot, throw in the squash/pumpkin and give it a good stir, then add the tomatoes and chickpeas. Cover and cook on LOW for 6-8 hours until the pumpkin is tender.
Turn off the heat and stir through the yoghurt and coriander. Serve with the rice and some rotis, if you like.
How to – Thermomix
Chop onion for 2 seconds  on speed 7.
Add oil and curry paste and saute for 3 minutes on Varoma temperature on speed 1. 
Add pumpkin and chopped tomatoes and cook for 15 minutes on Varoma temperature on reverse speed soft. Remove the MC and place the steamer basket over the hole in the lid.
Add the chickpeas and cook for 5 minutes at 100 degrees on reverse speed soft.
Transfer to thermoserver. Stir through the yoghurt and coriander just before serving. Serve with  rotis.
TIP!
If you're using the slow cooker, make double and stash some in the freezer!