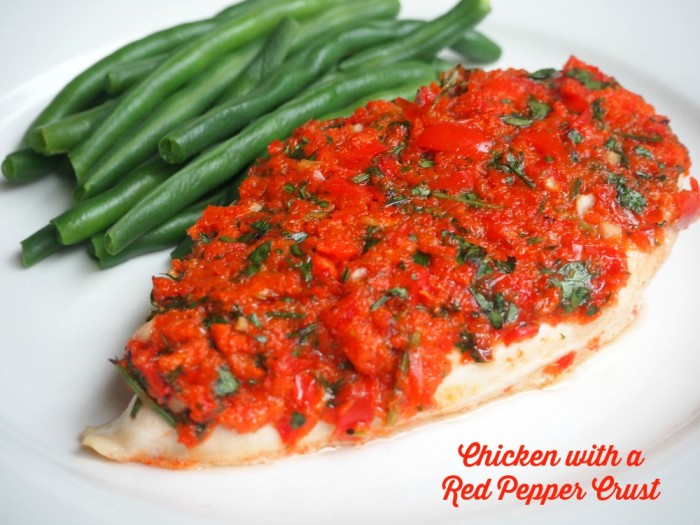 Serves 2
This chicken dish ticks all the boxes;  it's fresh, healthy, low fat and  low iodine! We tried this in a low iodine phase but we loved it so much, it's become a family favourite! We love that it's easy enough for a midweek supper but elegant enough for entertaining too!
Ingredients
2 skinless chicken breasts (about 150g each)
1 small red capsicum, seeded
2 garlic cloves
Large handful of fresh parsley
1 tablespoon olive oil
Pinch of chilli flakes (optional)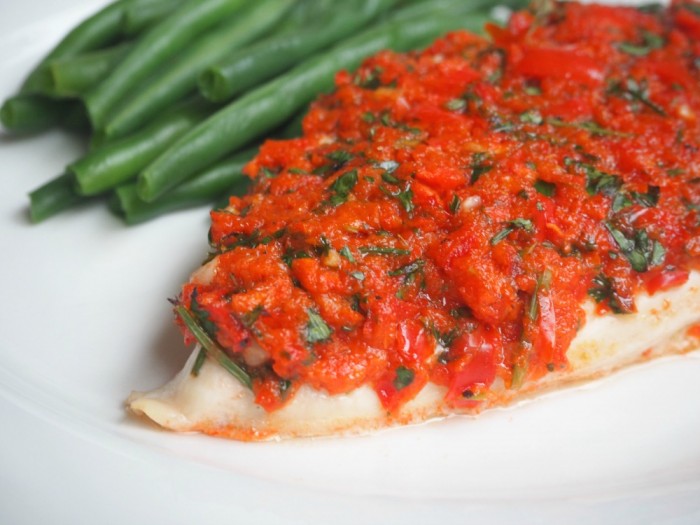 How to
Preheat oven to 200 C / 180C fan-forced. Put the chicken in a shallow ovenproof dish and season.
Roughly chop the capscium and chop the garlic. Put in a food processor with the parsley and pulse a couple of times until coarsely chopped OR put capsicum, garlic and parsley in Thermomix   and chop for 2-3 seconds on speed 7.  Stir through the olive oil and season with black pepper. Spread the crust over the chicken breasts.
Spoon two tablespoons of water into the base of the dish and roast the chicken breasts uncovered, for about 20-25 minutes.
Serve with pasta, couscous, baby new potatoes and/or green veggies/salad.
 Other info
Prep time: 10 minutes   Cooking time: 20 minutes
TIP! If you're eating low iodine, just use pepper to season. Sprinkle some chilli flakes or add some fresh chilli at stage 2 for an extra kick.
If you're not eating low iodine, salt away and sprinkle some grated parmesan cheese on the breasts for a cheesy crust.