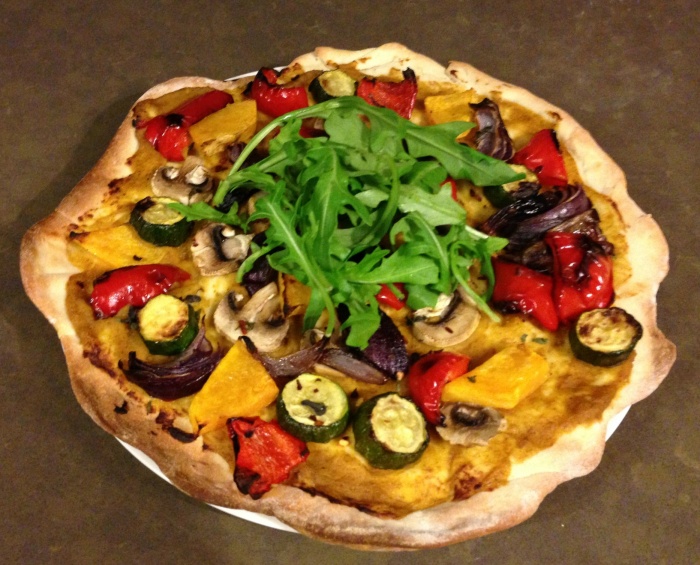 Serves 1-2  low iodine
Pizza without cheese? Yes, please! These days, I prefer my pizza cheese-less, although I sometimes find a sprinkling of feta or ricotta a bit too hard to resist. Making a home made pizza is immensely satisfying, insanely delicious and a fraction of the price of a shop bought one. It's a good way for everyone to get their hands dirty! This one is just perfect for the low iodine diet! 
Ingredients
1 portion of pizza dough (I make mine in the Thermomix and use some kosher salt)
Tomato paste (no salt added) or home made pizza sauce (see TIP below)
1 red capsicum, roughly chopped
1 zucchini, thickly sliced
150g pumpkin, roughly chopped
1/2 red onion, cut into wedges
2 teaspoons garlic infused olive oil
3 button mushrooms, thinly sliced
Chopped fresh herbs of choice (I like basil and oregano)
Pinch of chilli flakes (optional)
Handful of rocket leaves
How to.
Preheat the oven to 220C /200C fan-forced. Mix the pumpkin, capsicum, zucchini and onion on a baking tray and toss in the oil. Roast for 15 minutes and then give them a stir. Roast for 10 minutes more, until they just start to brown. Set aside.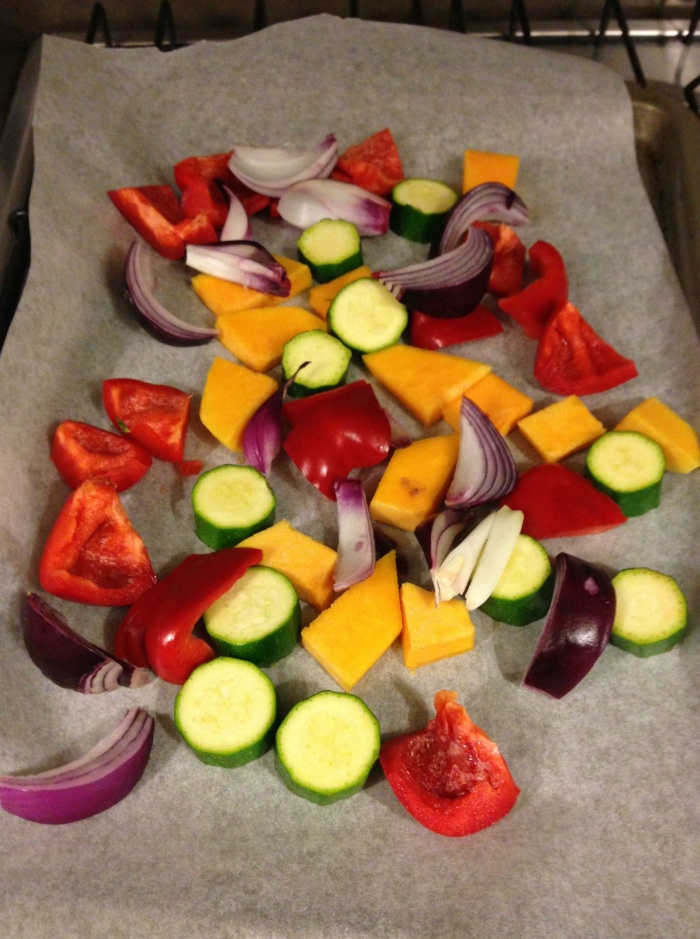 When your dough is ready, roll it out to fit your preferred baking tray. I like to use pizza trays, but you can use a pizza stone or a regular rectangular baking sheet. Cook the base for about 8-10 minutes until it just starts to look "dry."
Cover the base with tomato paste or pizza sauce and scatter over the roasted vegetables, the mushrooms and the fresh herbs. Sprinkle over chilli flakes if using. Season well with black pepper. Bake for another 1o minutes or until cooked.
Garnish with a handful of rocket leaves in the centre. Eat and enjoy!
Other info
Preparation Time: 10 minutes (+ pizza dough)  Cooking Time: 45 minutes
TIP! I make my own pizza sauce in the Thermomix  using fresh tomatoes and other veggies, which is why it's vegetable colour and not really red! Tomato paste without salt works just as well.
If you're not on a low iodine diet, feel free to add some crumbled feta at stage 3. This recipe is really versatile – use your favourite veggies or whatever you have left in the fridge!