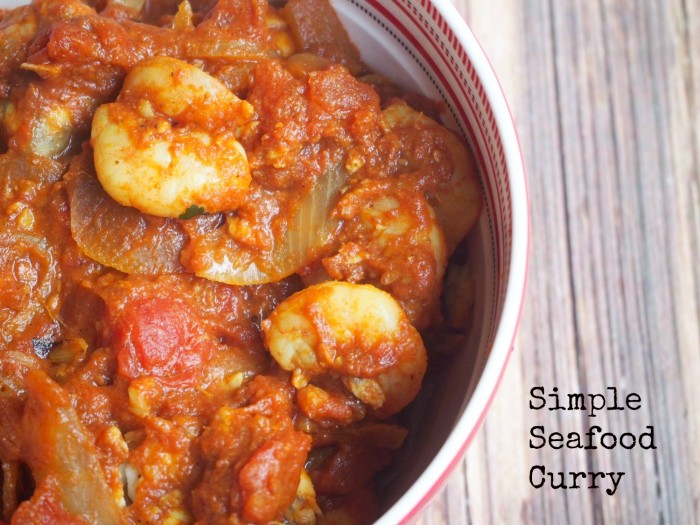 Serves 4
I ripped this out of a newspaper – although I have no idea which one because it was like, forever ago. I dumped it in my recipe file, made it once and had it on the Love-It list for a very long time! Let me tell you, this is the seafood stuff that low iodine fantasies are made of. This will go down in history is probably the simplest seafood curry ever made. Incidentally, it was  also the first meal that I served to guests in my new home, and they loved it as much as me!
Ingredients
Olive oil for frying
1 onion, finely sliced
2 cm piece fresh ginger, finely chopped
2 cloves garlic, crushed
4 tablespoons Madras curry paste
pinch of chilli powder
2 x 400g cans chopped tomatoes
450g white fish fillets, cut into chunks (I use barramundi)
Handful uncooked prawns, shelled and de-veined
Small handful of corinader leaves to garnish
Rotis  and steamed rice, to serve
Lime wedges, to serve (optional)
How to
1. Fry the onion, garlic and ginger in a large pan with a little oil until softened. Then add the curry paste and cook for about 2 minutes, until fragrant.
2. Stir in the tomatoes and simmer for 10 minutes until reduced slightly.  Add the fish and prawns and gently simmer for about 3-4 minutes until the seafood is cooked through.
3. Scatter with coriander and serve with rotis, steamed rice and lime wedges, if desired.
Other info
Prep and Cooking time: 25-30 minutes
TIP! Madras ranks pretty high on the hot-o-meter so if you like your curries on the milder side you might prefer Balti paste instead.