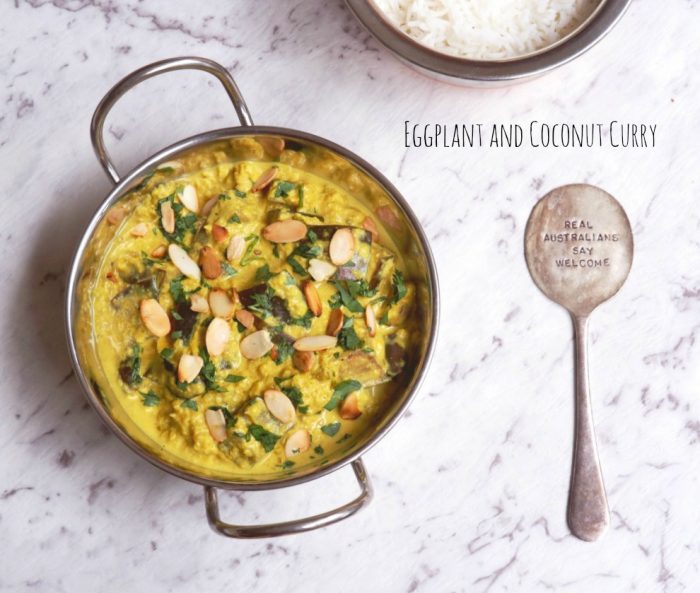 Serves 2 (low iodine)
This recipe got a long overdue makeover. The previous pics were worse than fugly and didn't do this delicious dish justice. I've also tweaked the recipe slightly so it's yummier than ever. This dish is quick, easy and full of flavour, and if you're eating on that pesky low iodine diet, this is about as flavoursome as it gets! The turmeric gives the dish it's lovely colour, so golden and vibrant but don't miss the toasted almonds and the chopped corinader on top which bring some value added crunch and freshness to the party.
I recently took this dish for lunch at the Asylum Seekers Centre, where it was very well received, let me tell you! This curry has the perfect balance of the creaminess of the coconut and the heat of the chillies, but if you don't think spicy is nicey, just use one chilli or skip it altogether. Talking of the Asylum Seekers Centre, I'm so lucky to team up with some really lovely ladies to make and serve lunch once a month, in fact one of them, Lorraine, gifted me that fabulous spoon. Best!
The thing is, I don't eat eggplant a lot at home because it's David's food nemesis and I have neither the time or the patience to cook separate dinners. However, when David goes out for the night, it's eggplant delight at our place. I just can't get enough of them. The irony is that David loves Baba Ganoush which is eggplant plus but he maintains that because it's smashed and pureed within an inch of it's life, it doesn't count as eggplant. Well, that's his theory and he's sticking to it!
So tell me, do you have a food nemesis? Is there a food that you'll eat cooked or raw, but not both? Are you on Team Eggplant too?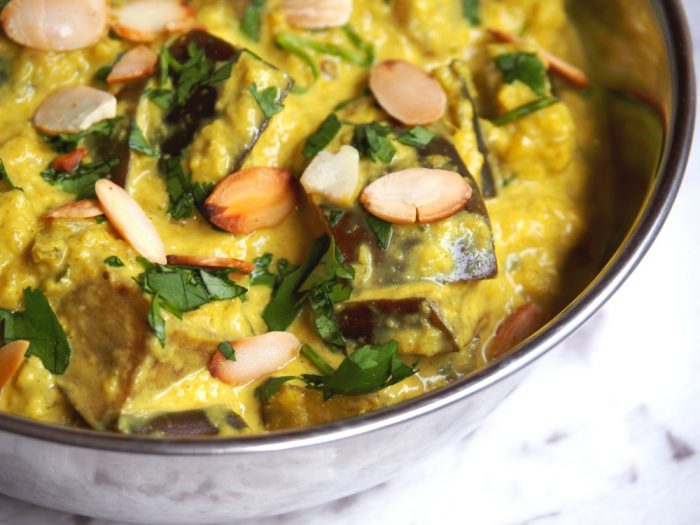 Ingredients
1 onion, roughly chopped
2 cloves garlic, peeled
Walnut sized piece of fresh ginger, roughly chopped
1 or 2 green chillies, roughly chopped (depending on how spicy you like it)
1/2 small bunch coriander, leaves and stalks separated
1 large eggplant, halved and cut into cubes
1 teaspoon ground cumin
1 teaspoon ground coriander
1 teaspoon turmeric
juice of half a lime
400g tin coconut milk
coconut oil, for frying
2 tablespoons toasted flaked almonds
Steamed basmati rice, to serve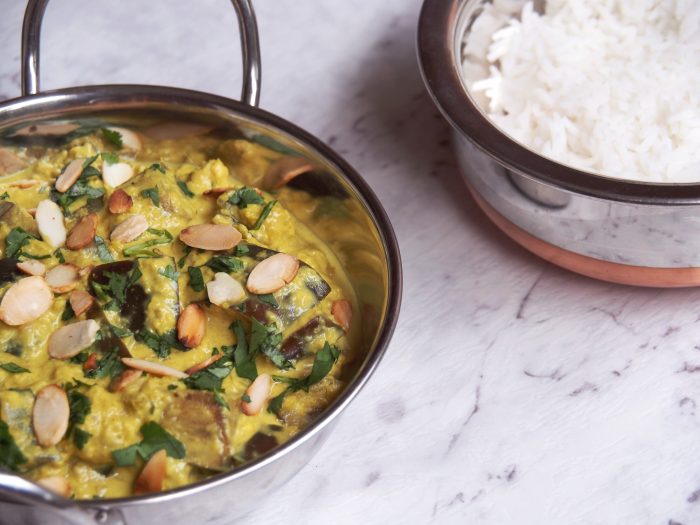 How to
Whizz the onion, garlic, ginger, chillies and coriander stalks  in a food processor  or the thermomix until a smooth-ish puree is formed.
Heat 2 tablespoons coconut oil in a large non-stick frying pan and fry the eggplant until golden and softening. Scoop out and set aside.
Add the purée to the pan with a little more oil and cook for 5 minutes, add the dry spices and cook for another 2 minutes. Add the lime juice and coconut milk and bring to a simmer. Add the eggplant, then simmer for 10-15 minutes until nice and tender. Scatter with the almonds and the coriander leaves and serve with rice.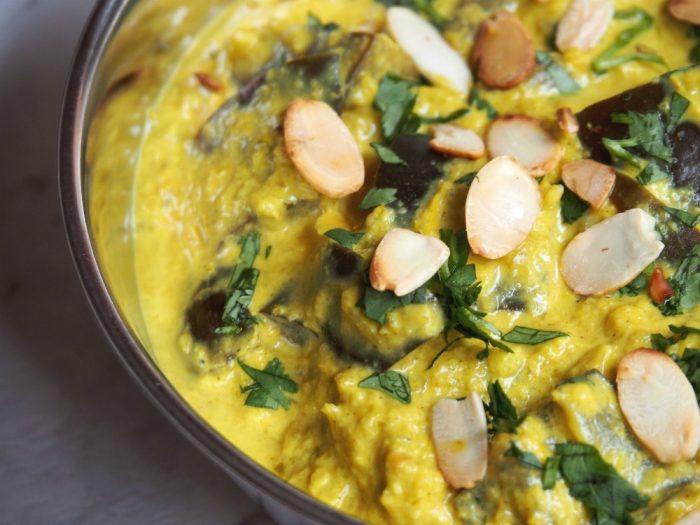 Other info
Prep and cooking time: 40 minutes