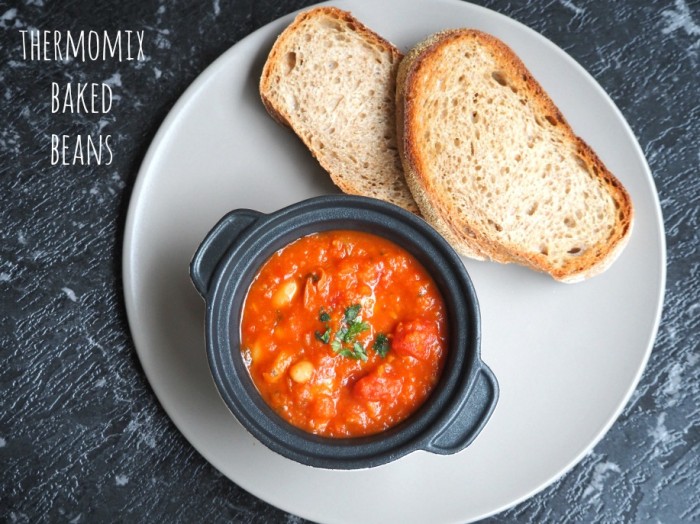 In this house eating breakfast for dinner is totally legit. We call it "brinner" and it rhymes with "winner" for a very good reason. Beans are often the hero and almost always feature in the best brinners.
Beans, beans, they're good for your heart, the more you eat, the more you… (insert your word of choice here.) I know beans cause a lot of bottom burping but I love them to bits! Great for breakfast, lunch, dinner and as I've already mentioned, brinner, they're so versatile.
I've been meaning to try and make some of my own for a while ever since I saw some delicious looking specimens over at Katie 180. Sorry Heinz, it's time for you and me to break up. Making beans in the thermie, is so cheap and so easy, and most importantly, so tasty, that I'll never buy baked beans again! Thank you Katie for the inspiration!
Ingredients
1 onion, peeled and quartered
2 cloves of garlic, peeled
A handful of fresh herbs (I like to use oregano and basil)
1 teaspoon smoked paprika
20g olive oil
1 tin cannellini beans (rinsed and drained)
1 tin chopped tomatoes (400g)
1 tablespoon TM vegetable stock
1 1/2 tablespoons tomato paste
1 teaspoon brown sugar
75g water
How to
Add garlic, onion and herbs to TM bowl and chop for 5 seconds on speed 7.
Scrape down sides of bowl, add oil and saute for 2 minutes at 100C on speed 1.
Add paprika, and saute for a further 1 minute at 100C on speed 1.
Add all the other ingredients and cook for 17 minutes at 100C on reverse + speed soft.
Season with salt and pepper to taste.