It was a  really rainy day but the errant weather was not going to dampen our enthusiasm for our annual excursion to the Good Food and Wine Show. 
We first came to the Show in 2011 and loved it so much we've been going ever since. We joined the crowds and made a supersize queue just to wait for the doors to open! Yes, it's that popular!
Here are my Top 5 Tips for a good time at the Good Food and Wine Show:
1. Buy your tickets in advance – this saves a lot of queuing time on the day.
2. Don't miss out on a seat at the Celebrity Theatre. Try and book a demo for later in the day, which will give you pleasant browsing time before all the crowds descend! (We always go first thing, and live to regret it!)
3. Arrive early! (See above) The show gets really busy in the afternoon and it can be a bit of a bun fight to taste food and wine. It's much more pleasant in the morning.
4. Remember to buy your wine glass and lanyard if you want to taste the fine wines on offer! Or bring a glass from home! Try to taste all the whites first, have a break, and then make a return trip for the reds.
5. Bring a nana trolley in which to place all the purchases that are too good to resist! If  you don't have a trolley, you can buy one at the show for about $30. Trolleys are optional, but shopping bags are a must! It's almost impossible to leave empty handed!
First off, we dashed to buy our glass and lanyard before hurrying off to the Celebrity Theatre to see Ainsley Harriot in action. To tell you the truth, I never used to pay much attention to him when he was on the telly, but heavens, he's funny!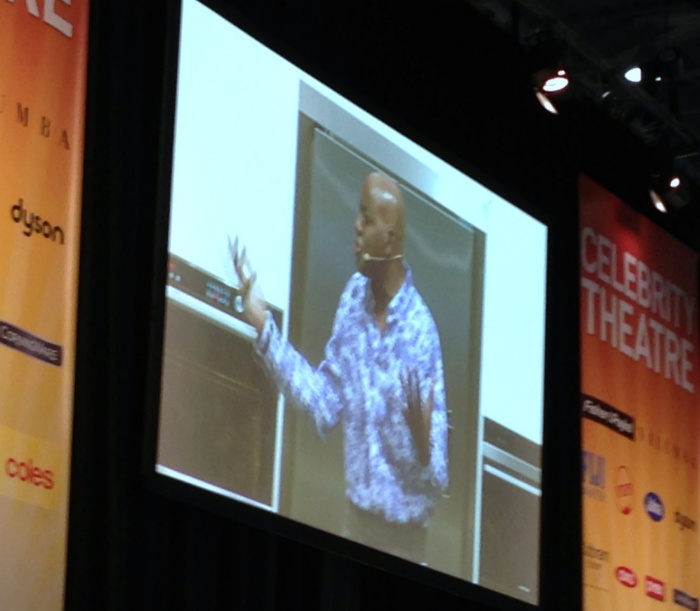 He had us in stitches and on more than one occasion, I wondered if I was watching a comedy sketch or a cooking demo! In the end, I decided it was a little bit of both, with some of Ainsley's groovy moves thrown in for good measure!
Ainsley was throughly entertaining and the food he cooked, looked utterly delicious. He produced some tastebud tickling crispy chicken with puy lentils and pancetta, and a delicious (almost instant) cheesecake with blueberry coulis for dessert! Neat work, Ainsley!
The stint in the celebrity theatre made us work up quite an appetite, so we wandered down Cheese Alley. More cheese, please!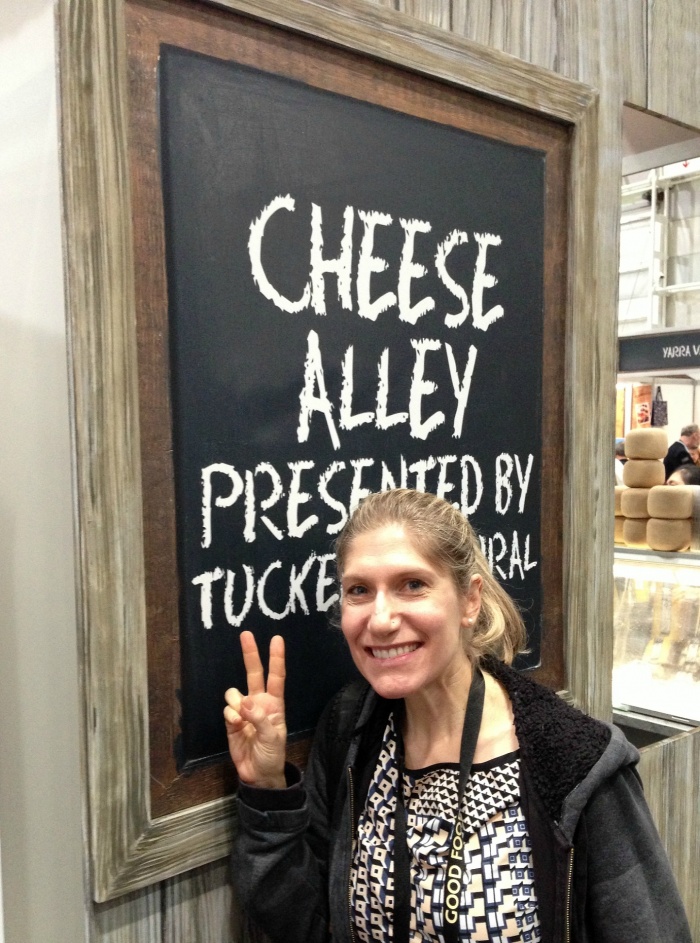 Everything was cheese-alicious!
After that, we whizzed round and said hello to some of the winemakers and tasted the white varieties before refuelling with a little pie platter from Boscastle Pies. They were all mighty fine but the Butter Chicken was the all time favourite of mine!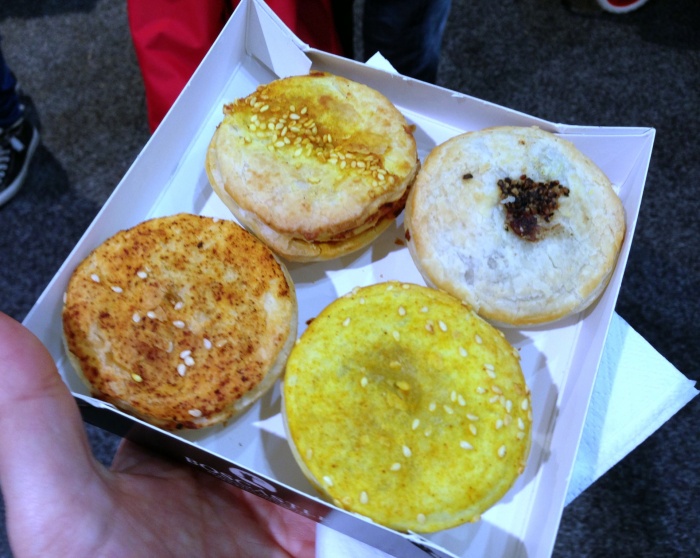 After lunch, we headed straight to the Biltong Man for some bags of  his best biltong. I love that stuff! After the biltong fix, we checked out some of the food stalls, and then revisited the winemakers to review the reds. I had to make a slight detour to Innocent Bystander for some of my favourite Moscato. Life is better with bubbles. Especially pink bubbles!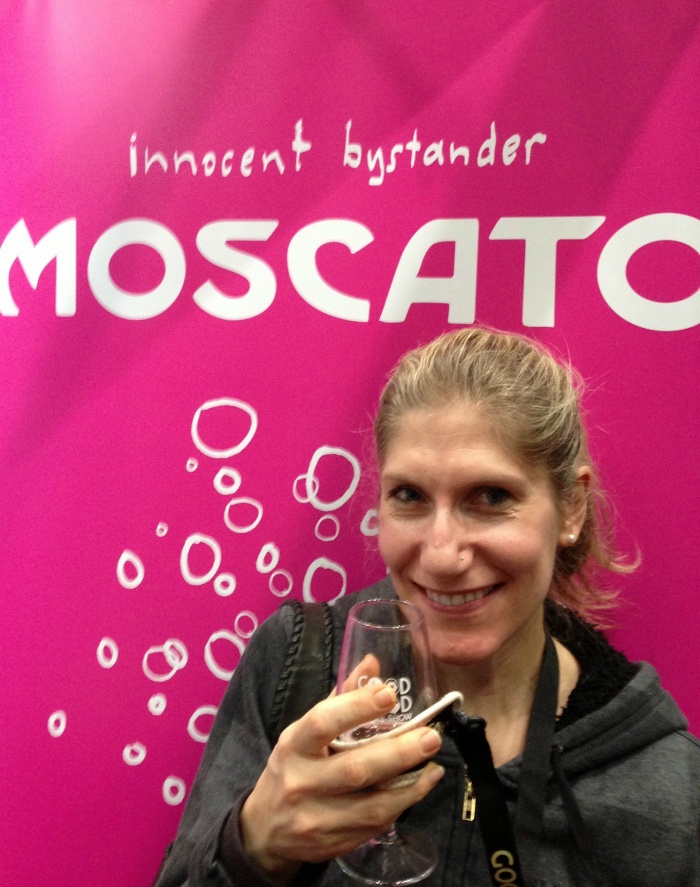 The food wasn't nearly as tempting now that I own a Thermomix, because now that I can make my own breads, dips, spice blends and sauces, why would I buy them? We did splash some cash on a trio of amazing chutneys, some beautiful bargain pasta and a show bag full of olives and deli stuff. Compared to our past Show purchase record, I think we were incredibly restrained!
Despite our best intentions to purchase prudently, we still managed to fill our nana trolley and  2 shopping bags. I put the pasta and preserves away, but still have to find a place for all this booty!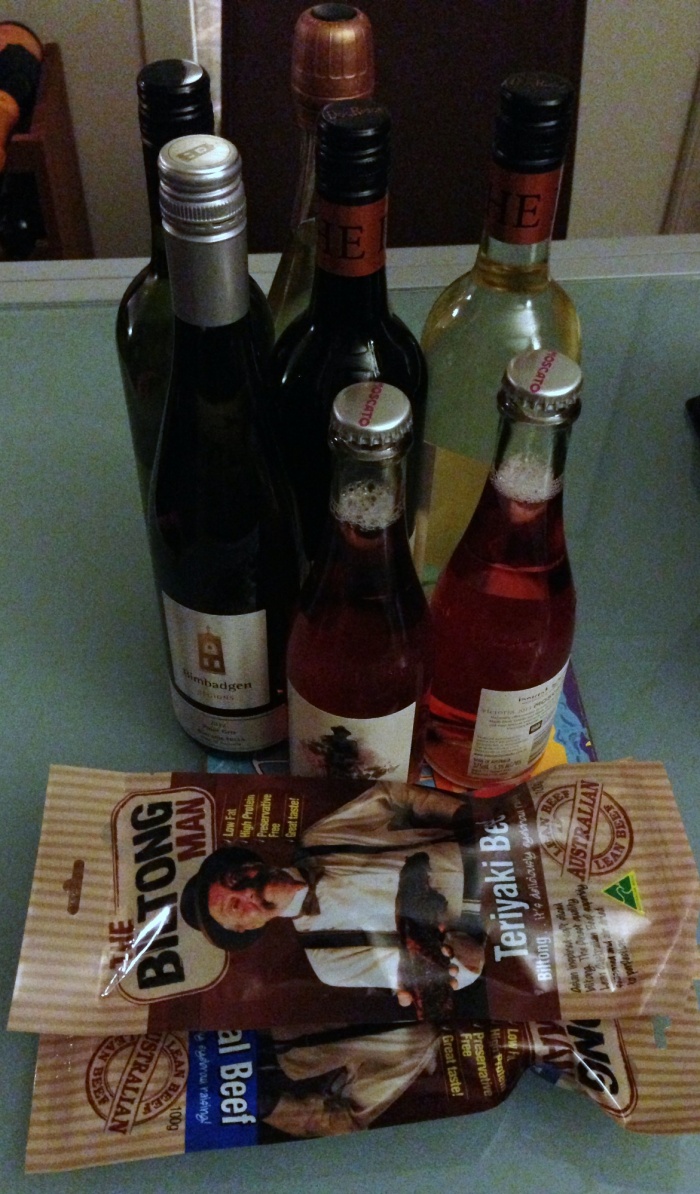 It was the best way to spend a rainy day; inside, warm and dry, with fantastic food, fine wine and some excellent entertainment. The fun doesn't stop there either! We'll enjoy working our way through this little lot for quite some days and even months, to come!
What's your favourite way to spend a rainy day?