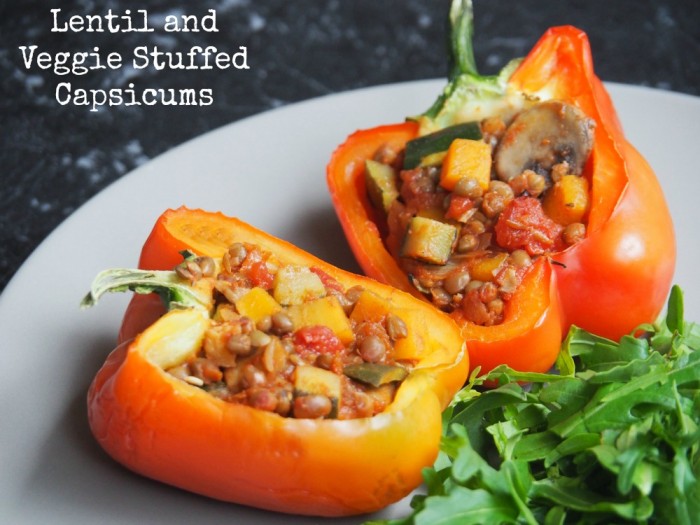 Serves 4 low iodine
I'm a bit obsessed with stuffing capsicums, I've stuffed them with bolognese, rice and beans and now veggies and lentils. I'm always on the lookout for when capsicums are reasonably priced or when I can find the odd bunch at the supermarket.
These caps are a great choice for Meatless Monday. I love that this recipe uses lentils rather than rice, which means less carbs and more protein. They're also super filling and super tasty. This recipe also has the advantage of being low iodine (if you use lentils and tomatoes with no added salt) although it's so yummy, you would never know! I wish I had discovered this recipe when I was on the low iodine diet – how delicious they would have been!
These are the veggies I had left in the fridge, but use a little of what you fancy, or a little of what you have! In the unlikely event of any leftovers, they taste great reheated the next day!
Ingredients
4 red capsicums
2 tablespoons olive oil
1 onion, finely chopped
1 teaspoon fennel seeds
1 teaspoon ground coriander
1/4 teaspoon chilli powder
4 small zucchini, diced
150g pumpkin, peeled and finely diced
200g mushrooms, sliced
1 can brown lentils, rinsed and drained (no added salt, if eating iodine free)
1 can chopped tomatoes (no added salt, if eating iodine free)
1/4 cup mint leaves, roughly chopped
1/4 cup flat leaf parsley, roughly chopped
How to
Preheat oven to 200C/180C fan-forced. Line a baking tray with baking paper.
Cut the peppers in half through the stalks and scoop out the seeds. Put the peppers in one layer on a baking sheet. Drizzle one tablespoon of the oil over the peppers, then sprinkle with salt and pepper. Bake for 20-25 minutes, until the peppers are just tender.
Meanwhile, make the filling. Sweat the onion in a large frying pan until starting to soften. Add the spices and fry for 1 or 2 minutes until fragrant. Add zucchini, pumpkin and mushrooms and saute until lightly browned.
Add tomatoes and lentils and bring to the boil. Reduce the heat and simmer uncovered until the liquid has reduced. Add the fresh herbs and mix well.
Reduce the oven temperature to 180C/160C fan forced and fill the capsicums with the filling.
Return to the oven and bake for 10 minutes.
Serve the capsicums with some rocket and if you're not  iodine free, some shaved parmesan.