Last night I popped my Google Local cherry. I donned my apron and got to get my hands dirty at Chef Salvatore's Pizza Masterclass. It was like walking into the set of Masterchef, in the heart of the city. This pizza-rific event was held at Chicane,  which was conveniently located right round the corner from work.
This was my work station for the evening and there was everything I needed to make my own pizza; bakers flour, fresh yeast, water, salt, sugar and extra virgin olive oil.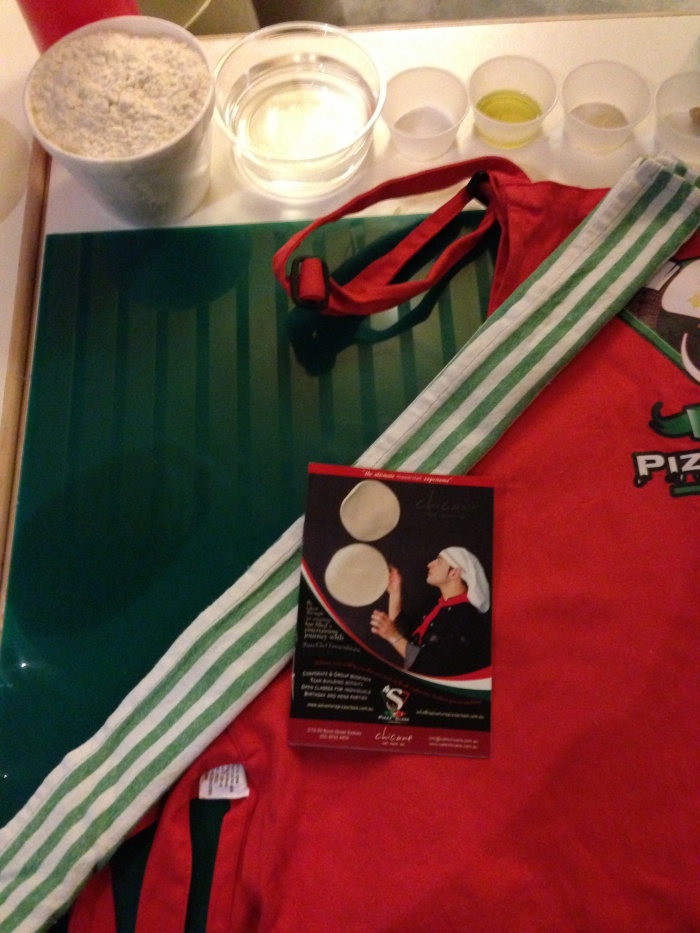 These days we make all our own pizzas at home, but we make them in the Thermomix which is fast, clean but totally not traditional. However,  last night, I got to make pizzas just like Salvatore's nonna used to! I don't think there is anything Salvatore doesn't know about pizza. If there was a doctorate in pizza making, I am sure he'd have it, can you imagine, a Professor of Pizza?
There was a lot to take in and mix in. First off, we crumbled up our fresh yeast, added a little water and sugar and  set it aside. Then  we got our hand (note the singular) stuck into the flour. We plopped it onto our board, and gently spread it out to make a big round well, and then gently added the wet ingredients. How cool is that!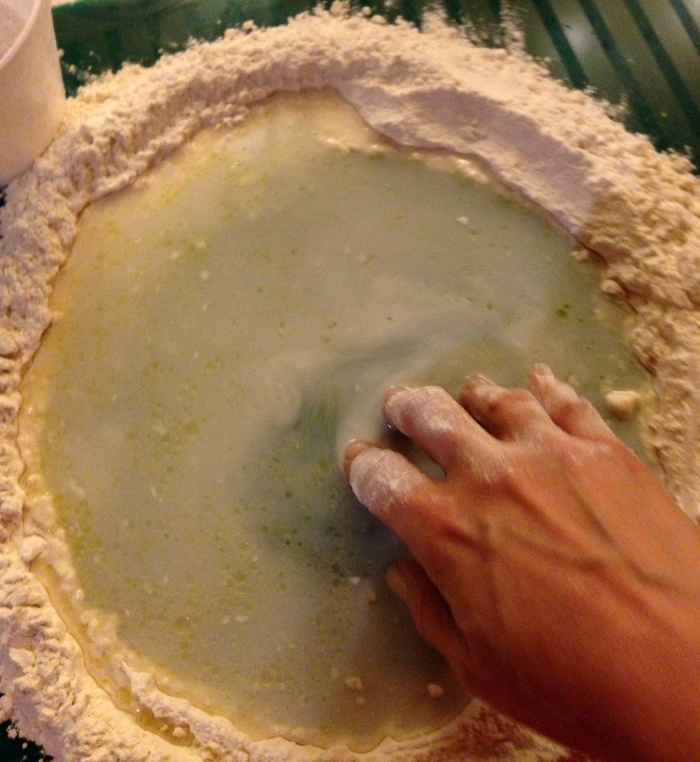 We gently added a little flour at a time until the mixture looked kind of creamy and when the wet ingredients were well mixed, and the air bubbles had disappeared, we added the yeast, and gently incorporated the remaining  flour to make a dough. It's important to remember, that dough like people needs to rest, so we left our dough alone for  a little while Salvatore kept us entertained with his pizza spinning techniques which had to be seen to be believed! That guy moved so fast, my floury fingers couldn't catch him on camera! Doh!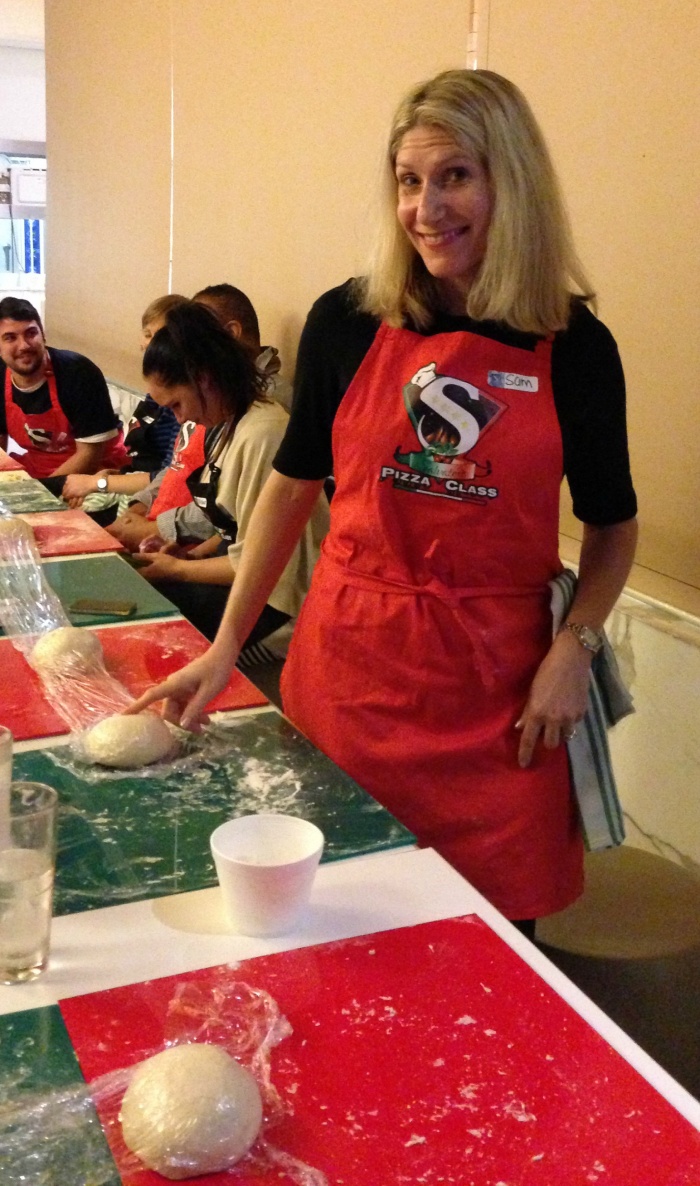 Then the fun really started, as Salvatore let us loose in the courtyard with some dough he had prepared earlier and we chucked those pizzas around with wild abandon. It was a like some sort of crazy pizza-frisbee fest! After all that excitement, it was time to get our wiggle on with our dough which we hand rolled, people! My rolling pin can officially go into retirement now!
Rolling the dough onto the pizza tray was an art form in itself, genty pressing and pushing the dough from the centre out.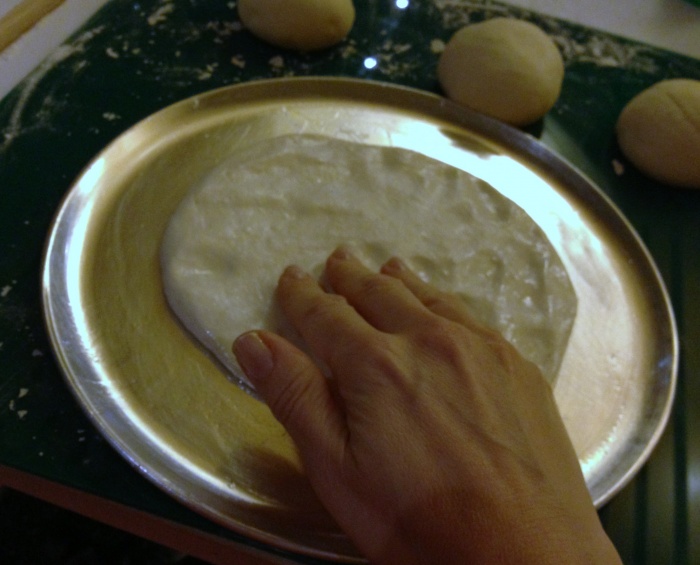 It took us a while but we got there in the end and had two perfect pizzas ready to go! Pressed like a pro!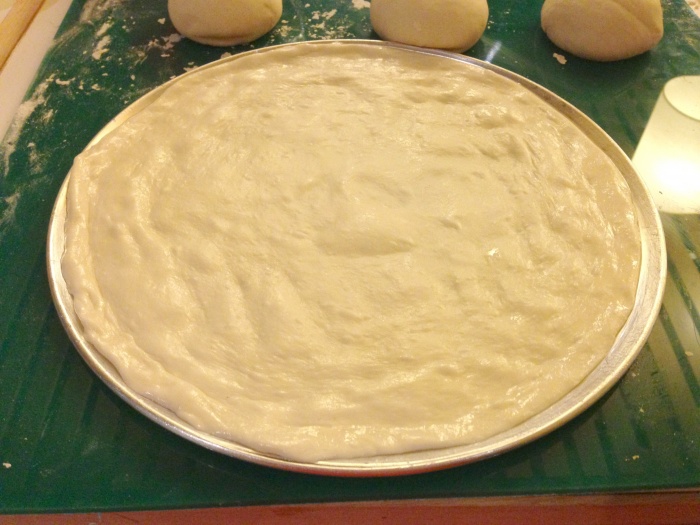 First off, there was a Margherita Competition. We had a quick squizz at Salvatore's effort before having 90 seconds to replicate his creation. It was like being in a Masterchef Pressure Test. Fortunately, this was a team effort and Paula has a better memory than me! Ours was probably the prettiest pizza but we spread our sauce the same way we live life, close to the edge!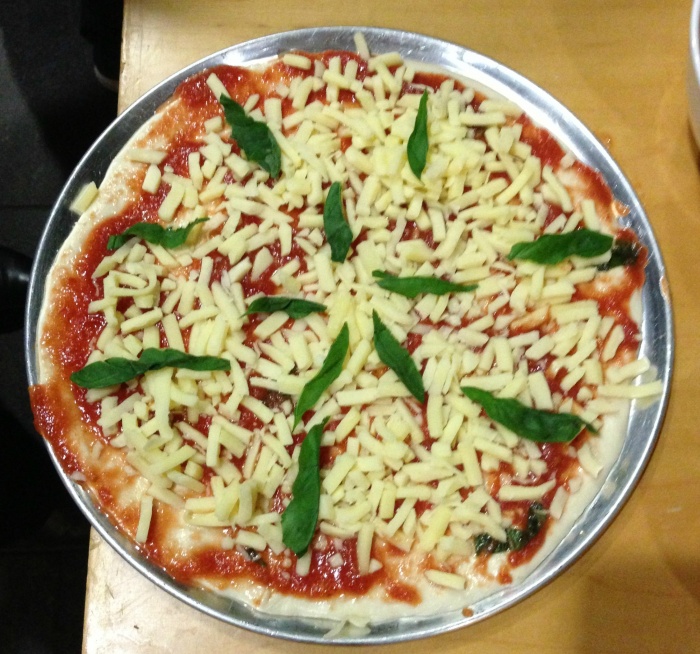 Our second challenge was to create our own signature pizza. Paula and I magic-ed up the "Club Med" which combined all the flavours of the Mediterranean; pumpkin, olives, feta, spinach, red onion and just a hint of chilli. We deeemd it to be the perfect pizza and then it was off to the oven with it!
We then got to enjoy the fruits of our labours and man, those pizzas were good! The Margheritas were sublime and the "Club Med"  totally floated our boats.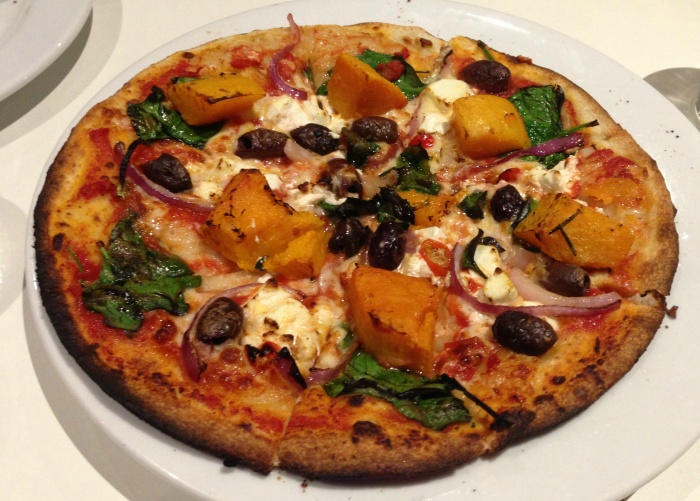 The company was great too, we got to hang out with the lovely Gill and Anna who expertly organised and  co-ordinated the whole event and met other brilliant bloggers, including Bob from Jugernauts. This guy knows what to eat in Sydney and where to eat it. His posts look mouth-wateringly good.
It was fun, it was friendly, it was educational and it was totally delicious.
5 Top Tips for making pizza
1. When it comes to yeast, fresh is best. In Sydney you can find fresh yeast in Harris Farms or some local delis. Freeze the yeast in pizza recipe size portions so that you're always ready to go with your dough! Fresh yeast will keep for up to 12 months in the freezer.
2. Don't flip pizza dough, unless you are a professional. (I learnt this the hard way!)
3. For a premium pizza, let your dough rest for 24 hours in the fridge before you cook it. This lets everything activate.
4. When mixing the dough, only use one hand, use the other for your wine glass, or to scratch your nose or…. whatever!
5. Wear an apron. Making pizza is fun, but it's messy!
If you could top your dream pizza, what would you choose? And, what would you call it!