Sometimes, it's nice to press the pause button on the everyday grind and take some time out to stop and just be. I find this almost impossible to do at home, the kitchen beckons, the ironing basket fills me with guilt and the computer is always calling my name; the list of distractions are endless.
The only way we seem to manage time out is to get out. Get out of the city, that is. So this weekend we slip away to our favourite weekend destination, the Blue Mountains for a weekend of fresh air, fine food and good times.
Driving to the mountains can be an event in itself, in the past we have fed the roos at Featherdale Wildlife Park…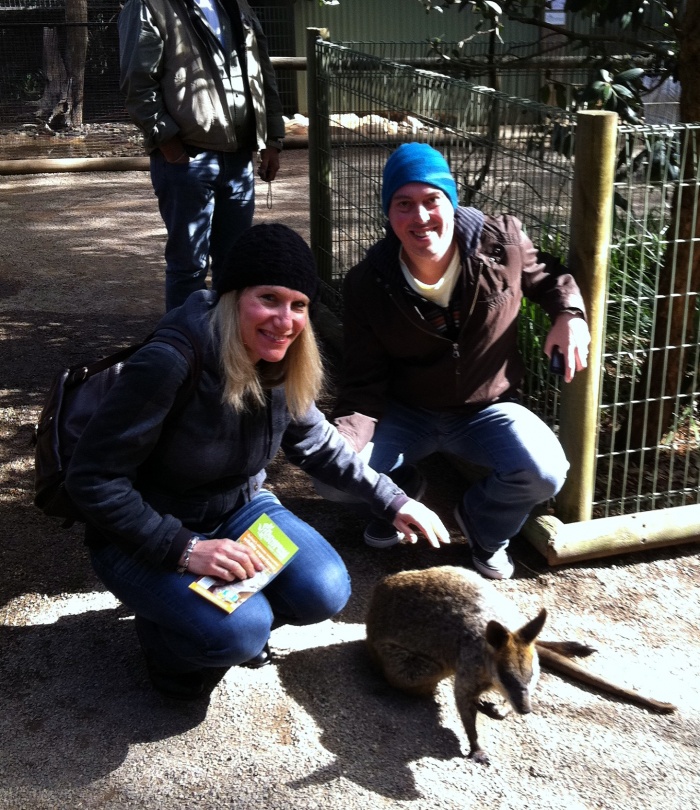 gone underground at the Jenolan Caves,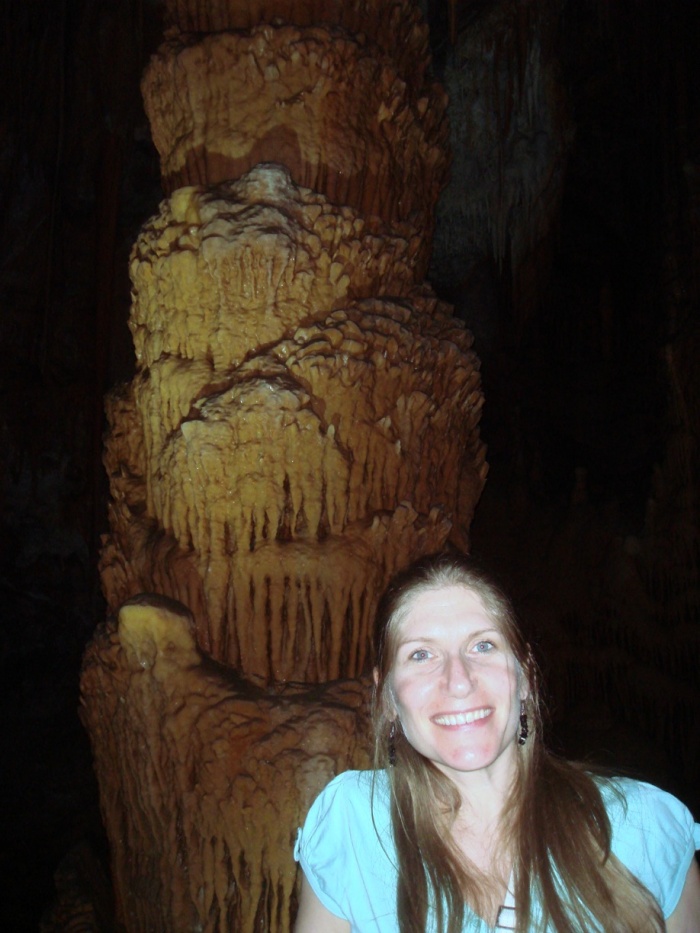 and explored the natural beauty of the Mount Tomah Botanic Gardens.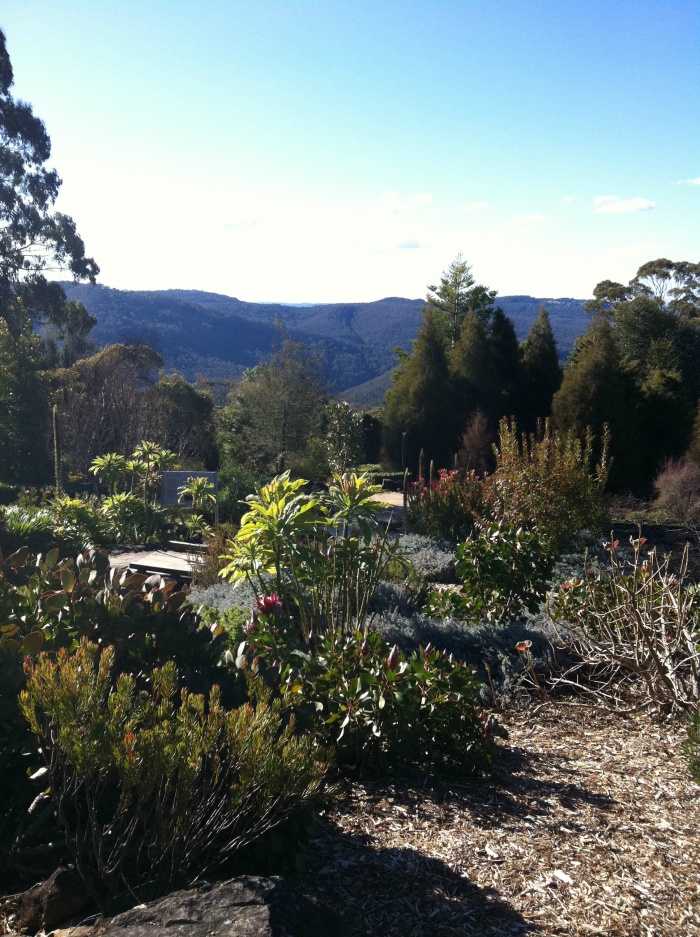 This time, we just head straight for the Mountains. We do not pass go, we do not collect 200 bucks but we do stop for coffee and some delicious cafe fare at the lovely Lochiel House. A beautiful spot and a fine feed, if I say so myself.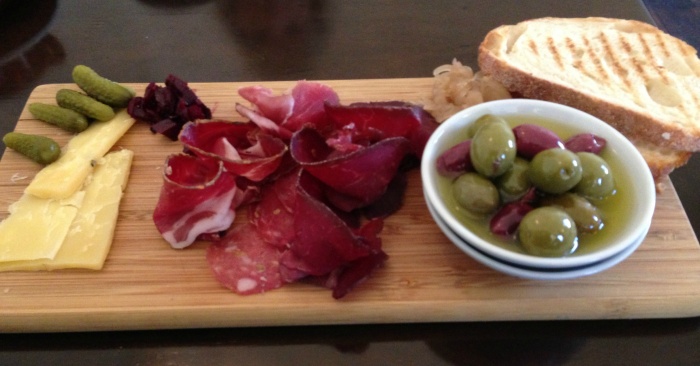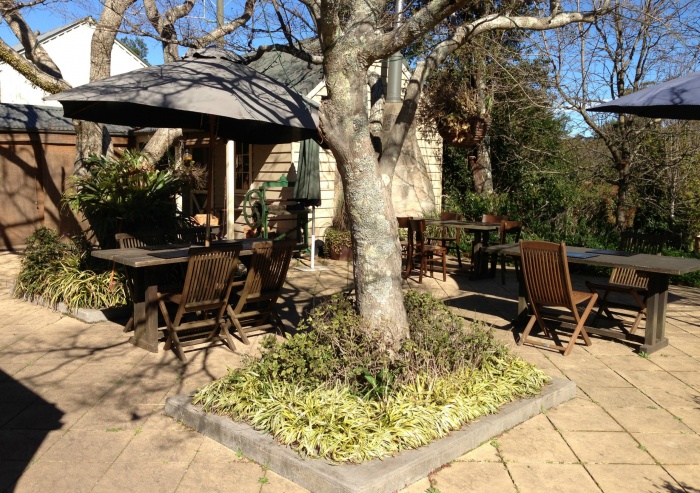 We are back at our favourite B and B Shelton Lea –  we have stayed here so many times that we have actually lost count, it's like our home from home in the mountains. We've stayed in all three of the suites, and this weekend we've bagged our favourite, the Amaroo. Check this out!

There's time for a coffee in town at the Elephant Bean Cafe but not time enough for a game of Scrabble. This place is completely quirky with fine coffee, a good vibe and a yummy sounding menu.
We don't have time to hang about as we trot off to the Three Sisters to watch the sunset. The air is fresh, the wind is strong and the sky is a delight. The Three Sisters and the Sydney Harbour Bridge always have the same effect on me; it doesn't how many times I see them, it's always as magical as if it's the first time I've laid eyes upon them.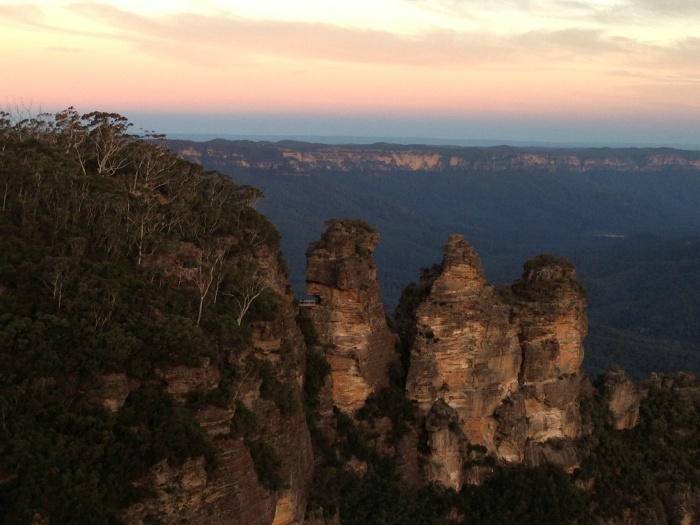 It was worth feeling like a human iceblock because then we went back and warmed up with a glass of red by the fire. I love mountain life.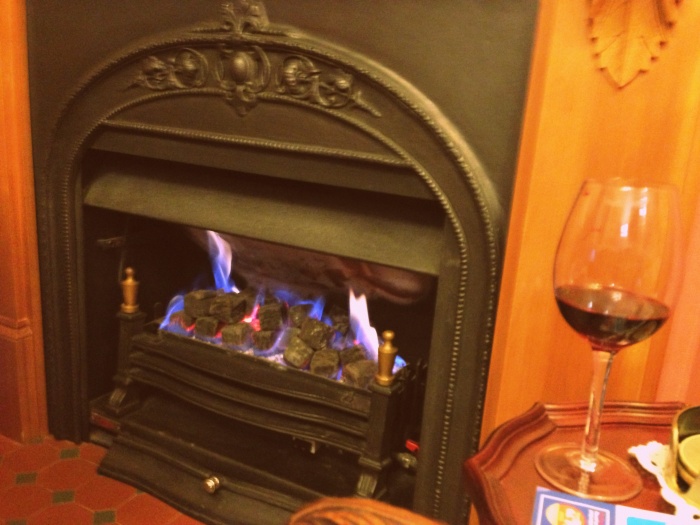 Jane and Shannon celebrated their engagement in Katoomba last month and gave us the heads up on Bistro Niagara which is a relatively new kid on the block in town. Dinner here was amazing and abundant. We were as fat as the suckling pigs they were roasting in the wood fired oven by the time we were done.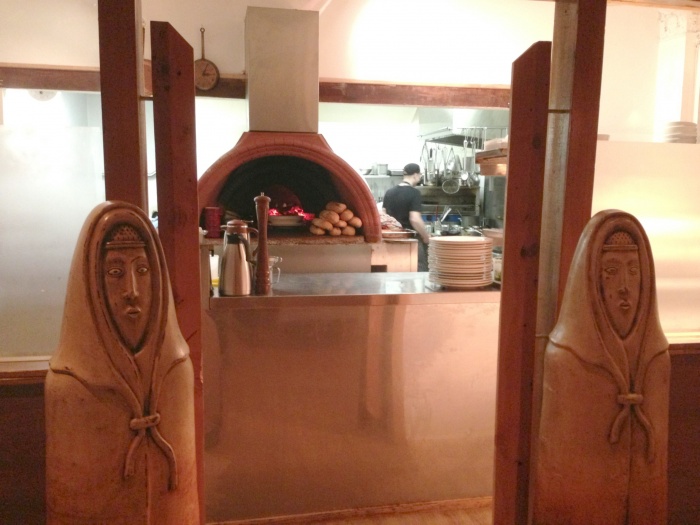 Bushwalking is the way to go when one is weekending in this part of the world, after all the Blue Mountains National Park has the biggest network of walking tracks in Australia, but this weekend we have to leave our walking boots behind, it is just way too windy. Instead we busy ourselves checking out local community markets and burning a whole in my wallet in the lovely little village of Leura. I LOVE the shops here and could easily melt my credit card in a few easy steps, if left to my own devices.
We especially love the Candy Store. It's always our first stop and I always manage to guzzle everything that I've purchased by the time I get back to the car. What can I say, I'm a fast eater, and I'm also addicted to American Hard Gums. Resistance is futile.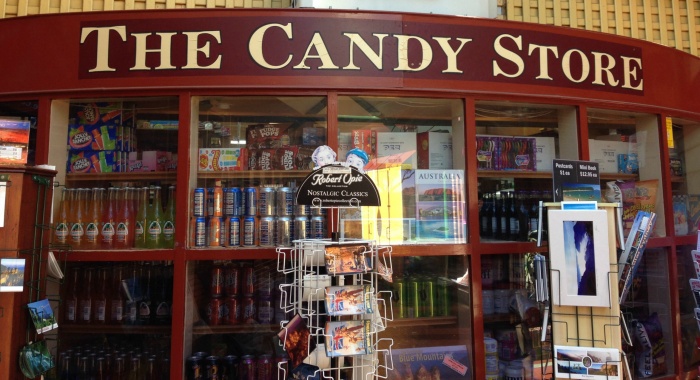 Returning to the city without checking out some more valley views would not be cool, so we consult our trusty guidebook  which is in my considered opinion, the Walking Bible of the Blue Mountains.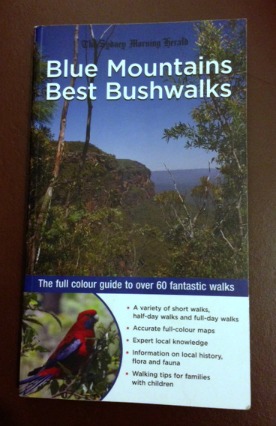 We suss out a lookout with a whopping 300m walk and off we trot like a pair of mountain goats.  It sounds just like what the mountain doctor ordered. The walk may have been short, but the views were vast.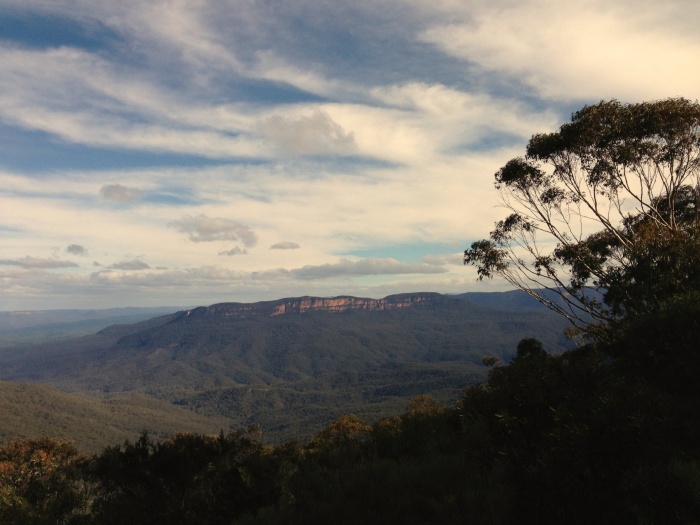 With some time on our hands and some space in our bellies we decided to check out Patisserie Schwarz at Wentworth Falls. Our friends Mr and Mrs Romance wrote a screen-lickingly good review a while back and we were keen to see if the fare tasted as good as it looked.
The biggest problem we had was choosing from the vast array of baked goods without getting a bad case of food envy. In the end David went for the pie, and I tried the hazelnut pastry. The things we  have to do in the name of research! (Sigh!)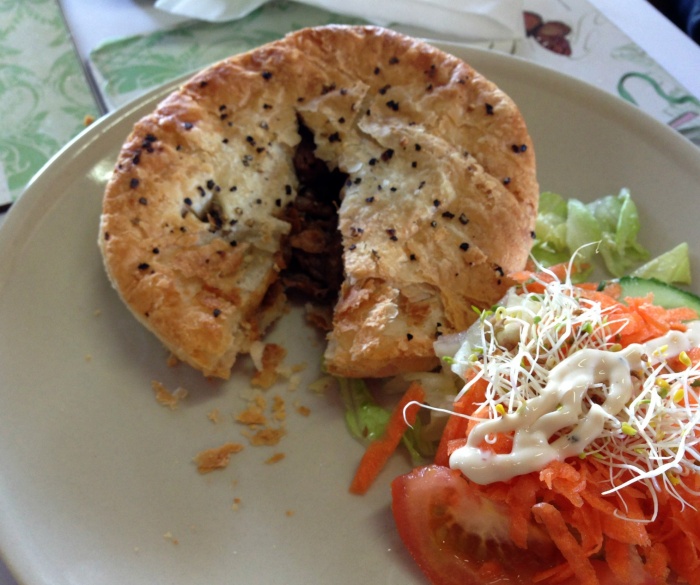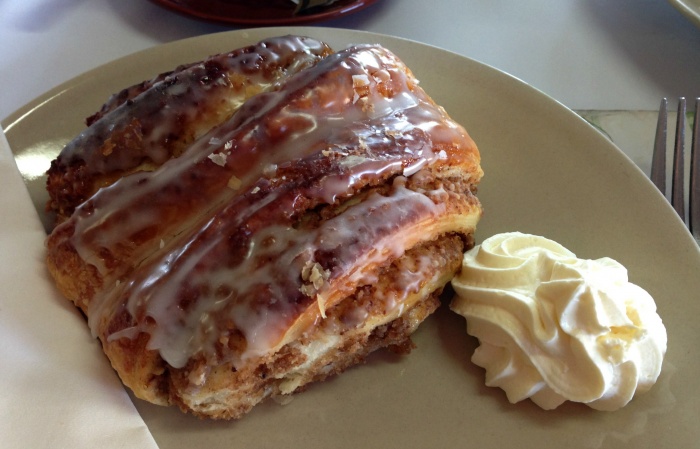 After a long rest by the fire, a spa bath and some more red wine, we took a step back in time to a world gone by at  Avalon Restaurant. Praise be to the lovely Eden  who tipped us off about this place which is housed in the converted dress circle of a cinema. The whole experience was sublime – we still haven't quite worked out how we've been coming to Katoomba for more than 5 years and never even knew about this place, let alone stepped inside!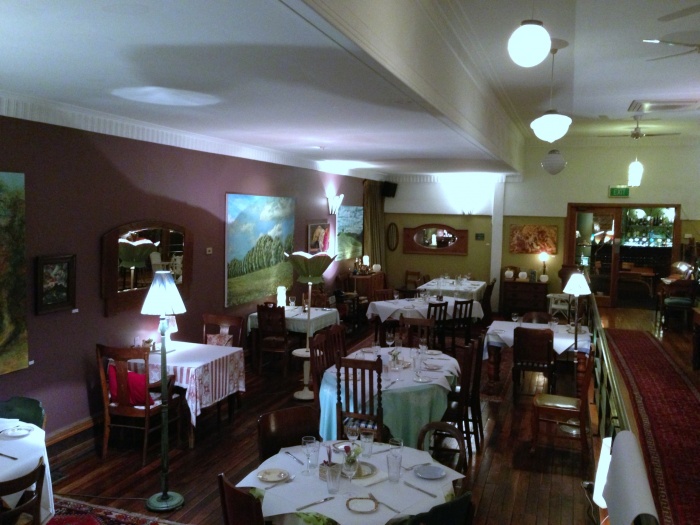 Despite the cold, 4 degrees, people! And, with what felt like a windchill factor of about minus 40, I had to take some time out, outside to look at the stars.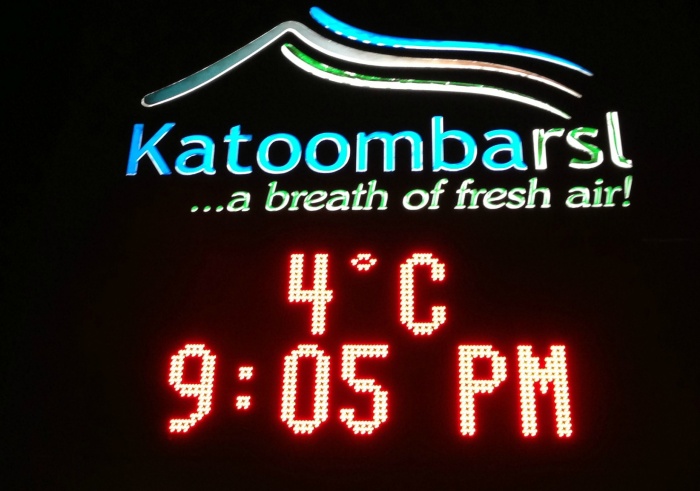 The stars in the clear night sky up in the mountains are a sight to behold. If it wasn't so cold, I would have been tempted to lie down right there on the sidewalk and just gaze at the stars. So, so beautiful.
Sometimes, life just moves so fast, and our brains get so busy we don't get time to appreciate all the beauty around us. So this weekend, I imagined my brain and all the busy-ness (or more like busy-mess) that was inside it, and, like an etch a sketch, I wiped it clean. This weekend, I looked at the stars, I saw the amazing technicolour of a sunset, I marvelled at the changing colours of the trees, I felt the wind in my hair, I breathed fresh air in my lungs, I was dwarfed by the mountains, I had a whole weekend of one on one time with my best friend and it felt magical.
"And above all watch with glittering eyes the whole world around you because the greatest secrets are always hidden in the most unlikely places. Those who don't believe in magic will never find it." Roald Dahl
I believe in magic. Do you?