You know Chantelle, over at Fat Mum Slim? Everybody knows the Photo a Day Challenge, well, that's her baby, and she's just been nominated a finalist in Mamamia's Most Clickable Women Awards.  Her blog is one of my best, and to me she's like blogging royalty. Last week, she wrote a post about blog spots and asked bloggers to post a pic on instagram with the hashtag #where I blog.  Of course, I had to join in, because a) I hate to miss out (especially on good stuff), and b) I am a born voyeur. I love looking in other people's homes. (I'm one of those people who loves walking around at night when people have the lights on and the curtains open!) I can't help it I am  naturally nosy!
So here it is… where I blog. This is where the magic happens!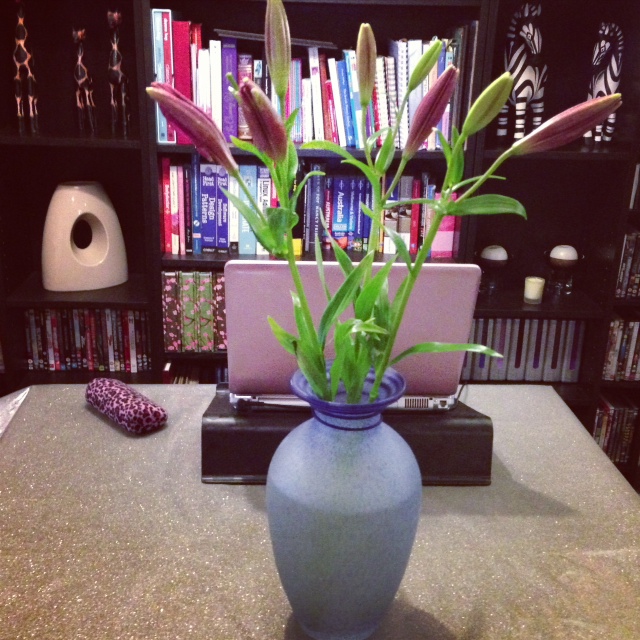 I won't lie, I would love a little more natural light and a few inspirational quotes wouldn't go astray but I'm in the pink with the flowers and my PC and the table does have a bit of sparkle. I sometimes dream that when me or my blog grows up, I might have my own nook, or faux office, but then I'd surely miss being so conveniently located between the living room and the kitchen; two of my favourite places.
It may not be the blog spot of my dreams but it's mine and I like it. There were more than a hundred pics, including mine so you can imagine my surprise, when a few days later, Chantelle wrote a follow up post, entitled 21 Inspiring Blog Spots, and mine was one of them! Wowee zowee! Praise indeed!
I was in very good company, I can tell you, both in the brilliance of the  bloggers and the spaces they work in. Oodles of inspiration and a long list of new blogs to catch up on! Can't stop… I've got some reading to do!