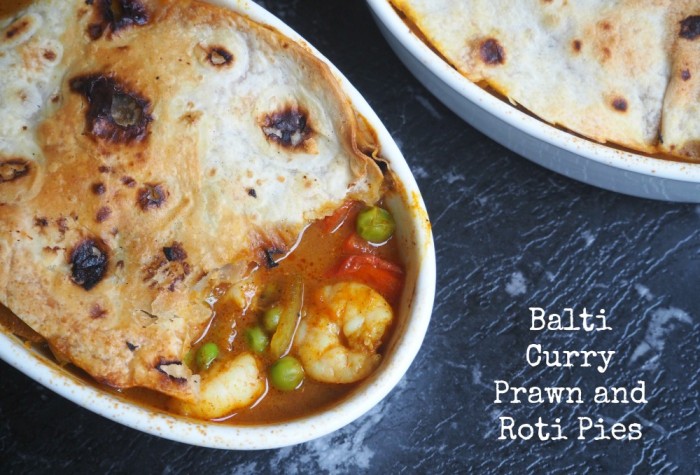 Makes 4
This is such a great recipe and combines two of my favourite dishes; curry and pies. It's the perfect way to use leftover rotis and of course, if you don't want to make your own, shop bought work just as well. The rotis make a terrific topping, so much easier and  healthier than a pile of pastry! What a winter warmer!
Ingredients
2 tablespoons vegetable oil
1 medium brown onion, roughly chopped
1 small piece fresh ginger (5g), grated
1/2 cup (100g) Balti (or Rogan Josh) curry paste
3/4 cup (180ml) chicken stock
5 tomatoes, roughly chopped
800g uncooked prawns, peeled  and deveined
1/2 cup (60g) frozen peas
1/4 cup coarsely chopped fresh coriander
4 rotis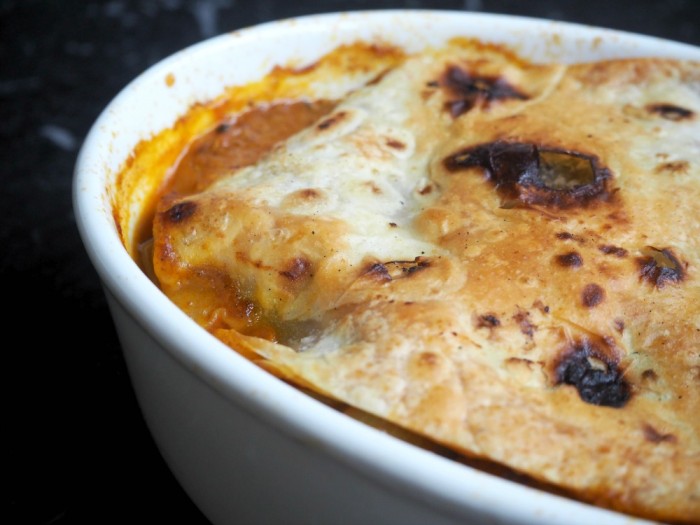 How to
Preheat oven to 220C / 200C fan-forced. Oil four 1 1/4 cup (310ml) ovenproof dishes.
Heat 1 tablespoon oil in a large frying pan and cook the onion and ginger until the onion softens. Add the curry paste, and cook stirring, until fragrant.
Add the stock and tomato and bring to the boil, and cook uncovered for about 5 minutes or  until the tomato is tender.
Remove from the heat and stir in the prawns, peas and coriander. Season and spoon the prawn mixture into prepared dishes.
Cut a pie dish shape from each of the rotis and place over the filling.
Brush the rotis with the remaining oil and bake the pies uncovered for about 15 minutes or until the rotis are golden brown and crisp.
Prep and cooking time:  45 minutes