Going to the Blue Mountains and not going for a bush walk, is like going to Paris and not stopping by at the Eiffel Tower. Bush walking is good, and more to the point, it works up a good appetite. As a result, at the end of a day's bush walk, one wants some hearty fare, and man, Bistro Niagara serves it up.
This jewel  in Katoomba's restaurant crown is relatively new to town, and brand new to us. Thanks be to Jane and Shannon who not only celebrated their engagement here a couple of months ago, but were kind enough to tell us about it! This place only has one problem, that the menu is so good, you want to eat everything  on it. Ah, the age old problem, "so many dishes and so little time."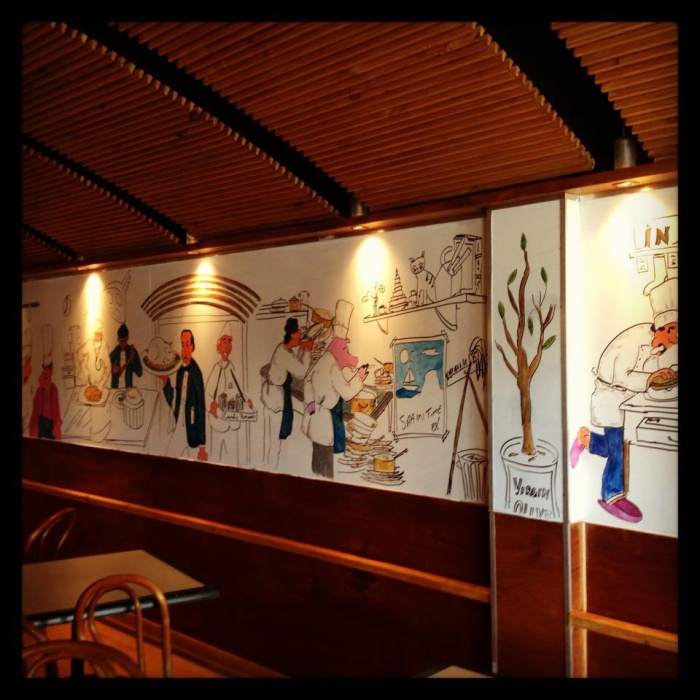 photo credit Bistro Niagara
The restaurant itself is light and airy with a funky mural along the whole of one wall, and the far end of the restaurant opens onto the kitchen and the huge wood fired oven. There are two levels and larger groups appear to be seated upstairs which means the downstairs dining room has a relaxed and intimate feel. The acoustics are wonderful, even though the restaurant was packed, you could still hear each other speak without the use of a megaphone.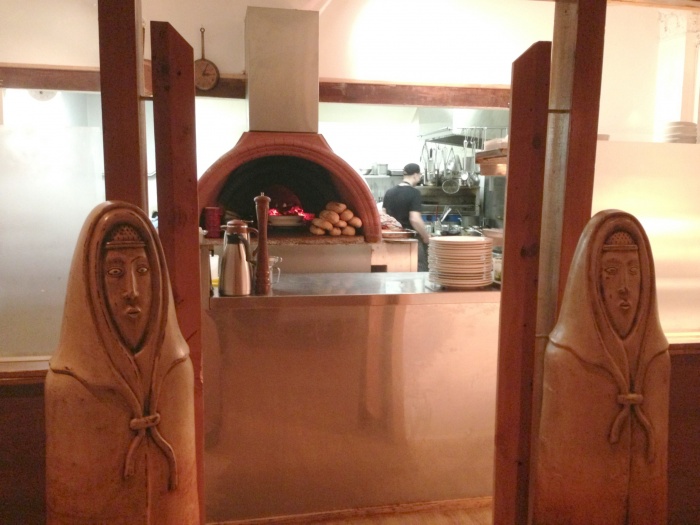 After much deliberation, I decided on the Steamed Boston Bay Mussels cooked with tomatoes, black olives, eschallots and coriander. Jane raved about this dish, and now I know why! A bucketful of big plump, juicy mussels, every shell open wide and swimming in a delicious tomatoey sauce. I loved fishing out the olives with the empty mussel shells. The only thing that was missing was a little bit of bread to mop up all the fragrant juices.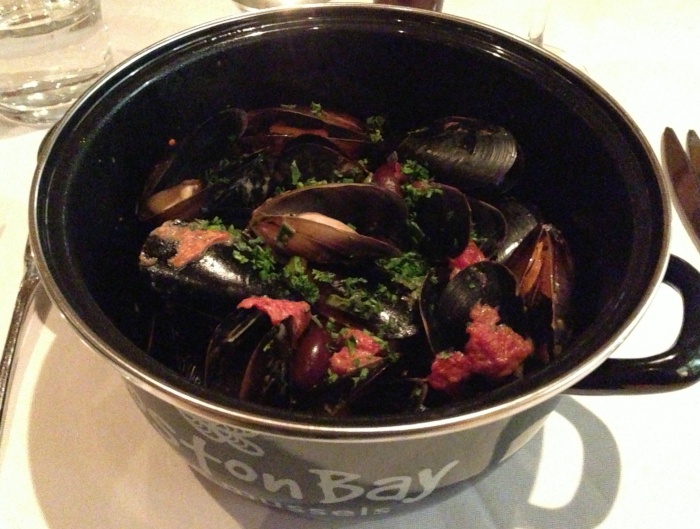 David decided on the special of Potted Prawns and smoked salmon with a huge chunk of crusty bread that had come straight out of  the wood fired oven. The bread could easily feed two, so my mussel juices didn't go unmopped after all!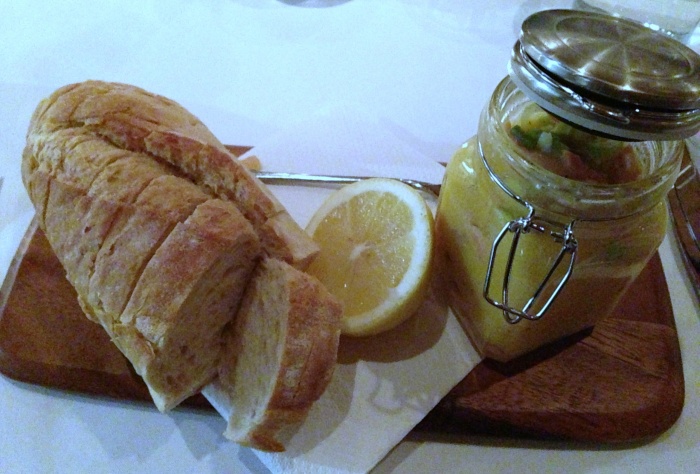 There's a Saturday Night Special of Suckling Pig which really tickled my fancy until I found out that you have to book ahead and reserve it, so popular is little piggy! Oh well, I have the heads up for next time! I consoled myself with the  Braised Lamb Pie served on a bed of puy lentils, spinach and mashed potato. I loved the different textures from all the components of the dish, especially the nuttiness of the lentils.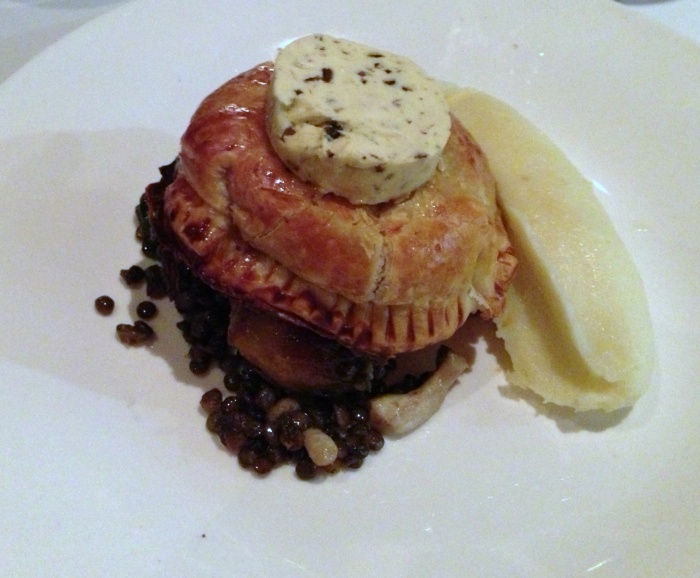 David can never go past pork belly and declared his Crisp Pork Belly and Scallops some of the best he's ever eaten. He demolished it at all, but didn't really think the spinach should have been invited along to the party.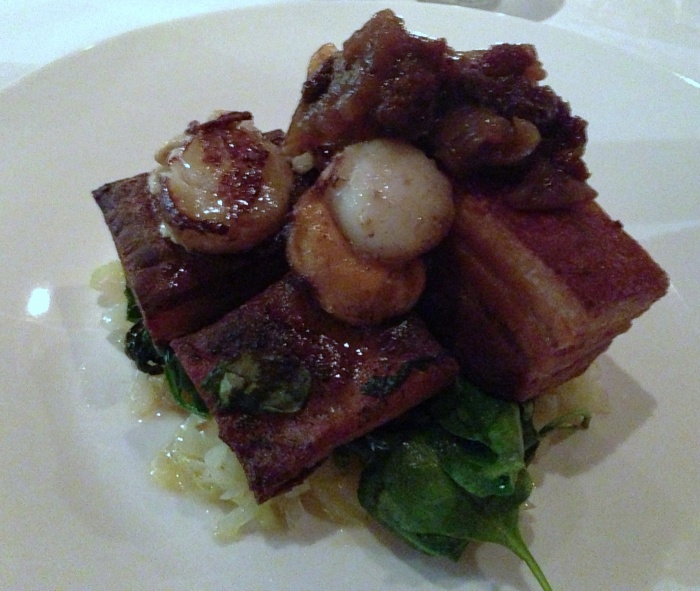 The portions were mountainous, but in the name of research, I thought it only fitting that we try a dessert.The Wood Fired Apple Tart Tartin and Vanilla Bean Ice Cream was the most we could manage and it was golden fired caramelised deliciousness. We had to work hard to fit it all in, I can tell you.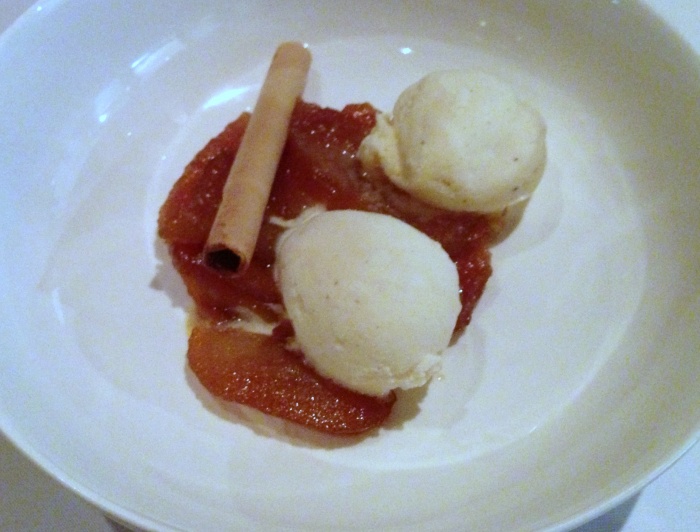 The service was professional and efficient. We really appreciated the  rest in between courses, which allowed us to enjoy the whole dining experience and give our bellies a break. It's such a luxury to eat at a leisurely pace and without feeling rushed.
Best of all, despite having a wine list of it's own, Bistro Niagara is BYO which means you can wine and dine without breaking the budget. I don't know any place in the city where you can get food of this quality, in such generous portions at these prices. If you do, please let me know. If only they'd open a Little Brother Bistro in Sydney… now wouldn't that be nice?
Bistro Niagara is open Wednesday to Sunday
at 92 Bathurst Road, Katoomba, NSW 2780
Phone (02) 4782 9530 for reservations