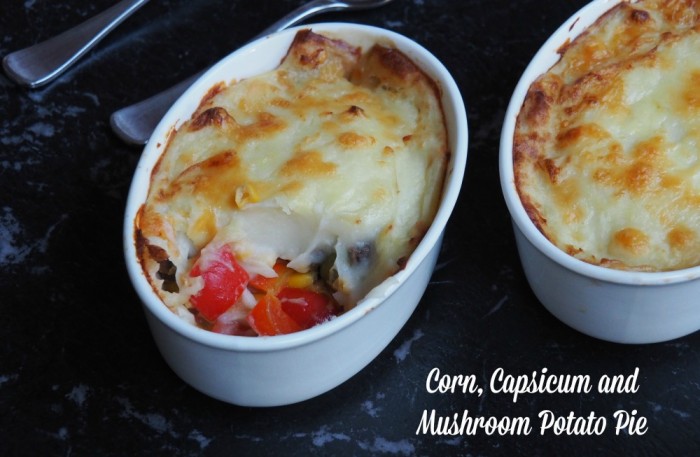 Serves 4
I don't know why but often the ugliest food is also the most comforting and that's certainly the case here. This is comfort food at it's best. This vegetarian pie has it all – cheesy potato goodness with  colourful veggies thrown in for good measure. It's easy to prepare and delicious to eat. This one is simple but scrumptious. Happy Meatless Monday!
Ingredients
FOR THE MASH
4 medium potatoes (800g), roughly chopped
1/4 cup (60ml) milk (use 200g milk/water if making in the Thermomix)
20g butter
FOR THE FILLING
1 x 420g can sweetcorn
2 teaspoons olive oil
2 cloves garlic, crushed
1 fresh long red chilli, finely chopped
1 brown onion, roughly chopped
2 medium red capsicums, roughly chopped
200g button mushrooms, roughly chopped
100g cheddar, grated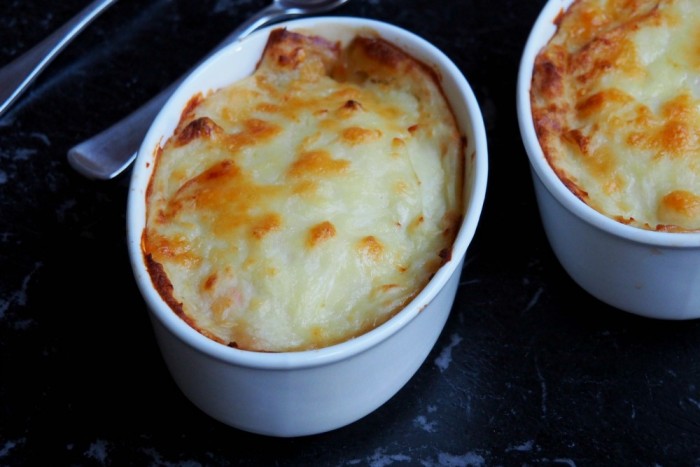 How to
1. Preheat oven to 200C/180C fan-forced.
2. I like to make my mash in the Thermomix, but if you want to use the stove, boil or steam potato until tender and then drain. Mash potato in large bowl with milk and butter until smooth.
3. Meanwhile, heat oil in a large frying pan, cook chilli, garlic and onion, stirring, until onion softens. Add  the capsicum and mushroom, cook stirring until the capsicum is tender. Then add the corn and stir in 1/3  of the cheese.
4. Spoon the  mixture into four ovenproof dishes and top with the mash and remaining cheese. Place on an oven tray and cook, uncovered for about 25 minutes or until the cheese is browned lightly and the pudding is heated through.
Other info
Prep time: 20 minutes   Cooking time:  30 minutes
TIP! Try swapping the peas for corn, and if you don't like it hot, swap the chilli for some fresh herbs.