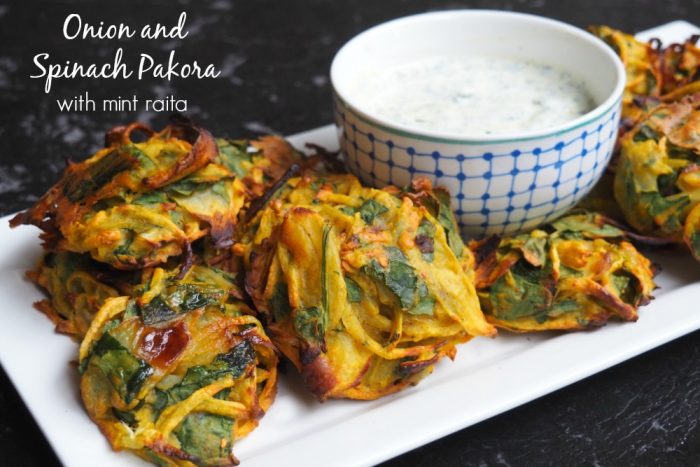 Makes 16 patties
These oven baked vegetarian pakoras are healthy and delicious!
Indian is one of my all time favourite cuisines and I love to create dishes at home. I remember my first ever teaching job in London where 90% of the families were from Pakistan and the treats the mums used to bring in were sublime. That's where I tasted my first pakora, it was love at first bite.
Pakoras are usually fried but I've updated this recipe with an oven baked version, because a) it's healthier and b) I'm a fire hazard on legs when I'm frying. This version is a much healthier but no less delicious alternative. It's also vegan and gluten free. The recipe calls for chickpea flour which you can find at your local Indian grocer.
These make a sensational starter but are also delicious enough to hold their own as the main event at the dinner table. In the unlikely event of leftovers, they go great in a lunchbox or pop them in the oven to reheat for 10 minutes and they'll crisp up like a dream!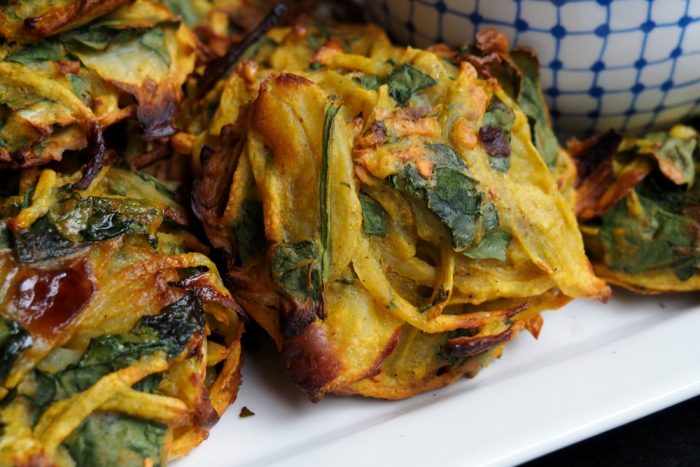 Ingredients
2 cups chickpea flour
4 cloves garlic, crushed
1/2 teaspoon chilli flakes
1.5 teaspoons ground cumin
1/2 teaspoon turmeric
1 teaspoon garam masala
1 teaspoon salt (optional)
1 teaspoon baking powder
2 large potatoes (600g), grated coarsely
2 large brown onions (400g), sliced thinly
100g baby spinach leaves, roughly chopped
1/4 cup mint, coarsely chopped
1 cup (250ml) water
Oil for brushing
FOR THE RAITA
200g natural yoghurt
1 tablespoon lemon juice
1 teaspoon salt, optional
1/4 cup coarsely chopped mint leaves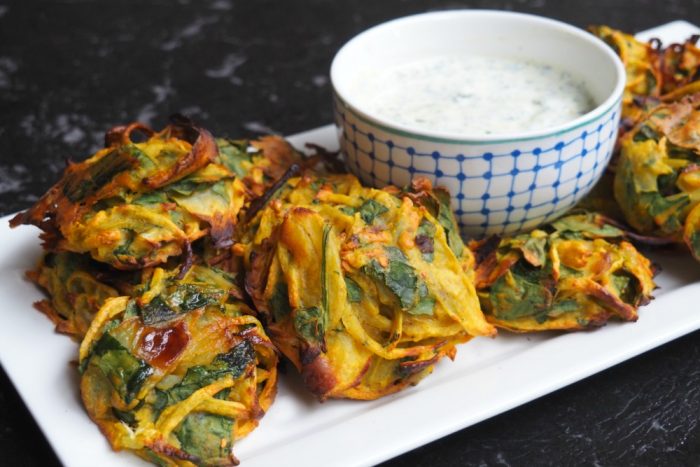 How to
Preheat oven to 220C/200C fan-forced and line 2 baking trays with baking paper.
Add chickpea flour, salt, spices and crushed garlic in a large bowl and stir gently to combine.
Add the water and mix gently.
Add potatoes, onion, spinach and mint and stir. If necessary, add a 1/4 cup more water. Don't add too much – you want a pancake batter type consistency.
Shape 1/4 cup of mixture into patties and place onto prepared baking trays. Bake for 10 minutes.
Carefully flip the pakoras over and cook for another 10 minutes. You can brush them with oil at this stage if you like the deep fried look.
Meanwhile, combine the raita ingredients in a bowl. To make the raita in the Thermomix, with the blades running on speed 7, drop the mint leaves through the hole in the lid until finely chopped. Scrape down lid and sides of bowl. Add the yoghurt, salt and lemon juice and combine for 15 seconds on speed 4.
Serve pakoras with raita and a chopped fresh tomato and cucumber salad.
Other infoPrep time: 20 minutes Cooking time: 30 minutes
TIP! If you don't like it hot, swap the chilli for some fresh herbs.