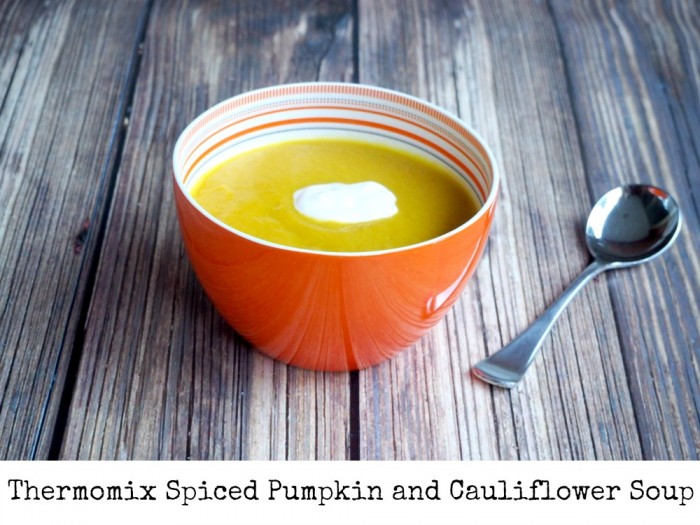 Serves 4 generously
Packed with pumpkin and cauliflower, this soup is full of flavour and so easy to make in the Thermomix!
I first stumbled upon Leah's recipe here. This soup is so soup-erb that when I first tried it, it shot to the top spot of my FSL (Favourite Soup List) and has pretty much stayed there ever since! The combination of the subtle spices from the curry paste and the sweetness of the pumpkin is a total taste festival while the cauliflower adds a wonderful smoothness and creaminess to the bowl.
Garnish with some cream if you want to be fancy, but personally, I think this soup is best enjoyed in all it's unadorned glory!
Do you have a favourite soup?
Ingredients
1 onion, halved
20g butter
1 1/2 teaspoons korma curry paste
600g pumpkin, roughly chopped
400g cauliflower, roughly chopped
1 1/2 tablespoons Thermomix Vegetable Stock Concentrate
500g water
How to
Place onion into TM bowl and chop for 5 seconds on speed 7.
Add butter and curry paste and sauté for 3 minutes at Varoma on speed 1.
Add pumpkin and cauliflower. Chop for 15 seconds on speed 6.
Add stock and water and cook for 20 minutes at 100C on speed 2.
Blend slowly for 1 minute by slowly going from speed 1 to speed 9.
Pour the blended soup into bowls. Serve with some cracked black pepper and a dollop of cream/sour cream if you like.
Other info
Prep time: 5 minutes Cooking time: 24 minutes
TIP! Adjust the amount of water to acquire your preferred consistency.