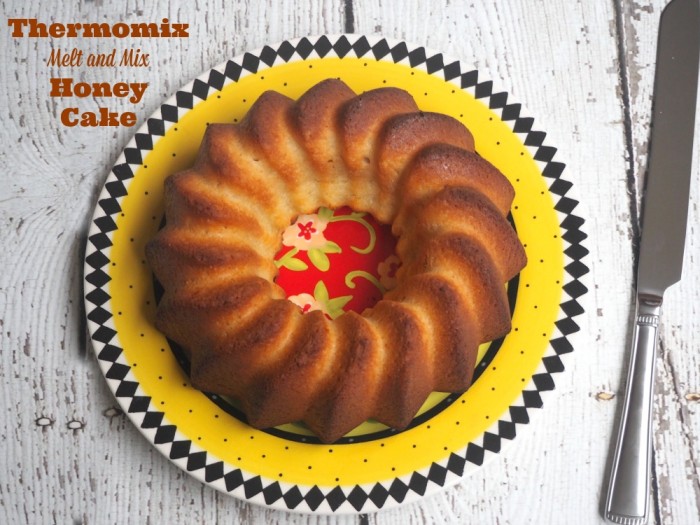 Serves 10-12
This Melt and Mix Honey Cake is the perfect cake for any occasion and it takes longer to collect the ingredients than it does to make the batter (even without a Thermomix – see tip below!)
It's Jewish New Year. Traditionally, this is a time to eat apples and honey to bring on a sweet new year. However, you don't have to be Jewish or wait for New Year to make this cake! The heroes of this cake are the honey and the sour cream; the honey gives it such a deliciously sweet taste and the sour cream makes it light and fluffy as a cloud.
Put your money on the honey, baby! Perfect as a teatime treat or serve with a dollop of thick cream for a delicious dessert!
Are you a honey fan?
Ingredients
165g raw sugar
155g butter
3 eggs
125g honey
180g sour cream
260g self-raising flour
How to
Preheat oven to 180°C / 160C fan forced.
Place sugar in the TM bowl and mill for 3 seconds on speed 10. Set aside.
Place butter into TM bowl and melt for 3 minutes at 60C on speed 1. Check that the butter is completely melted, if not, melt for a further 30 seconds.
Add the eggs, honey and sour cream and mix on speed 5 for 5 seconds.
Add the flour and sugar and mix on speed 5 for 10 seconds. Scrape down the sides of the bowl and if necessary, mix for another 5 – 10 seconds on speed 5, until the batter is nice and smooth.
Pour mixture into a bundt tin and bake for 30 minutes.
Serve as is with a nice cup of tea, or drizzle with warm honey and serve with some thick cream for a decadent dessert.
Other info
Preparation and Cooking time: 40 minutes
TIP!
If you don't have a Thermomix, this cake is still simple. Just substitute caster sugar for raw sugar. Melt the butter in the microwave or in a pan, and then follow the steps 4 and 5 to mix the dry ingredients!
For a beautiful bundt – make sure the bundt tin is really well-greased and lightly flour the tin before pouring the mixture in.