Kindess is something that should be shared, and once it gets going, it's infectious. I was pretty stoked when I saw this 21 Day Kindness Challenge shared on Brenda's Facebook Page. (If you haven't swung by already, you really should, there's a whole lot of whole food going on!)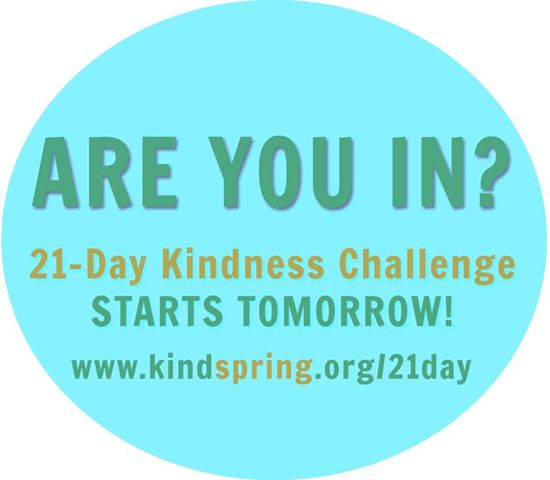 I love a challenge. Kindness becomes me and 21 days give me plenty of time to develop some happy habits. As George William Curtis said, "the fragrance always remains on the hand that gives the rose."
Now I know the challenge already started on September 11th… but I'm a graduate from the "Never Too Late to Start" School of Thought, so I shall join in wholeheartedly, if a little tardily!
There are plenty kind-spirational ideas on the website from work to public transport and friends and family to the elderly. I've got so many planned acts of  kindness to carry out, I don't think 21 days will be enough, and that's not including, the RAOK (Random Acts of Kindness) either!
I'm going to keep track of all 21 (plus) acts of kindness and will reveal all at the end of the challenge.
My mum is always telling me "from little acorns, oak trees grow." I really believe small acts can change the world. Do you?
I'm ready for the challenge.  Are you?  Signing up is one of the kindest things you can do!
photo credit: www.kindspring.org