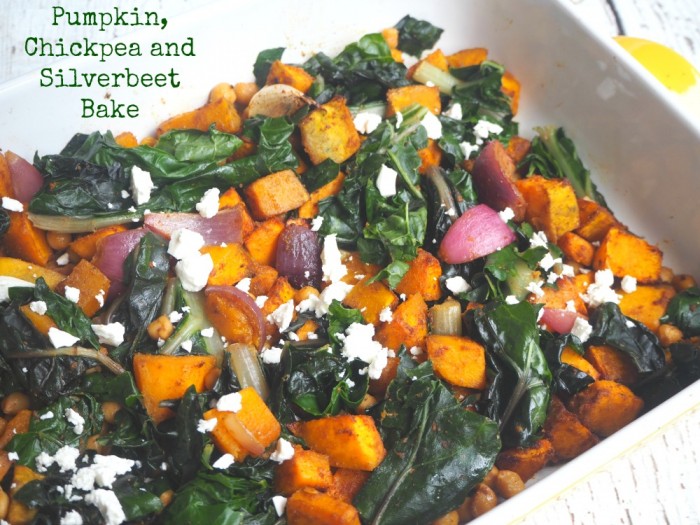 Serves 4
This is a super easy one dish dinner. Chuck it in the oven and let it go! Leftovers taste great on Tuesday, too!
Ingredients
1.5kg  pumpkin, peeled and roughly chopped
1 red onion, cut into wedges
6 cloves garlic, unpeeled
1 tablespoon ground cumin
1 tablespoon ground coriander
1 teaspoon smoked paprika
2 x 400g cans chickpeas, rinsed and drained
20g butter, chopped
1 bunch silverbeet, coarsely chopped
30g feta cheese
crusty bread, to serve
olive oil, for drizzling
How to
1. Preheat oven to 200C / 180C fan-forced. Line a large baking with baking paper
2. Put the pumpkin, red onion, garlic and spices in a ziploc bag. Pour in some olive oil, seal the bag and toss to coat. Add veggies to   prepared baking dish.  Drizzle with a trickle more olive oil and bake until tender (about 20-30 minutes depending on your oven.)
3. Stir through the chickpeas and butter, and bake for about 5 minutes more, until heated through.
4. Meanwhile, place the silverbeet in the microwave for 3-5 minutes  until tender. Drain and add to the pumpkin mixture and give it a good stir. Crumble over the feta and serve with crusty bread.
Other info
Prep and Cooking time:  35-45 minutes