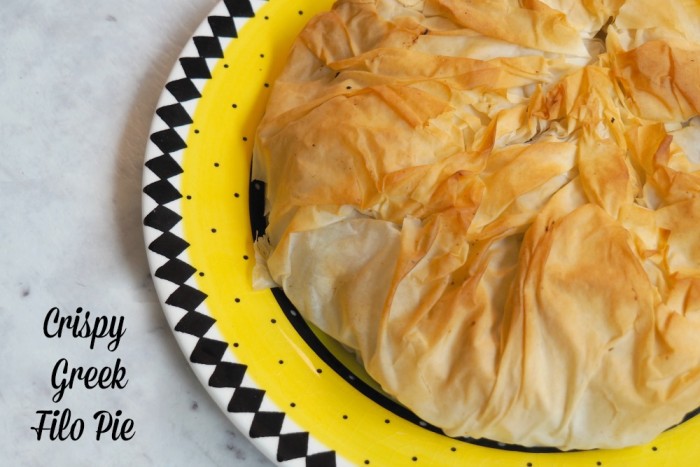 Serves 4
This vegetarian pie is freezer friendly, simple to make and is full of flavour! It's packed full of all our favourite things and is so easy to put together. It's delicious served warm or at room temperature with a green salad.
Just remember that filo pastry needs to have a rest before it's handled, so take it out of the fridge two hours before prep to let it chill out!
Ingredients
150g baby spinach leaves
150g mushrooms, sliced
175g sundried tomatoes in oil, roughly chopped
150g (40z) feta, crumbled
12 olives
2 eggs
8-10 sheets filo pastry
How to
1. Preheat oven 180C/160 fan-forced.
2. Put the spinach in a large pan, add 2 tablespoons water and cook until just wilted. Transfer into a sieve, leave to cool a little, then squeeze out any excess water. Roughly chop the spinach and put it in a large bowl.
3. Add the chopped tomatoes, feta, eggs and olive and mix well to combine.
4. Carefully unroll the pastry and cover with some damp kitchen paper to stop it drying out. Take a sheet of pastry and brush it with some of the sundried tomato oil. Drape the pastry oil side down, into a loose-bottomed 22cm cake tin, so that some of the pastry hangs over the side.
5. Brush oil on another sheet of pastry and drape in the tin just like before but a bit farther around. Keep draping the pastry sheets around the tin until you have about 3 layers. Spoon over the spinach mixture. Pull the overhanging sides into the middle and scrunch it up, making sure the filling is well covered. Brush with a little more oil.
6. Cook the pie for 30 minutes until the pastry is crisp and golden. Remove from the tin, cut into  wedges and serve with a green salad.
Other info
Prep and Cooking time:  40 minutes
TIP! The uncooked pie can be frozen at the end of step 5. Leftovers taste great the next day!