Thanks to Google Local, I scored myself a place at a Messina Gelato Class. Gelato Messina is the stuff dessert legends are made of. It's reputation precedes it. Messina is Gelato and it has been voted Australia's Best Gelati. (Just taste it and you'll know why.)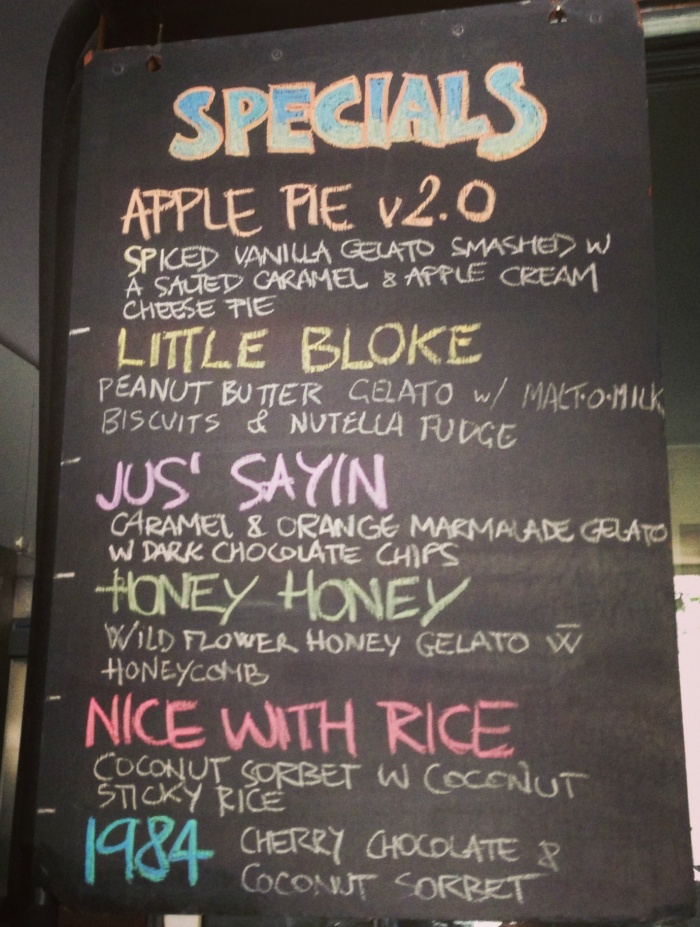 I have a confession. Until Saturday, I was a Messina Virgin. Not out of choice just because the stars had never aligned in such a way that I could get in line at one of Messina's three Sydney locations. When it comes to Messina however, it's definitely a case of better late than never and I'm so pleased I  finally got to  pop my Messina cherry, and  in such spectacular style!
This is not your average gelateria. This place churns out over 10 tonnes of gelato  (and one tonne of that is Salted Caramel)  and 1000 cakes a week. Wowzers!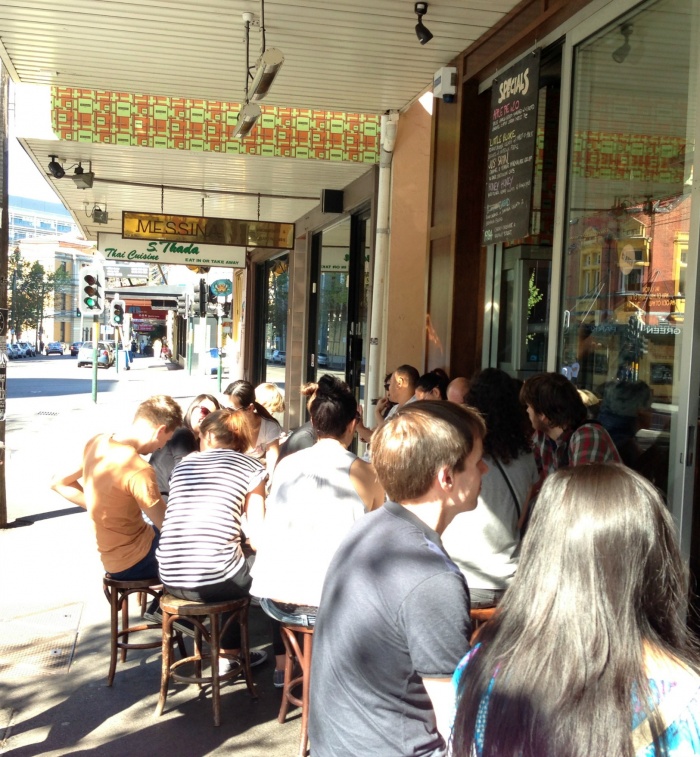 What I really love, almost more than the gelato, is that this is a story of four boys who did good and who are living their gelato dream. As Chef Donato tells us "we're boys that just did something right." Sooooo right!
After a coffee at the Darlo store and a friendly introduction from Dec, we head out to the Messina factory with Donato, to see where the magic happens. There we meet another two Messina magicians, ooops, I mean chefs, Alex and Tom, who conjure up a six course degustation that sweet dreams are made of.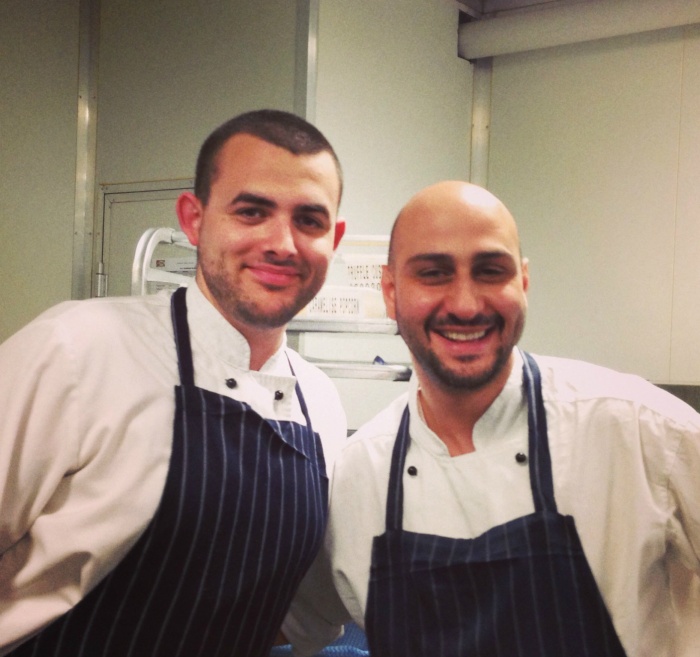 These guys work super hard, with a 24 hours a day, 7 days a week operation. It makes me tired just thinking about it! Gelato in Italian literally means frozen and in Italy, sorbet and gelato are the same stuff. In Australia and the US there is a distinct difference between gelato and sorbet and it's all about the amount of added butter fat. However, I won't bore you with the juicy details, because today it's all about the sweets and not the science.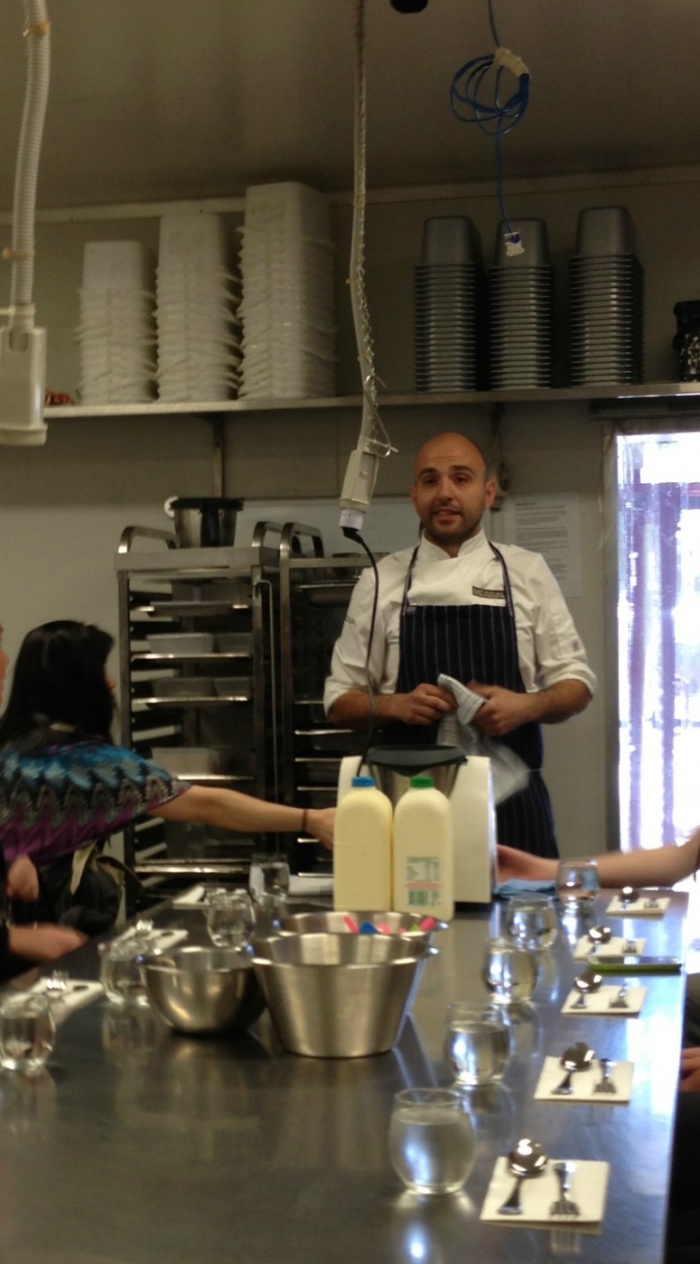 While Donato whipped up some gelato in his Thermomix, the first course was served; Gin and Tonic.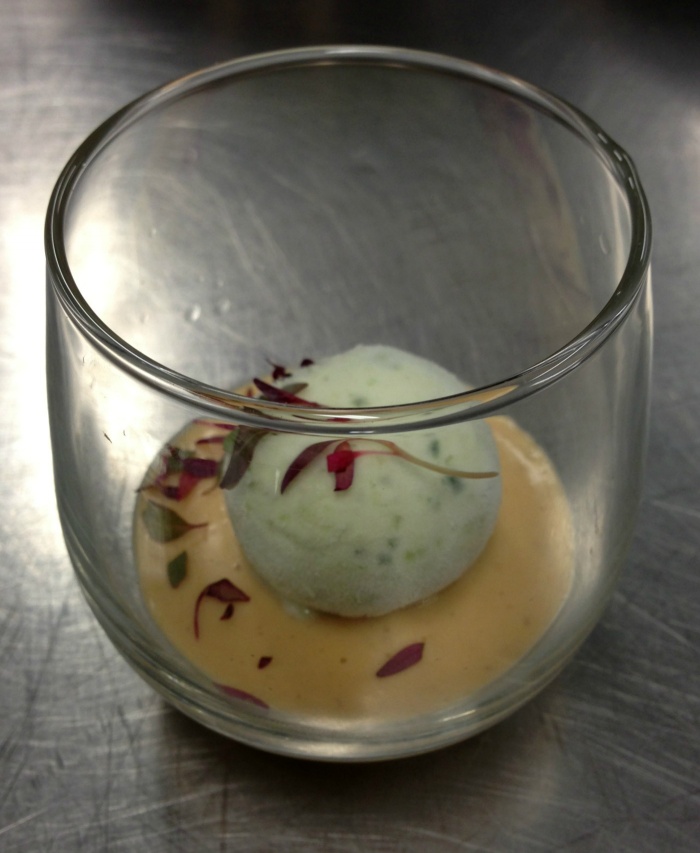 Rose and Juniper Cremeux, Gin Jelly, Cucumber Sorbet, Tonic Water. That went down the hatch very nicely. Gelato for breakfast? Don't mind if I do!
Course 2 One Effed Up Ice Cream Sandwich  was up next. Totally nom!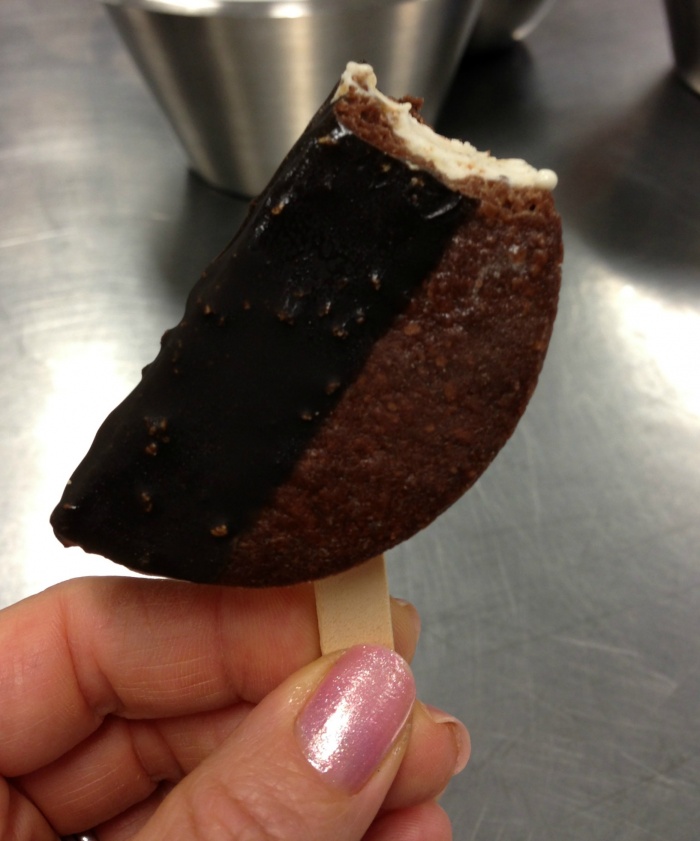 Peanut, duck fat caramel, peanut nougatine gelato, sable and caramel chocolate. I could feel my arteries harden with every delicious bite!
Dr Evil's Magic Mushroom Cake is Messina's best selling cake, but we got to watch a video of how the famous Black Forest Cake is made, yes, that Masterchef cake!
Then out came course 3, Truffle Trouble.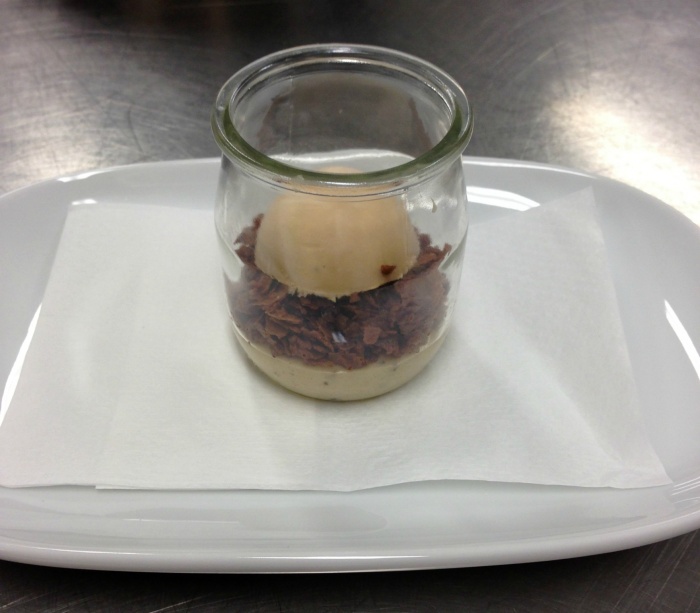 Hazelnut Fueillitine Crunch, Caramelized White Chocolate Gelato and Black Truffle. My sugar high was getting higher.
Donato then showed us to whip up some gelato in the Thermomix which made me love my Thermomix even more, if that was at all possible.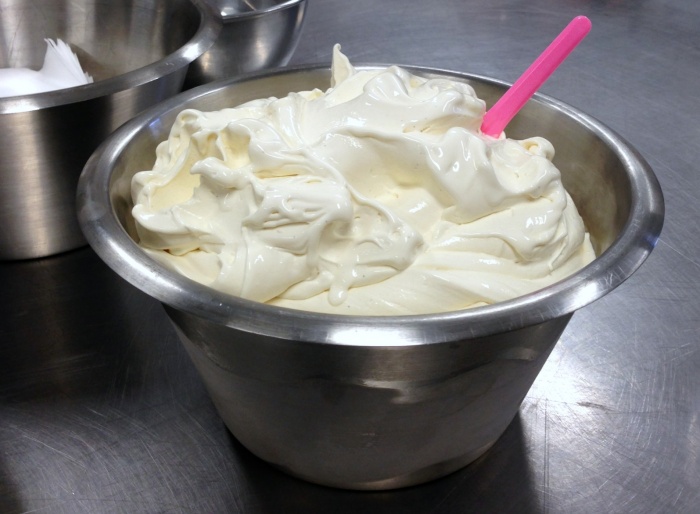 Now Messina has 70 staff, but back in the day when Messina was born, then there were 3! These days they get through 2 pallettes of caster sugar a week and 700-1000 litres of milk a day. That keeps a lot of  cows out of a lot of mischief! For the record, Messina only uses Jersey Milk (how now brown cow,) apparently their milk is the bomb. Yes, you can taste the difference!
Course number four was my far and away favourite Corn 3 Ways.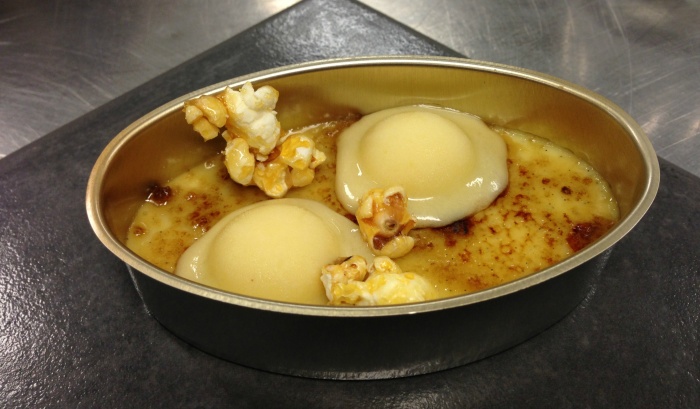 Corn and vanilla creme brulee, sweet corn sorbet and caramelised pop corn. Super good! The sweetcorn sorbet really hit the spot. It sounds so wrong, but tastes so right!
While we were scoffing more sugar, Donato had already started on the Peach Melba Bombe  right then and right there. Talk about multi tasking!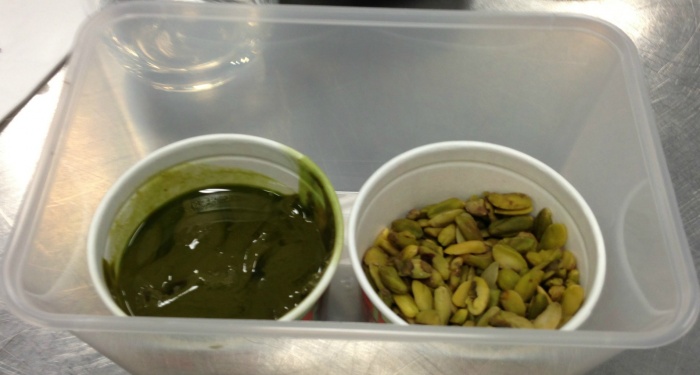 Messina import all their nuts from Italy. These pistachios come from the foot hills of Mount Etna in Sicily. I didn't know that pistachios actually aren't nuts at all, they're buds! We watched a video of them being harvested and a video of a nimble fingered nonna separating the nuts and shells, by hand. I think her name was Mrs Fast Fingers. So cool! The nuts are used to make this pistachio paste, all natural, all Italian with just a dash of added salt!
Up popped Duck My Cherry , a pallette cleanser but this is Messina , so it's a pallette cleanser… but not as you know it.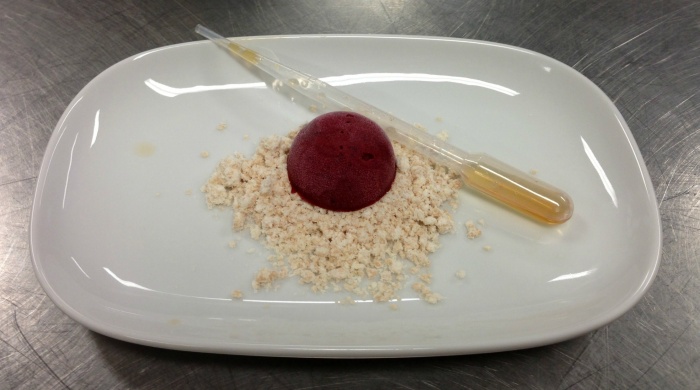 I loved the cherry sorbet and the amaretto shot but I wasn't sure about the foie gras powder. I think it was an acquired taste and one I just haven't quite acquired yet.
The sweet stuff kept on coming. Five alive was Pavlova on it's ass.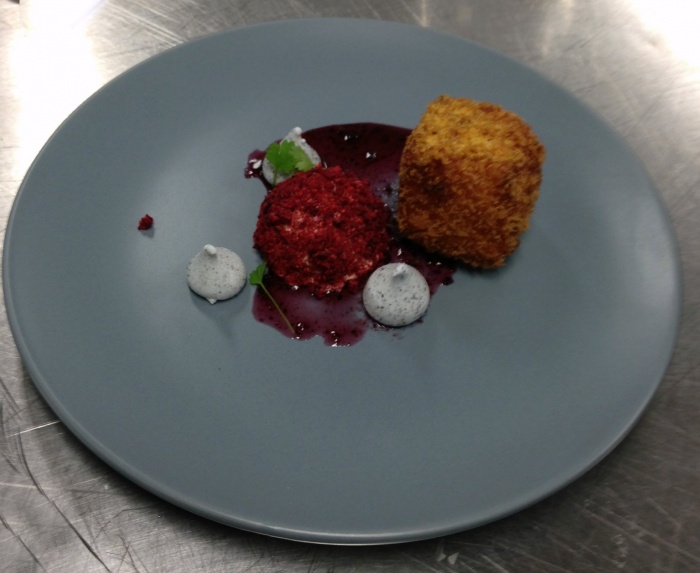 The burnt vanilla gelato and the violet meringue was sublime. The freeze dried raspberries balanced the sweetness with some tartness, and the passionfruit curd was a deep fried surprise.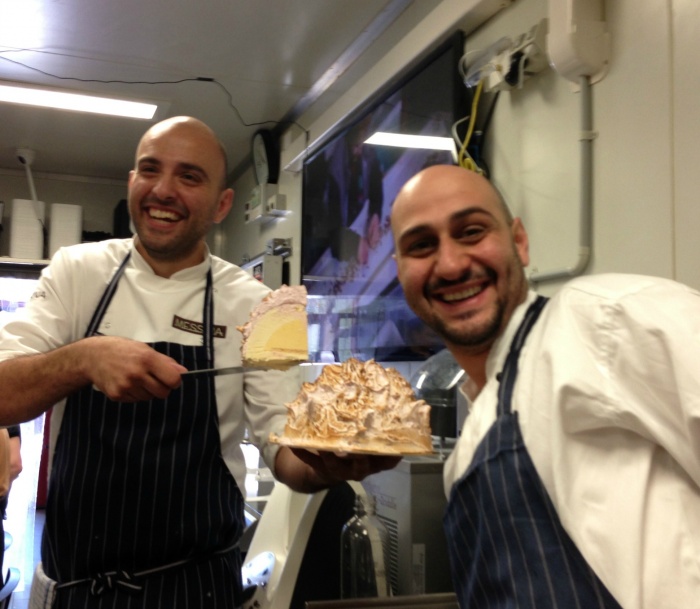 You can choose from 40 flavours at Messina at any one time. By the time the Peach Melba Bombe arrives, I'm wondering if I'll have stomach space to taste any!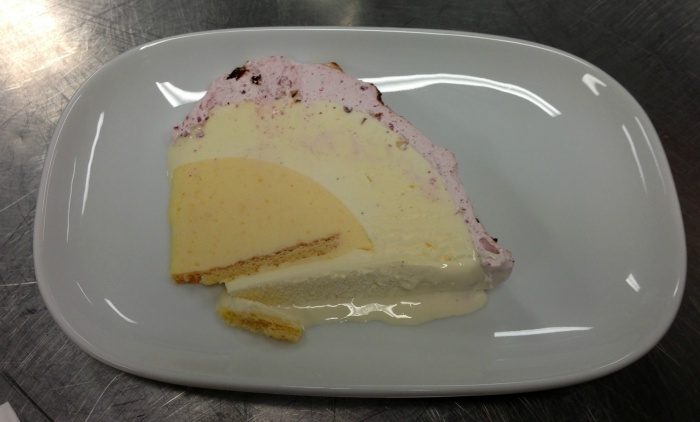 The  peach gelato, vanilla gelato and caramelised raspberry meringue tastes as good as it looks!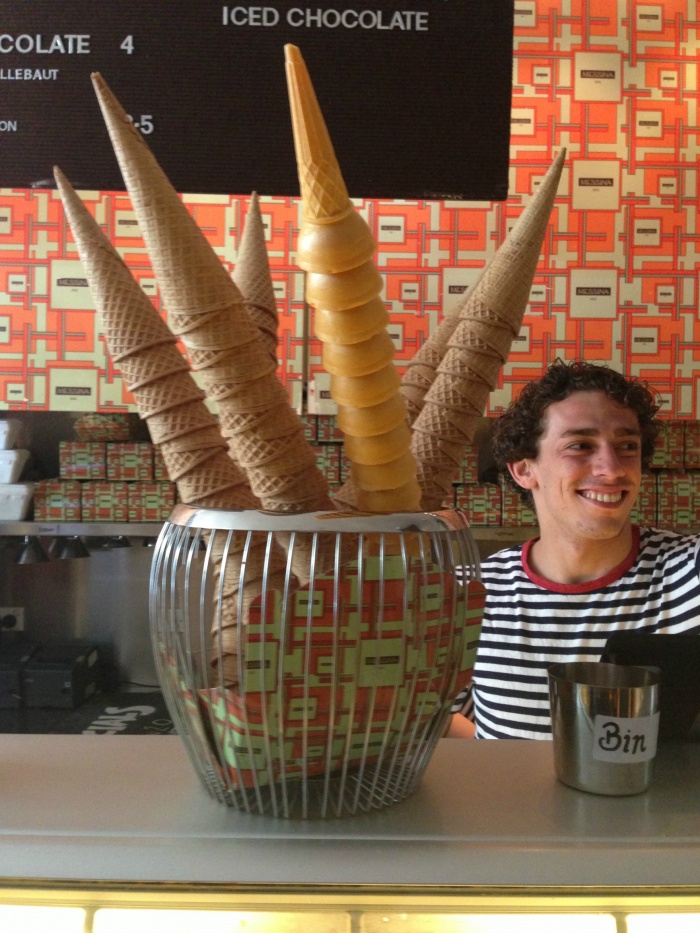 As my sugar high reaches new heights, we're back on the bus and back to the Darlinghurst store to start tasting more of Donato's labours. It's hard work but I soldier on in the taste testing department working my way up and down the cabinets!  This really is gelato heaven.

It's seriously the best gelato I've ever tasted! Even better than the gelato I had in Italy. I'm so lucky and so full, but Donato's so generous…   he gives me some to take home.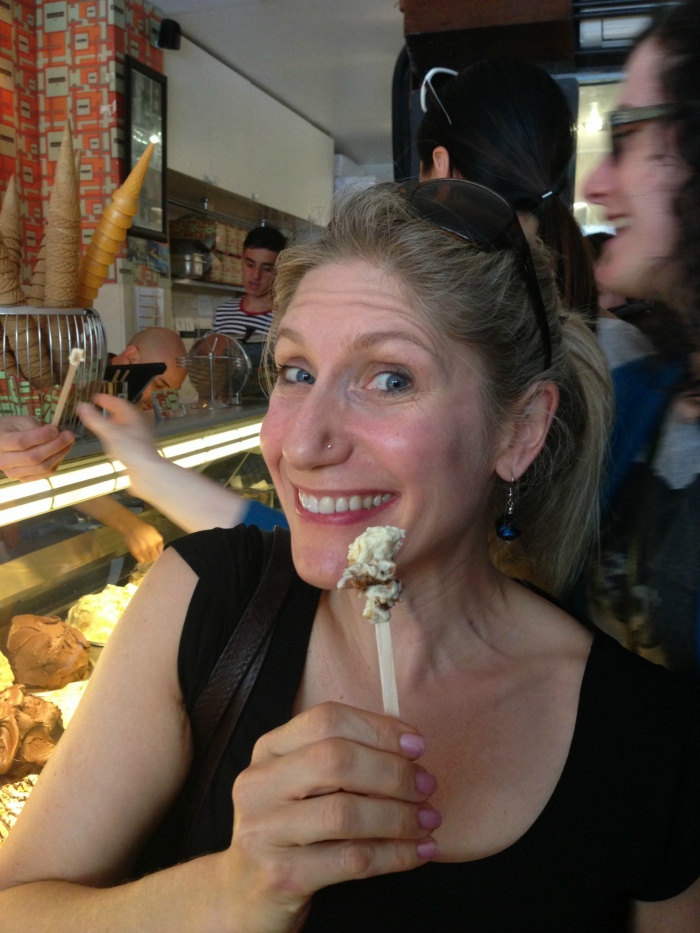 The only problem is what to choose… so many flavours, so little time (and so little freezer space!) I know David would give body parts for Tiramisu and Salted Caramel, so I get some half and half. However, I am in the middle of a kindness challenge, it seems churlish to only take him 2 flavours to try, so I buy another box with Apple Pie 2 and Coconut and Mango. That's 10% of the cabinet covered.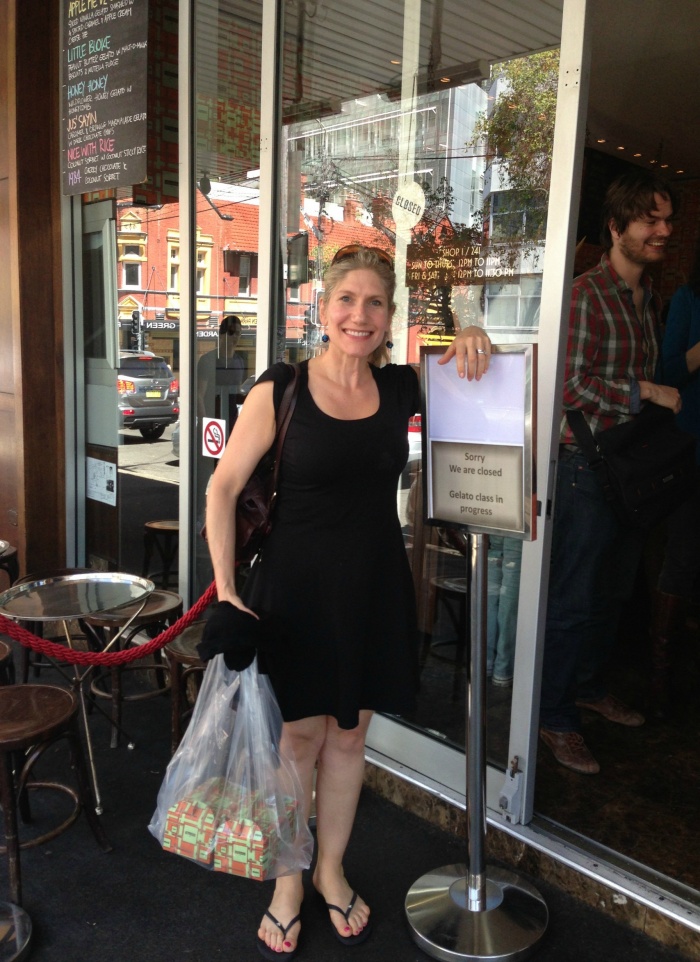 There will be plenty more opportunities to get to grips with  the remaining 90% of the Messina menu. I'm going to make sure of it.
Don't be fooled. Messina is gelato. But the experience you will enjoy there is so much more than n-ice-cream!
For more information visit www.gelatomessina.com    
Or visit instore at 1/241 Victoria Street, Darlinghurst, NSW 2010
(also at The Star and Surry Hills)
Gelato Classes have all sold out for 2013 but why not visit the website and sign up for 2014? Because everyone needs something to look forward to!