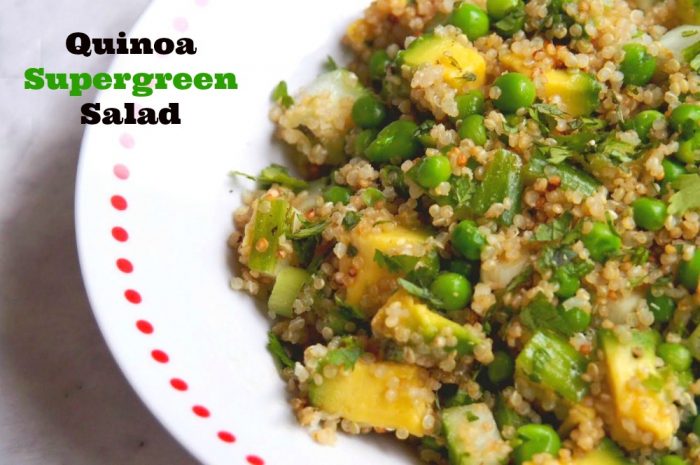 Serves 1-2   (low iodine)
I have rediscovered my love for quinoa so I had to revisit this healthy recipe, especially now I've found a way to cook my quinoa with perfect results every time. I remember how much I loved this salad when I was on the low iodine diet because it was so flavoursome, which is not an adjective you hear in the same sentence as low iodine diet!
This salad is green but not mean. It's packed with veggies and full of flavour. I think the coriander and mint bring so much freshness to the salad bowl, but if you're not a fan of coriander, you can skip it entirely or swap it for parsley instead. This salad is stand alone delicious but also makes a great accompaniment to any protein too.
Ingredients
1/2 cup (80g) dry quinoa
1/2 large avocado, diced
1/4 cucumber, diced
2 spring onions, finely chopped
100g frozen peas
2 tablespoons mint leaves, finely chopped
2 tablespoons coriander leaves,  finely chopped
1/2 lemon, juiced
1/2 teaspoon ground cumin
1 teaspoon olive oil
How to:
Rinse the quinoa under cold water in a fine sieve, gently rubbing the grains together.
Add the  rinsed quinoa and 1 cup cold water to a pan. Bring to the boil, then cover and simmer for 10-15 minutes until all the water has been absorbed.
Turn off the heat, remove the pan from the heat and leave to rest, covered for a further 10 minutes before fluffing with a fork.
Meanwhile, put the onion, cucumber and avocado in a  bowl.
Blanch or microwave the peas for 2 minutes, drain and add to the bowl along with the herbs.
In a small cup of jug, combine the oil, lemon and cumin to make a dressing.
Add the quinoa to  the rest of the ingredients, pour over the dressing and toss everything together. Scatter some extra herbs to garnish and serve.
.Other info
Preparation Time: 10  minutes    Cooking Time: 25 minutes