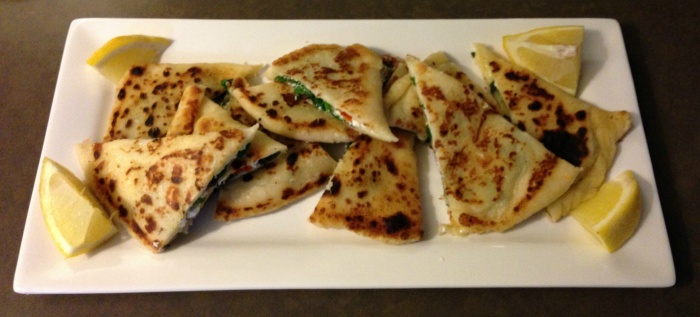 Makes 4
I got back on Friday. I was tired, I was hungry  and I was desperate to make some gozleme. I blame Beth. She wrote such a mouth watering blog post that I was gagging for gozleme. However, I have a confession. I've drooled over it but never eaten it before, so I had no idea what it would taste like, except that it would be good! I did a lot of research and there are so many recipes for gozleme, with yeast, without yeast, with yoghurt, without yoghurt! It's mind boggling! In the end, I used Gourmet Girlfriend's recipe as a base, because it's quick and easy and I was tired and hungry.  Now, I know sundried tomatoes aren't typically Turkish, but this is all I had in the fridge, this is gozleme and anything goes! 
Ingredients
250g plain flour (plus a bit extra for dusting)
200g natural greek yoghurt
pinch of salt
75g baby spinach leaves, roughly chopped
100g feta, crumbled
30g grated pizza cheese
40g sundried tomatoes, roughly chopped
handful of pitted black olives, chopped (optional)
pinch of chilli flakes (optional)
How to:
Mix the cheeses together and set aside. If you like it hot, add a pinch of chilli flakes and mix together.
Give the yoghurt a bit of a whisk with the fork to make it "flatter." Add the salt.
Gradually add the flour and gently mix until it comes together to make a dough. It should be firm and a bit sticky.
Put the dough onto a lightly floured surface and knead into a ball. Place the dough into a bowl and cover with cling film. Let it rest for 15 minutes. If you're pushed for time, you can use the dough straight away.
Cut the dough into 4 equal portions. Use a floured rolling pin to roll each piece of dough to a large-ish round-ish shape. Anything goes but just remember, the thinner the dough, the better it is. Don't be afraid, roll that dough until you can almost see through it!
Sprinkle the chopped spinach over one half of the dough and top with the cheese and sundried tomato. You can add some chopped olives too, if you like.
Fold over the dough and seal the edges with a fork or your fingers.
Cook the gozlemes one at a time in a heated, oiled pan for 2-3 minutes until cooked and golden. Drain on paper towel.
Cut into small slices and serve with lemon wedges. Devour!
.Other info
Preparation Time: 5  minutes (+15 minutes resting)    Cooking Time: 10 minutes
TIP!  Try sprinkling the gozlemes with some sesame seeds at the end of stage 6. Sprinkle the seeds and gently press them down with the palm of your hand.