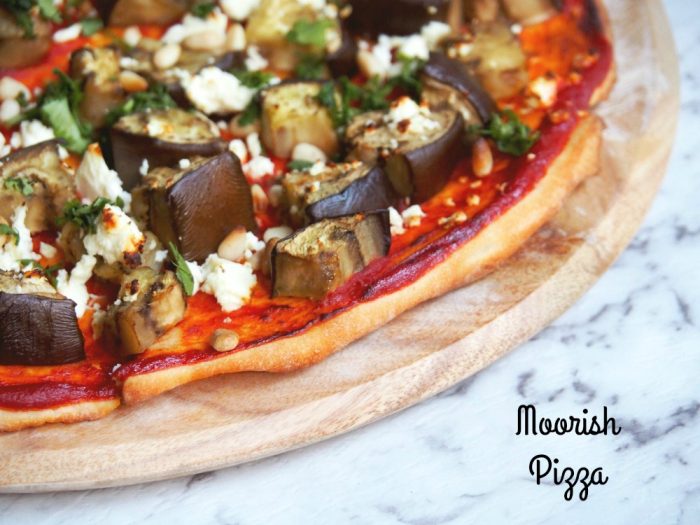 Makes 1 large pizza – serves 1-2
Once upon a time there was one lonely eggplant left in the fridge. Nobody wanted him. Nobody loved him. Until, one day he was rescued. He left the dark fridge for a soft, fluffy pizza and a warm oven where he made friends with feta, pine nuts and harissa… and he was the star of the show! I love a happy ending, don't you?
Foodie fairytales aside, this pizza is quick, easy, healthy and super yum! You can whizz up the two ingredient pizza dough in a matter of minutes (with or without a Thermomix,) and the topping is flavour plus! I'm actually trying to cut back on dairy so the feta is a delicious compromise and really sets off the flavour of the eggplant and the harissa.
Harissa paste can be pricey and/or hard to find and don't worry if you can't get/haven't got any. Using regular tomato paste with a generous sprinkling of chilli flakes works just as well. Of course, if you don't think spicy is nicey skip the chilli altogether. However, one thing you shouldn't miss is the coriander. I know it's a very divisive herb, but it's also very delicious and on this pizza, it brings all the flavours together in the most fresh and fabulous fashion!
If you love eggplant and Middle Eastern flavours, I think you'll love this pizza!
Are you on Team Coriander too? Do you think spicy is nicey?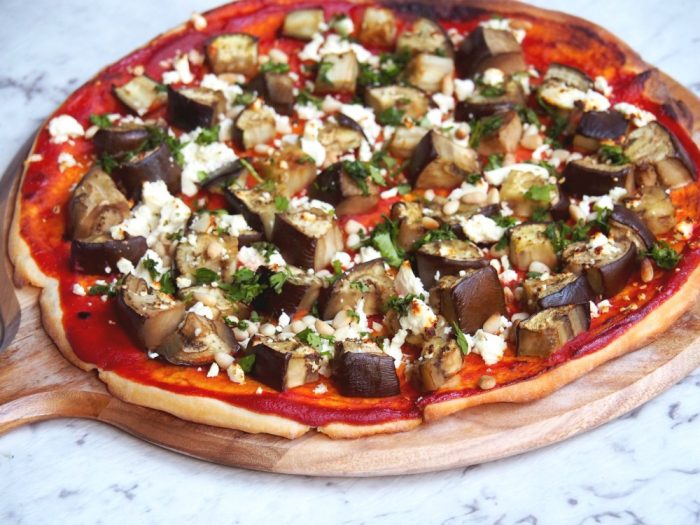 Ingredients
FOR THE PIZZA DOUGH
100g natural Greek yoghurt
110g self raising flour
FOR THE BASE
3 tablespoons of tomato paste
1/4 – 1/2 teaspoon harissa paste (to taste)
1 tablespoon olive oil
1 large eggplant
40g feta, crumbled
1 tablespoon pine nuts
Chopped fresh coriander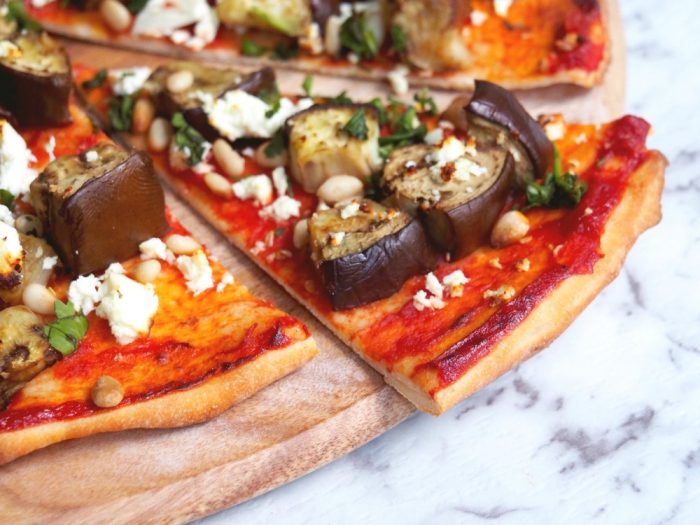 How to
Cut the eggplant into thick slices, place on a lined grill pan and brush lightly with olive oil. Place the eggplant slices under a hot grill for 2-3 minutes each side or until golden brown. When the eggplant is cool, cut into chunks. Set aside.
Preheat the oven to 200C /180C fan-forced.
To make the dough by hand – Mix flour and Greek yogurt together in a bowl. Transfer to a  lightly floured work surface and knead the dough, adding more flour as needed to keep dough from being too sticky, for about 8 to 10 minutes.
To make the dough in the Thermomix – Add flour and yoghurt to TM bowl and mix for 6 seconds  on speed 6.  Set the dial to closed lid position and knead for 1 minute  on interval speed.
Lightly grease a pizza tray. Roll out dough to fit your preferred baking tray. Spread dough to the edges.
Bake for about 5-7 minutes until just golden at the edges. Remove from the oven and carefully flip the base over using a spatula.
Mix the tomato paste and harissa (or chilli flakes) together in a small bowl. Cover the base with tomato/harissa paste and place the eggplant pieces all over the base. Crumble over the feta and sprinkle over the pine nuts. Bake for another 8-10 minutes or until cooked.
Sprinkle with coriander and serve.Other infoPreparation Time: 5 minutes (+ pizza dough)  Cooking Time: 15-20 minutes