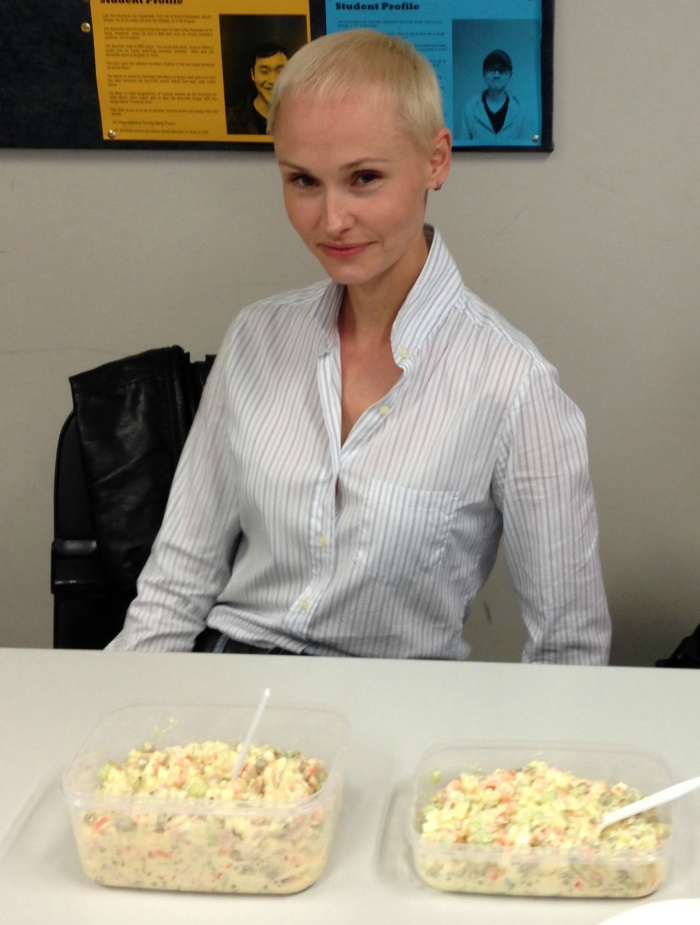 This Meatless Monday I would like to introduce you to the lovely  Mila from Russia, who  prepared this delicious salad for our International Food Day which was enjoyed by all. This salad is a traditional Russian dish and typically served at New Year. However, I think it merits a place on the menu all year round! It's the perfect summer supper – serve it up with some dark rye bread. Yumbo!
Ingredients
1 tin of peas
4 medium potatoes
4 carrots
4 medium or 5 large eggs
1 small bunch of dill
5 – 6 pickled cucumbers (gherkins)
1 fresh cucumber
Salt and pepper, to taste
Mayonnaise
How to:
Boil, steam or microwave carrots and potatoes and  boil the eggs. Allow to cool to room temperature.
Skin the potatoes. Dice the carrots and potatoes into small cubes and place in a large bowl.
Drain peas and add to bowl.
Peel eggs and dice the same size as the carrots and potatoes. Add to the bowl.
Dice the gherkins and add to the bowl.
Mix everything, season with salt and ground black pepper, to taste. Add mayonnaise and mix everything one more time.
Just before serving, dice the fresh cucumber into cubes (the same size as the other veggies,) and chop the dill. Add to the bowl.
Mix one last time and serve. Enjoy!
Other info
Preparation and cooking time: 40-50 minutes