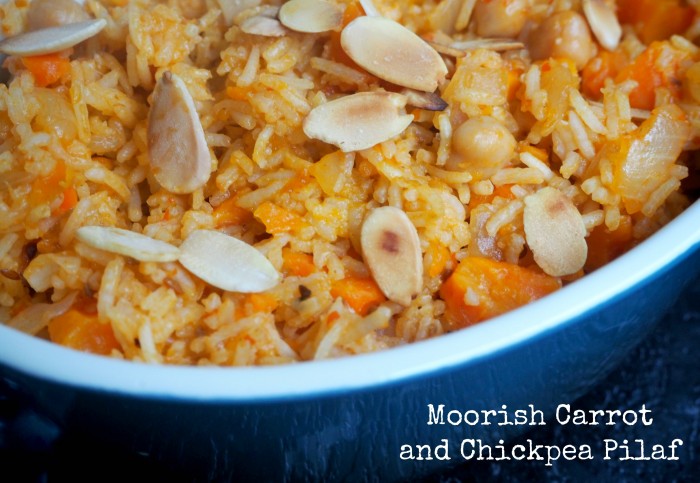 Serves 4 generously
Meatless Monday goes Moroccan this week with this moreish/Moorish one-pot-wonder. This is cheap, easy and really satisfying. Leftovers taste great the next day! If you want a milder dish, just use less harissa and if you want it hotter, just add a little more.
Ingredients
1 tablespoon olive oil
2 brown onions, finely chopped
1/2 teaspoon ground cumin
300g carrots, coarsely grated
1 -2  tablespoons harissa paste
300g basmati rice, rinsed
700ml vegetable stock, made with 1 stock cube (or1 1/2 tablespoons TM stock concentrate)
400g can chickpeas, rinsed and drained
25g toasted flaked almonds
Greek yogurt, to serve
How to:
Heat the oil in a frying pan (with a lid)  or a flameproof  (lidded) casserole dish.
Add the onions and cumin and cook for about 5 minutes, until softened. Tip in the carrots, harissa and rice and stir for a couple of minutes.
Pour over the stock, bring to the boil, then cover with the lid and simmer for  about 10 minutes. Check the water level during cooking, if all the water is absorbed, add a little more water.
Gently stir through the chickpeas and cook gently for another 3-5 minutes, until the rice is tender and all the liquid has been absorbed.
Season, turn off the heat, cover and leave to rest for a few minutes.
Sprinkle the toasted almonds over the pilaf and serve with a big dollop of yogurt.
Other info
Preparation Time: 15 minutes   Cooking Time: 20 minutes
TIP! Harissa paste can vary in strength – so make sure you know how strong your paste is before you start. Don't be too heavy handed!