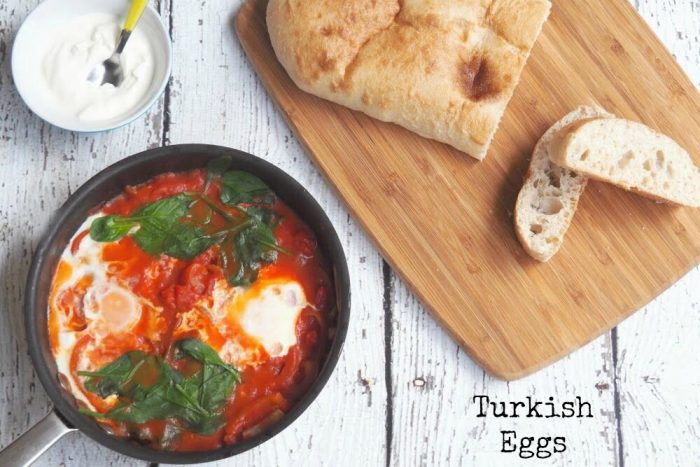 Serves 1 (easily doubled)
We love this one pan wonder. Sometimes we have it for breakfast,other times we serve it for brinner, which is totally a thing, you know when you have breakfast for dinner. I remember when I was little, I used to stay at my auntie's and my auntie would serve cereal for dinner, but not just any cereal, because their cereal cupboard had as much variety as the cereal aisle in your local supermarket. It was a brinner dream come true.
My brinner tastes have evolved as I have aged, these days I prefer my brinners cooked and on the more nutritious side. This dish is so easy to make and super satisfying to eat. It's really versatile too, feel free to add whatever herbs or veggies you have to hand. Be sure to serve these eggs with a side of  your favourite bread, because you're going to want to mop up all of those juices!
Ingredients
1 tablespoon olive oil
2 cloves garlic, crushed
1/2 onion, sliced
1/2 red or green capsicum, halved, deseeded and sliced
1/2 long red chilli, deseeded and sliced or a pinch of chilli flakes
1 x 400g can chopped tomatoes
1/4 teaspoon sugar (optional)
2 eggs
a handful of baby spinach
1 tablespoon parsley, finely chopped (optional)
3 tablespoons Greek Style yoghurt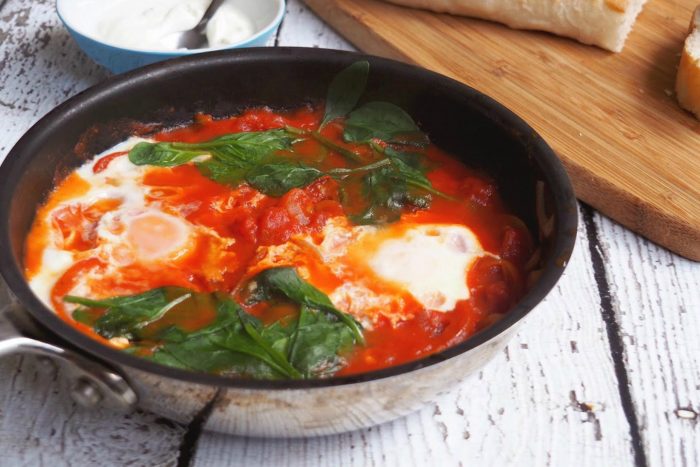 How to:
Heat the oil in a heavy-based frying pan. Stir in half the garlic, and all the onions, capsicum and chilli and cook over a medium heat for about 10 minutes until softened.
Add the tomatoes and the sugar, if using, and cook until the liquid has reduced. Season well.
Using a wooden spoon, create 2 pockets in the tomato mixture and crack the eggs into them. Place the spinach leaves on top of the mixture. Cover the pan and cook the eggs over a low heat until just set. This will take a few minutes.
Mix the yogurt with the remaining garlic and season. Sprinkle the eggs with parsley and serve straight from the frying pan with a big dollop of the garlic yogurt.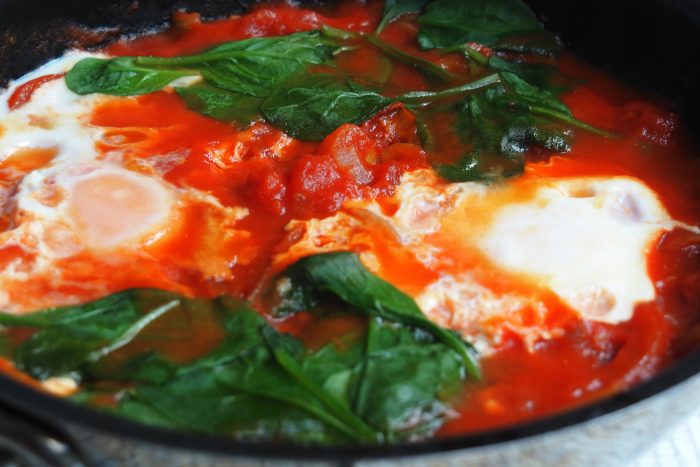 Other info
Preparation Time: 10 minutes  Cooking Time: 25 minutes
TIP! I like to crack each egg into a cup and then pour into the pocket in the pan.