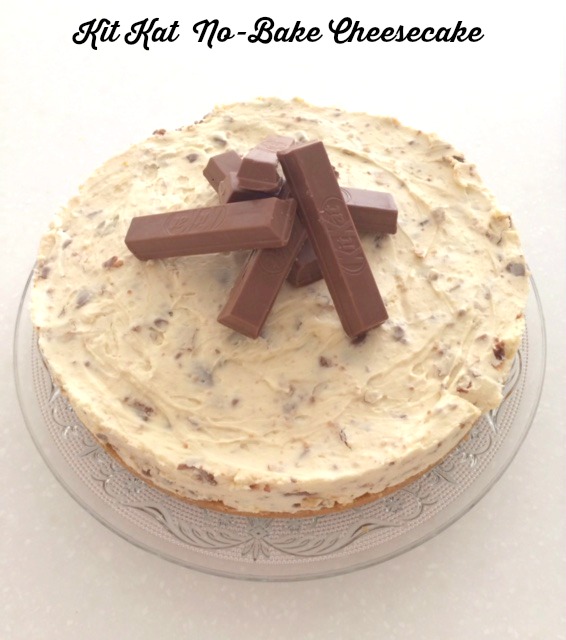 photo credit Lisa from Luxe Addition
Serves 6 – 8
This recipe has been posted by popular demand! Cheesecake and Kit Kats are two of Simon's favourite things so, I had no choice but to make him this no-bake Kit Kat cheesecake on his birthday and can I tell you, it was as easy as pie! It's super-rich, super-delicious and super simple. The basic recipe is really versatile – just add your favourite chocolate bar! This is so easy, you can make it with or without a Thermomix. Everyone will love you for it!
Ingredients
200g plain biscuits (I used granita)
80g unsalted butter
500g cream cheese
90g raw sugar (use caster sugar if not using a Thermomix)
200g Kit Kat, broken into chunks (a large block)
1 teaspoon vanilla extract
50g thickened cream
How to
Lightly grease a 20cm springform cake tin and set aside. I like to line the base with baking paper to ensure easy removal.
Break the Kit Kat into small chunks. Reserve 50g for decorating and set aside.
Melt butter in a pan or in the microwave. If you're using a Thermomix, place butter into TM bowl. Melt for 3 minutes at 50 degrees on speed 3.
Crush the biscuits using a food processor and add to the butter mixture or add the biscuits to the TM bowl and blitz for 15 seconds on speed 8 until it looks like fine crumbs. Press the biscuit mixture into the cake tin and pop into the fridge to chill while you make the filling.
If using a Thermomix, put the sugar into TM bowl and mill for 5 seconds on speed 9. 
Mix the sugar, cream cheese, cream and vanilla until smooth. In the Thermomix, add  the cream cheese, cream, and vanilla and mix for 40 seconds on speed 5 until smooth.
Add the Kit Kat chunks and mix gently. If using a Thermomix, add the Kit Kat chunks to the TM bowl and mix through on reverse speed 4 for 10 seconds.
Pour the mixture over the base and then chill for at least 6 hours, preferably overnight,  before serving.
Decorate with 50g Kit Kat chunks. Use a warm knife to cut slices for best results.
Other info
Prep time: 15 minutes   Chilling time: 6 hours +
TIP! This works best if the cream cheese is at room temperature.