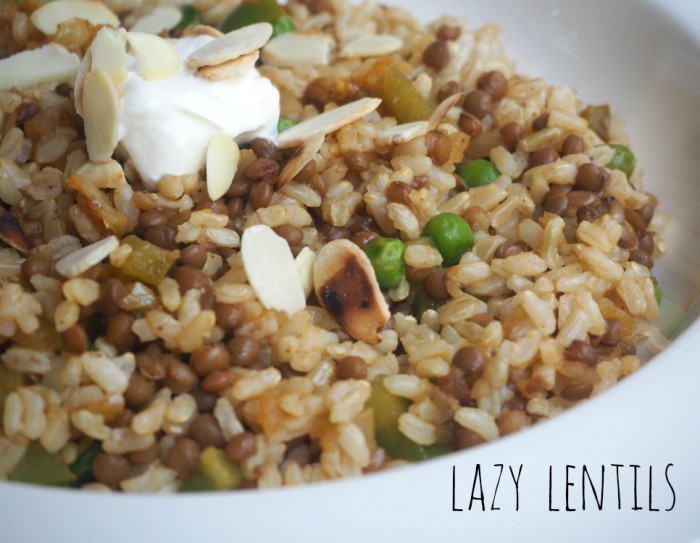 Serves 4
I love lentils. They're high in protein, low in fat and they're cheap and cheerful. I call this dish "lazy" because it's super easy to make and you can find almost all the ingredients in the pantry or in the freezer. Add to that the fact that it's super cheap, super nutritious and delicious hot or cold and you've got a winner dinner on your hands!
Ingredients
240g brown rice
1 medium onion, roughly chopped
1 green capsicum, deseeded and chopped
1 garlic clove, crushed
3 teaspoons coconut oil
1/2 – 1 teaspoon curry paste (I like Madras)
300ml vegetable stock
1 tablespoon tomato paste
1 can brown lentils. rinsed and drained
50g frozen peas
2 tablespoons Greek yoghurt
15g toasted flaked almonds, to serve (optional)
 How to
1. Cook the rice  according to pack instructions. Drain and set aside. (I like to cook mine in the Thermomix.)
2. Heat the oil in a saucepan and cook onion, garlic and capsicum for about 5 minutes, until softened.
3. Stir in the curry paste, cook for a minute and add then add the stock, tomato paste and season well with salt and pepper.
4. Stir in the lentils and  peas and bring to the boil. Then lower the heat and simmer uncovered for about 10 minutes.
5. When the rice is cooked, mix it into the lentils , and serve topped with yoghurt and flaked almonds, if you like.
Other info
Prep time: 10 minutes   Cooking time: 25 – 40 minutes (depending on how long you need for the rice.)
TIP! Use whatever veggies you have to hand to bulk out this delicious dish.