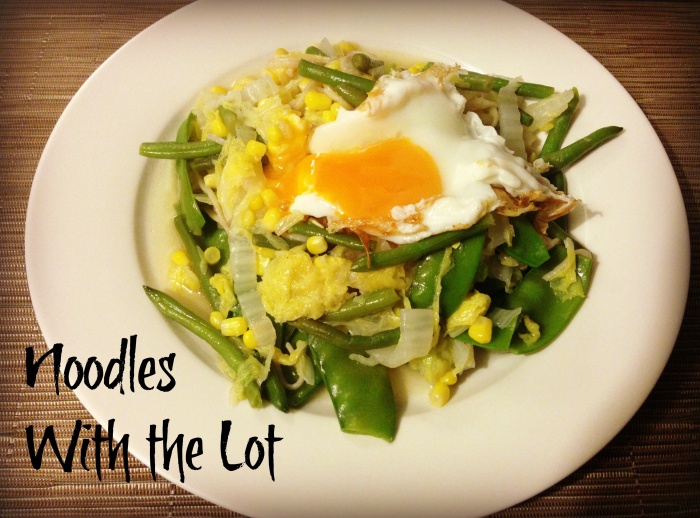 Serves 4
Santa sent me  Save with Jamie  at Christmas and this this twist on his Hungover Noodles was  the first recipe I tried. It's certainly not one of the prettiest dinners but it is definitely one of my favourites because  it's super quick, super healthy and super delicious. It's really versatile too, just use whatever leftover veggies you have in the fridge or the freezer. Anything goes!
Ingredients
1 thumb sized piece of ginger, grated
1 clove of garlic, grated
2 tablespoons light soy sauce
3 tablespoons rice wine vinegar
3 tablespoons sesame oil
1 wombok (Chinese cabbage), shredded
200g snowpeas
300g – 500g  frozen veggies (I used green beans, peas and corn)
180g organic soba (buckwheat) noodles
4 large eggs
hot chilli sauce (optional) to serve
salt and pepper
How to
1. Set a pan of water to boil.
2. Mix the grated ginger and garlic, with the sesame oil, soy sauce  and vinegar in a large bowl. This will be the dressing for the noodles. Set aside.
3. When the water has reached boiling point, add the noodles, and allow to cook for 1 minute. Add the wombok and other veggies (except the snow peas)  and cook for a further 3 minutes. Add the snow peas in the last minute of cooking.
4. Drain well and add to the bowl with the dressing.
5. Meanwhile, fry the eggs in a large non-stick pan. They're best served when they're a bit runny in the middle.
6. Divide the noodles between plates or bowls and top with an egg. Serve with some hot chilli sauce if you want some extra fire in your belly!
Other info
Prep time: 10 minutes   Cooking time: 10 minutes