I've always loved Brisbane and have made so many happy memories there. I would seriously consider living there if Brisbane wasn't so hot and Sydney wasn't quite so lovely. Even though a relocation is off the cards, I'm always up for a love-cation in Brisvegas!
In the past we've enjoyed the amazing views at Mount Coot-ha Lookout,  loved the tour at the XXXX Brewery and held koalas at Lone Pine Koala Sanctuary.
However, our anniversary getaway was short and sweet. We had 36 hours to pack it all in. We stayed at the Manor Apartment Hotel which was brilliantly located in the heart of the city and super close to the river, shops and a plethora of eating and drinking options. We could walk almost everywhere. Except on the water, of course, we're not that smart!
So, I bet you're wondering what one can do on a Monday night/Tuesday day with no car and not a lot of energy in Brisbane. Well, the answer to that my friends is quite a lot actually. Quite a lot.
Here's what we managed to squeeze in  in Brisvegas.
1. Ride the river
A Queensland friend once tried to persuade me that Brisbane's bridges are far superior to those in Sydney. I'm still not convinced. However, I do love that Brisbane is a river city and I'm a big fan of it's bountiful bridges! One of my favourite things to do in Brisbane is to ride the CityCat. However, if you haven't got your river legs or you want to up the activity factor, you can run or cycle along the river with wild abandon. Whichever way you move, and whichever way you look at it, the views are awesome.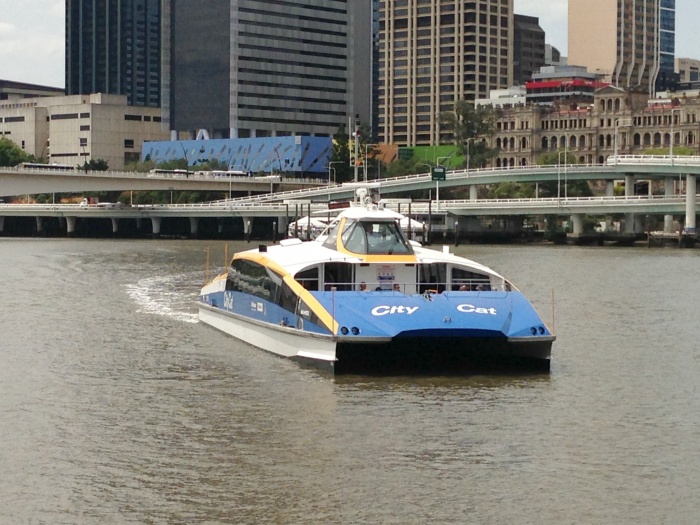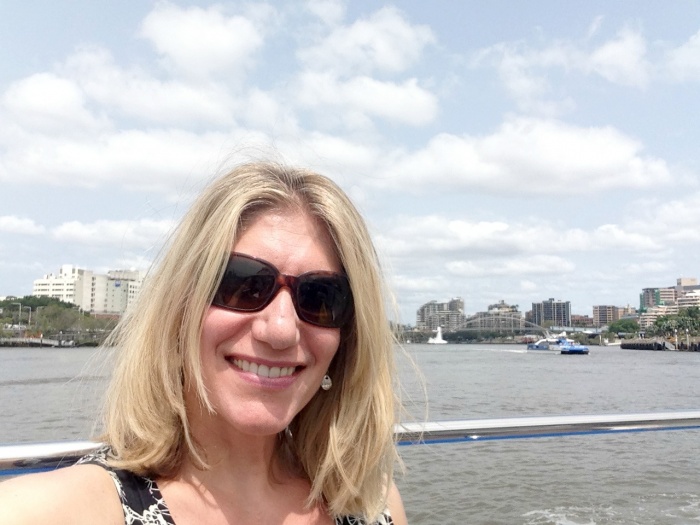 2. Ride the Wheel of Brisbane
I'm not a fan of heights per se but couldn't resist seeing a sky high view of the city. Tickets are really reasonable at $15 a pop for adults and $10 for kids,  including a same day return pass to check out the night view. The sturdy gondolas are comfortable and air conditioned and the commentary very informative. The ride takes about 12 minutes with a few revolutions of the wheel. Even on a grey day, the views are awesome.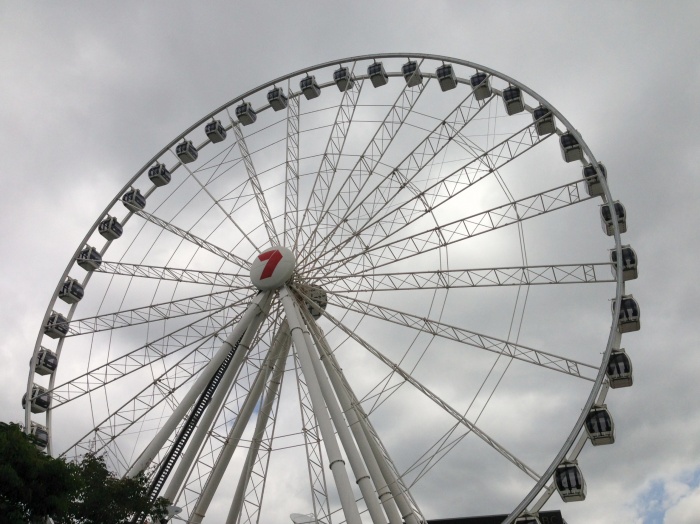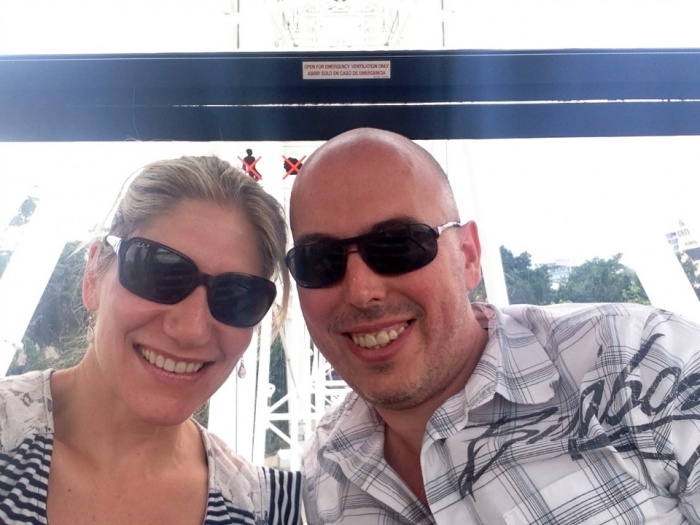 3. Check out the South Bank  
I love the South Bank, it's like a little oasis in the city. There are parklands, lagoons, picnic areas, a plethora of eating and drinking options and my favourite spot is Streets Beach, where you can enjoy a bit of the beach in the heart of the city. Shame we forgot our togs (that's Queensland-ish for swimwear!)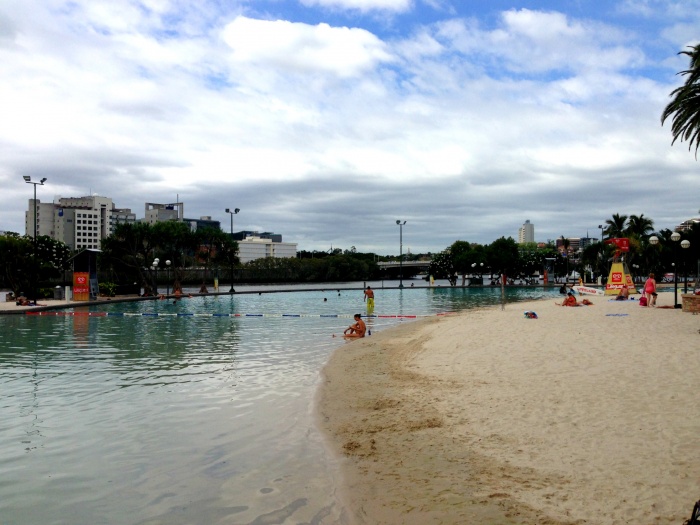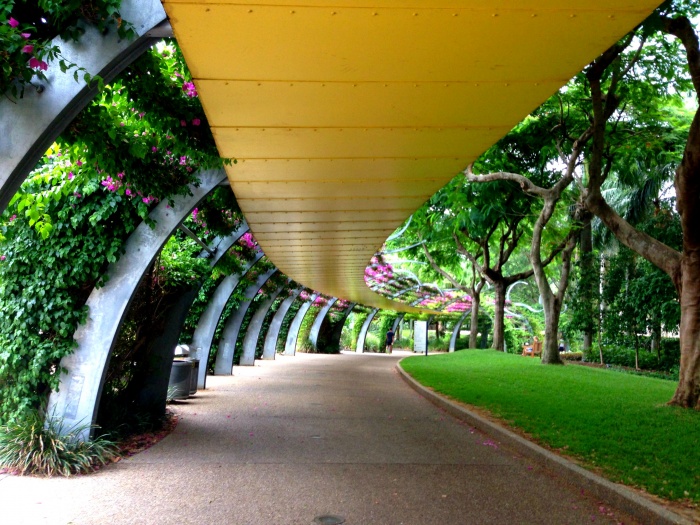 4. Be  a culture vulture
The South Bank is the cultural hub of the city with museums, galleries, an exhibition centre and a cineplex. You can see a show, a gig or an exhibition. We are probably the most un-arty people on the planet but even we were enthralled at the Falling Back to Earth exhibition at GOMA (Gallery of Modern Art Brisbane.) It was absolutely amazing. The exhibition closes on 11 May, so run don't walk people! This is one exhibition you don't want to miss!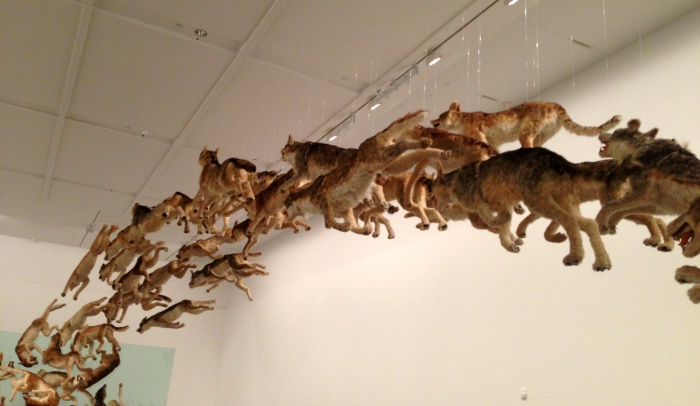 5. Visit the Botanic Gardens
These are the city's original Botanic Gardens and we loved the sculptures, ornamental ponds and the vast array of plants and flowers. If you have time, you can do a self guided walk or a guided tour with a volunteer. If we had more time on our hands or more space in our bellies,  this would have been the perfect place for a picnic.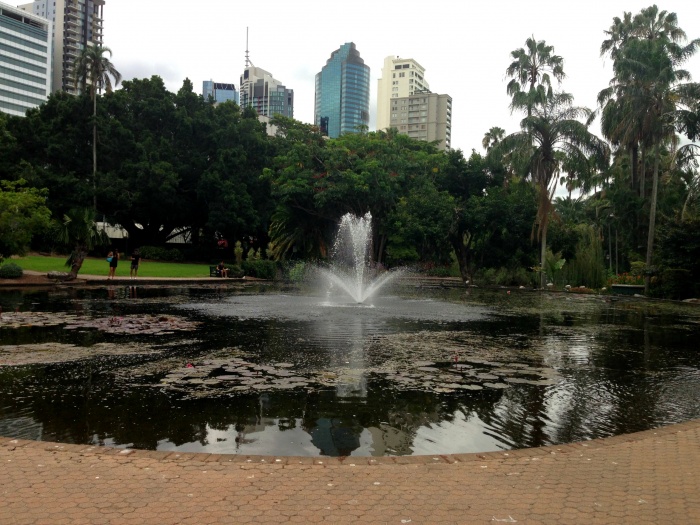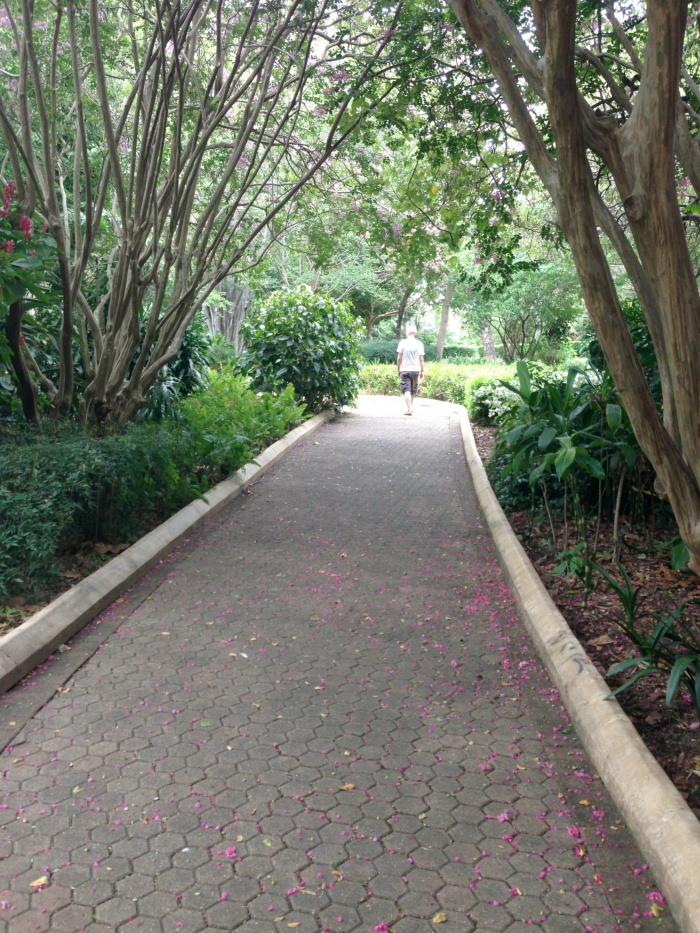 Exploring the city was thirsty work and we took great pains to refuel regularly. Very regularly!
We loved Matt Moran's River Bar  and Kitchen so much so that we stopped off for breakfast. David said that this black pudding baked eggs combo was the bomb!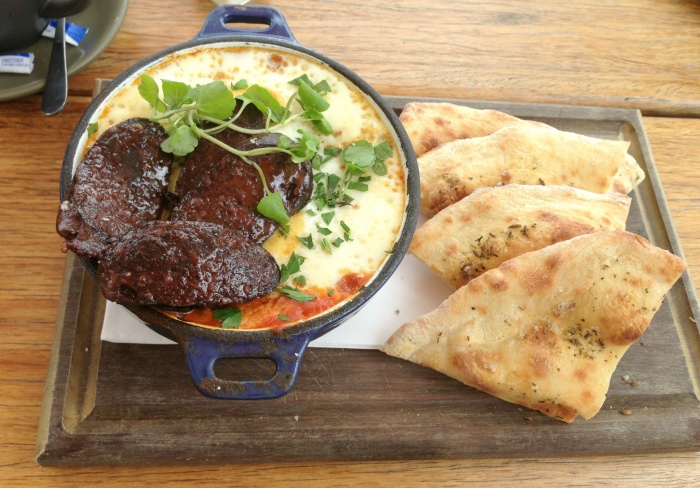 We liked it so much that popped back for a cold one at lunch and then went for the hat trick at night with some pre-dinner drinks. We loved the friendly staff, relaxed vibe and the varied wine list.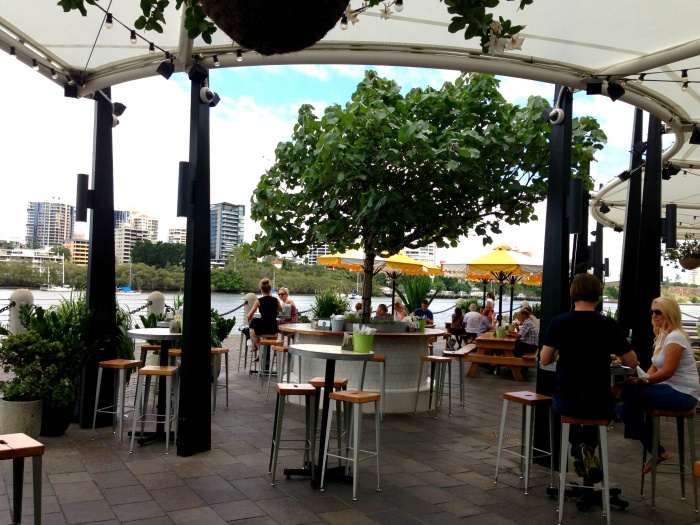 We wish we lived nearer!
The Gresham was conveniently located opposite our hotel in the heritage listed NAB Bank building. The interior is a cross between a London old gentleman's club and a New York Cigar Bar. It's famous for it's whisky and bourbon  but they make killer cocktails too!
We had the most amazing anniversary dinner at Alchemy which was fine dining at it's finest. There's so much to rave about, it's a blog post in itself! (Watch this space!)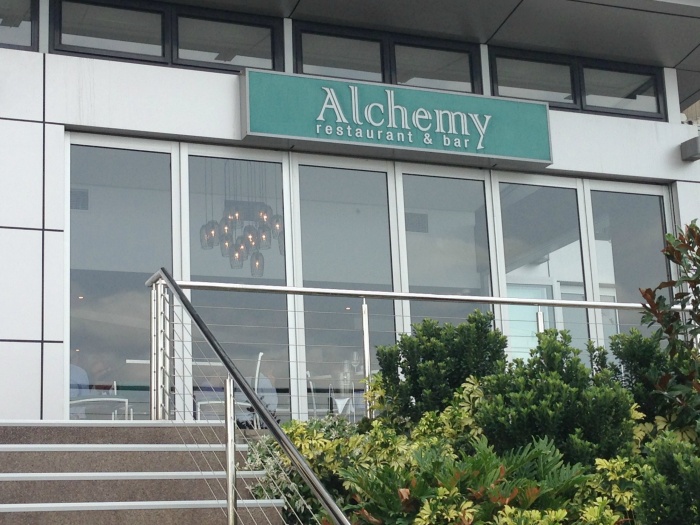 After drooling over Nikki at Styling You's pictures a few weeks back, I couldn't come to Brisvegas without tasting some of the food and drink at  Stokehouse. The bar food was good, the vibe was relaxed and the views were stunning.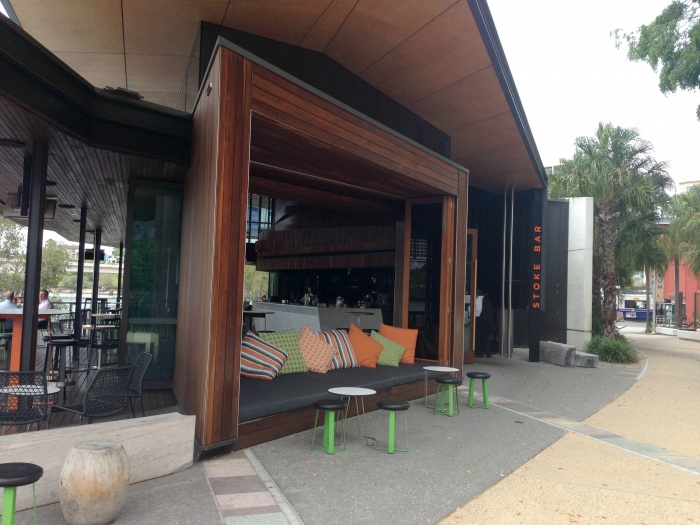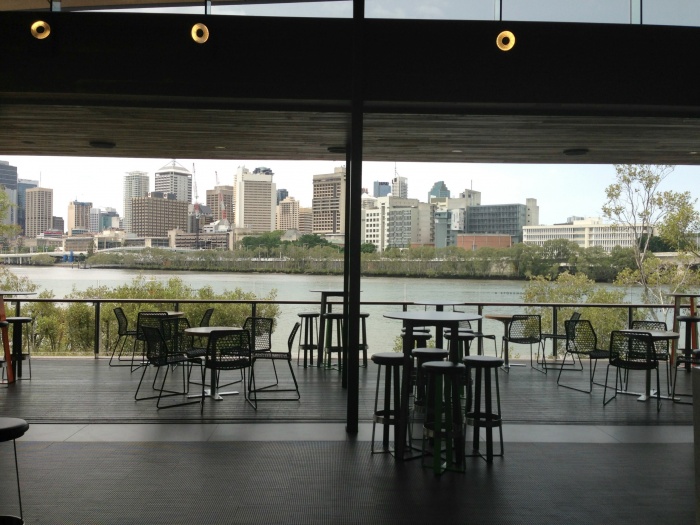 There were so many other places we wanted to go and things we wanted to see but although we could do anything, we couldn't do everything. Not in two days and one night anyways!  But that's OK, because now we have something to look forward to next time. Because there will definitely be a next time!
Special thanks to my Insta-friend michele_judd for all the top eating and drinking tips. They went down a treat!
Have you been to Brisbane? What's your Brisbane best? If you could go anywhere on a 36 hour love-cation where would you go? I'd love to know!