True story. Once when I was about 7, I went to Madame Tussaud's and the London Planetarium on a school trip. During the planet show, I needed to pee real bad but my teacher wouldn't let me out to the bathroom. As a result, I weed myself all down the stairs at Madame Tussaud's and had to picnic in Regent's Park with dented pride and wet knickers. I could never bring myself to go back to Madame Tussaud's in London after that.
Madame Tussaud's in Sydney, however, is a different story. I love the place. It's completely different to how I remember it's big brother in London, not only because there are no stairs, and I haven't peed my pants, but because it's so hands on and interactive, perfect for adults and children alike. It's impossible not to love this place.
I have been down to Madame's a few times on school excursions and I'm always pleased to be greeted by so many famous faces. As you can imagine I was uber excited when I was invited to a Google Local Event at Tussaud's. This event was organised for Google City Experts – people like me, who are active Google reviewers. I write reviews regularly for all kinds of services, from hairdressers to hotels, have you got into Google reviews yet?
I dragged David along as my guest. Lovely as he is, he can be quite hard to please, and I was doubting if he would share my enthusiasm for the wax work wonders. However, I needn't have worried. He loved it, as did all the other City Experts. There were so many famous faces.
I time travelled and  had a word in Captain's ear. I don't know if he has any clout with immigration peeps, but I'd love it if he could help me out with my citizenship….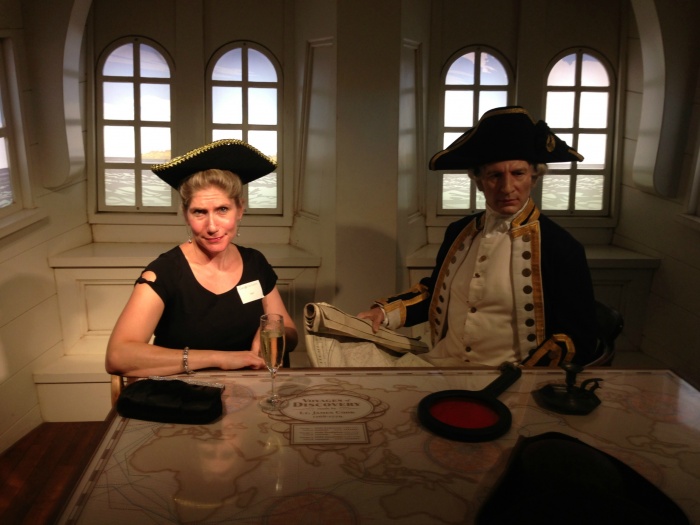 I  finally got to meet Will and Kate…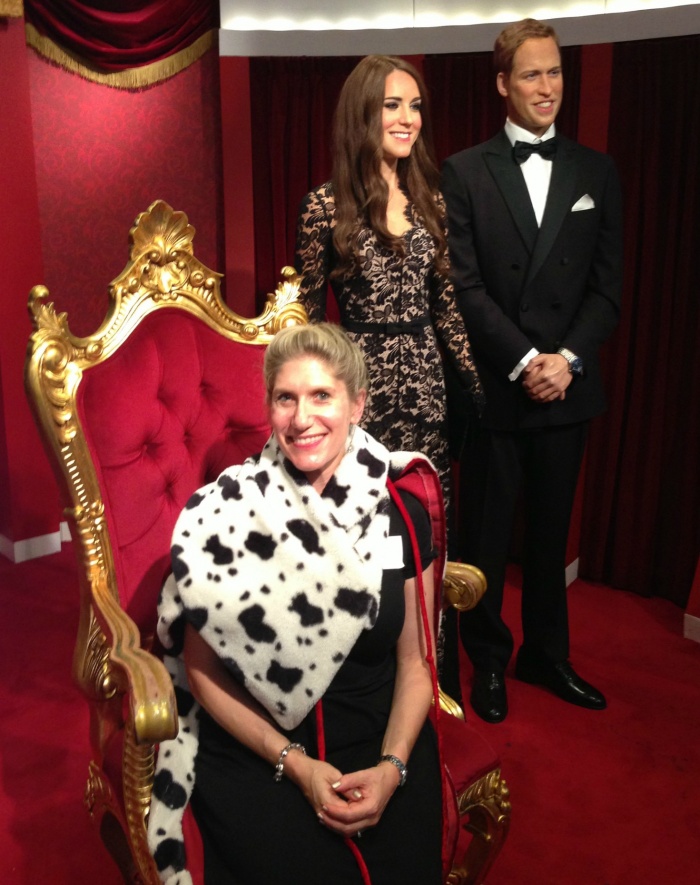 …while David held the fort in the Oval Office at the White House. We're a real power couple, don't you think?!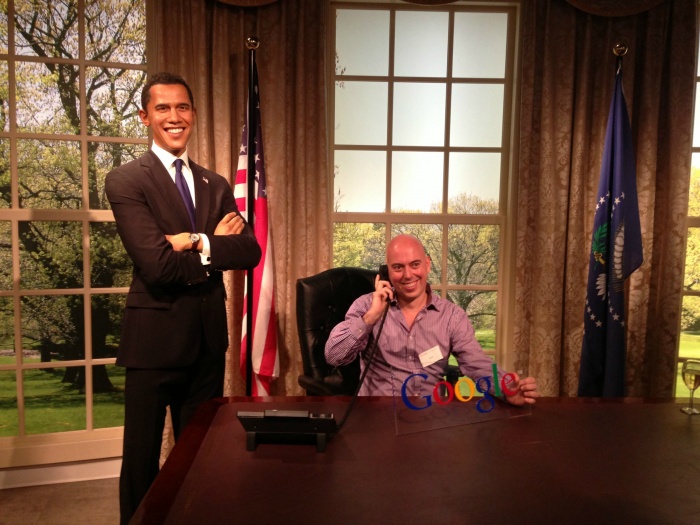 Shane Warne took one on the chin. (That wasn't very friendly, David!)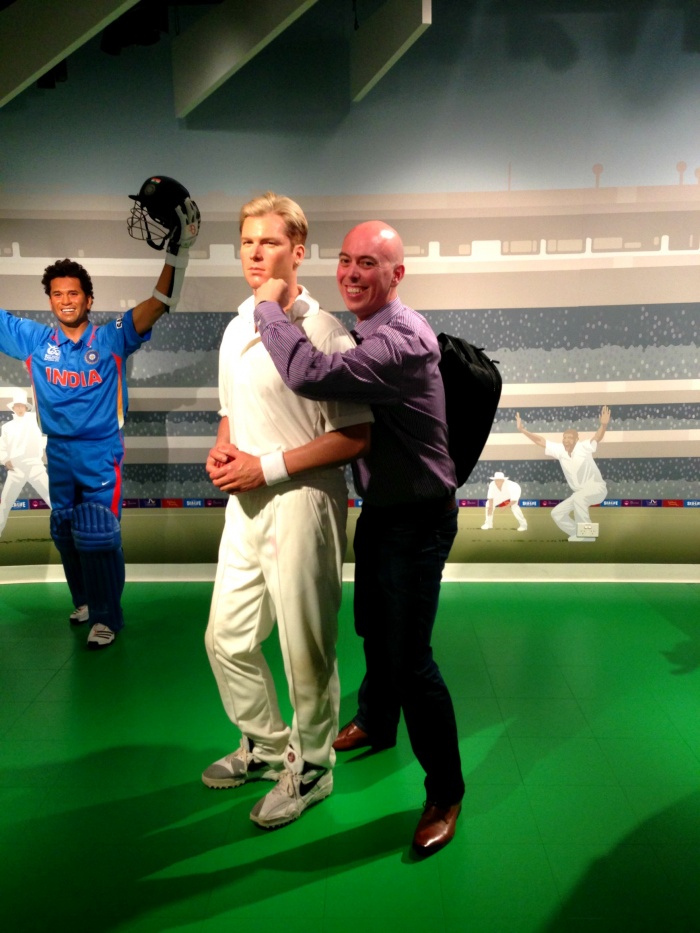 One of the highlights of the night, was experiencing the magic of the wax, and making my own wax hand.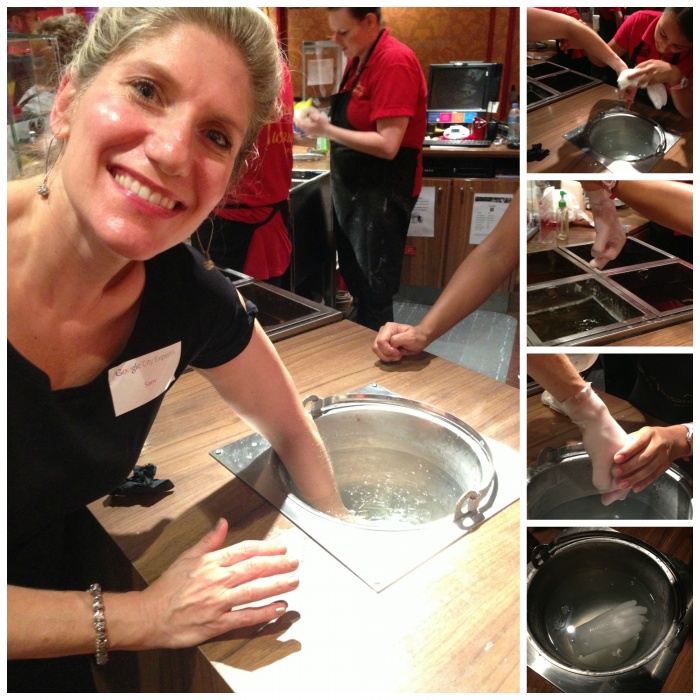 Here's the finished article which I will keep forever as a souvenir. (Do you think my fingers look fat in this?!)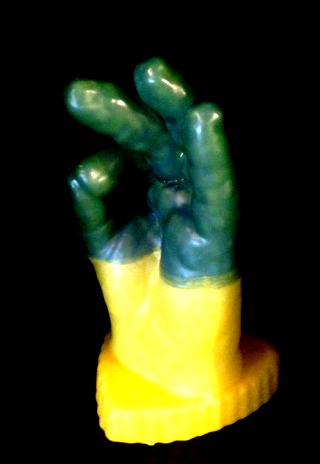 The latter part of Madame's pays homage to the stars of the big and small screen.
I had a duet with Slim Dusty. I actually have no idea who he is, but the dressing up was such fun. I always knew I should have stuck at my guitar lessons.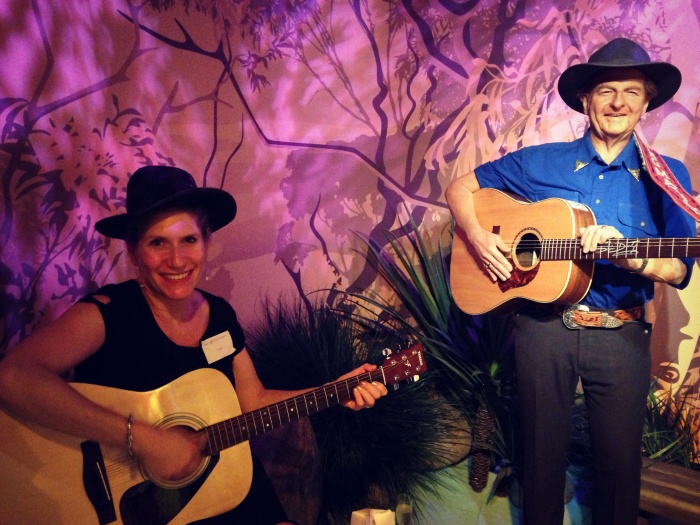 David had a chat to Rove while I caught up with Oprah.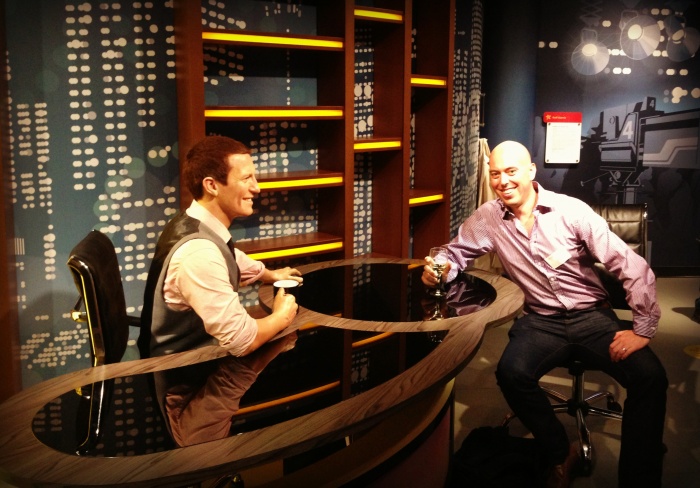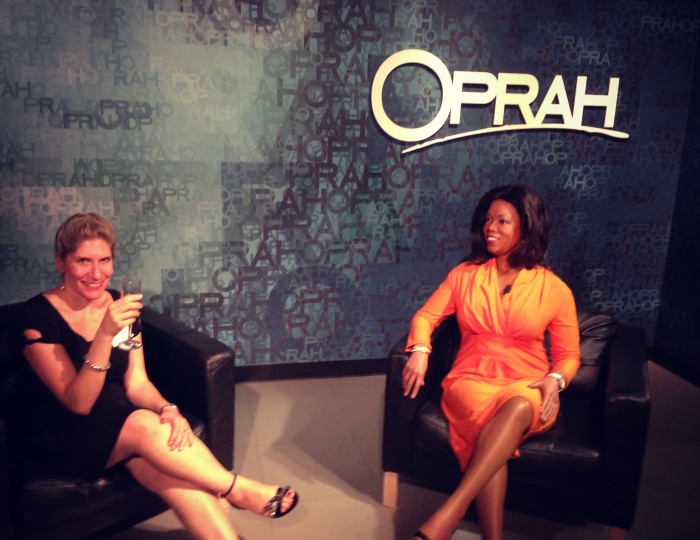 David met his match with Alf from Home and Away. Two grumpier old men, I never did see!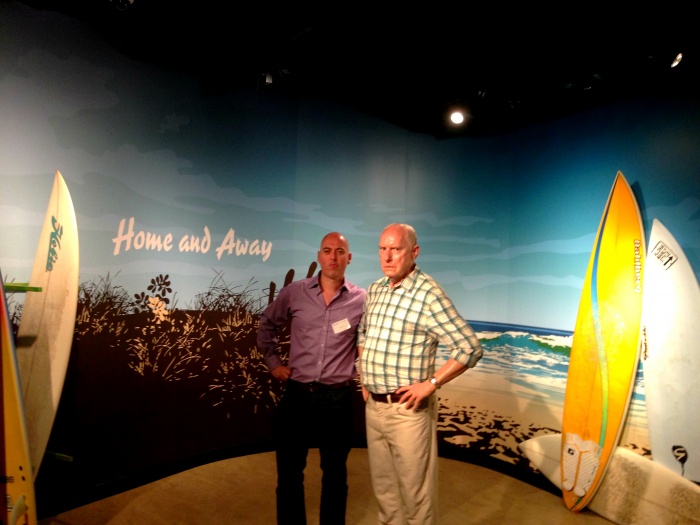 We had fun with the big screen stars too. I never pass  up the opportunity to have a ride with ET, even if I'm inappropriately dressed in a short dress and stiletto heels!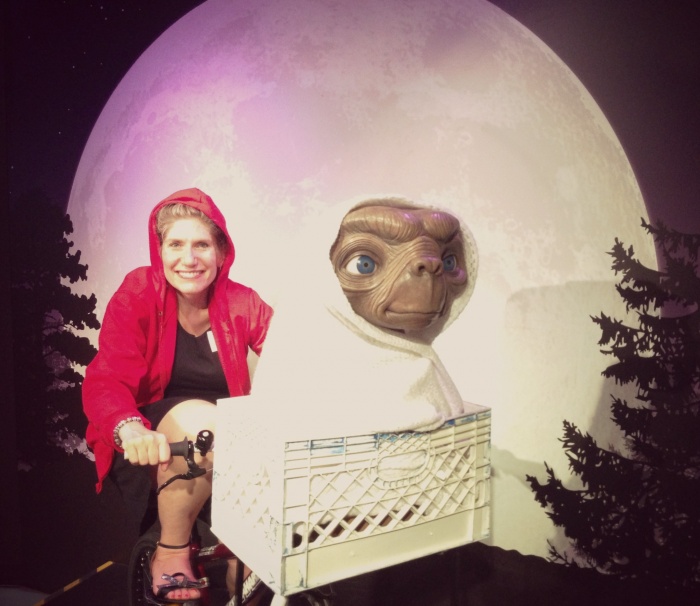 Here are two superheroes, one's my husband, the other is Iron Man. Spot the difference!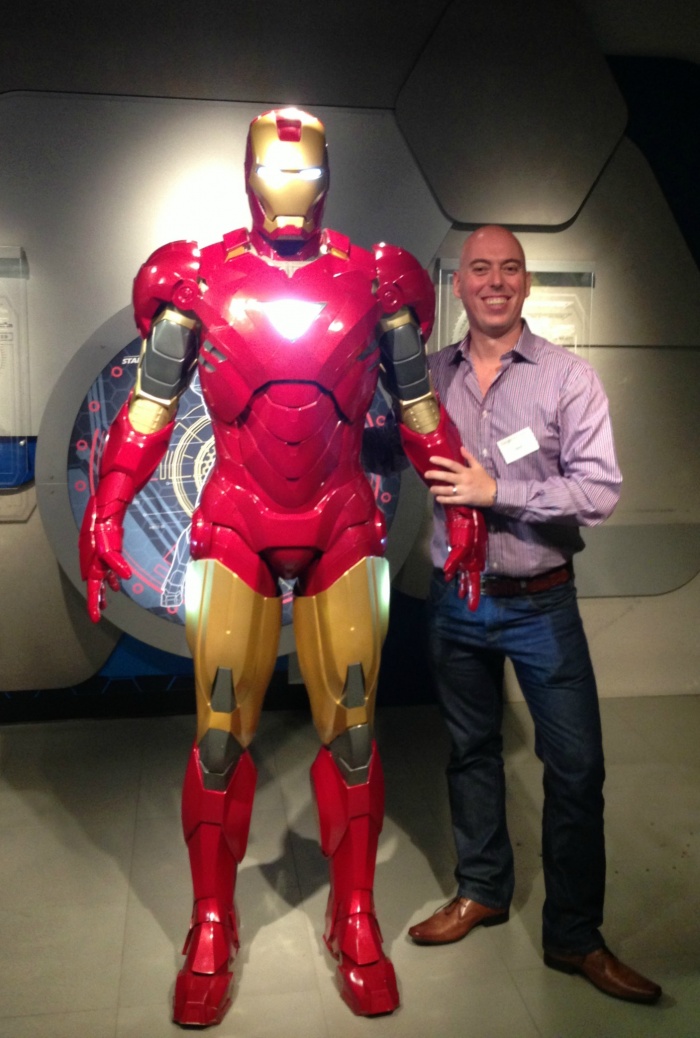 Me and Marilyn did alright in black and white!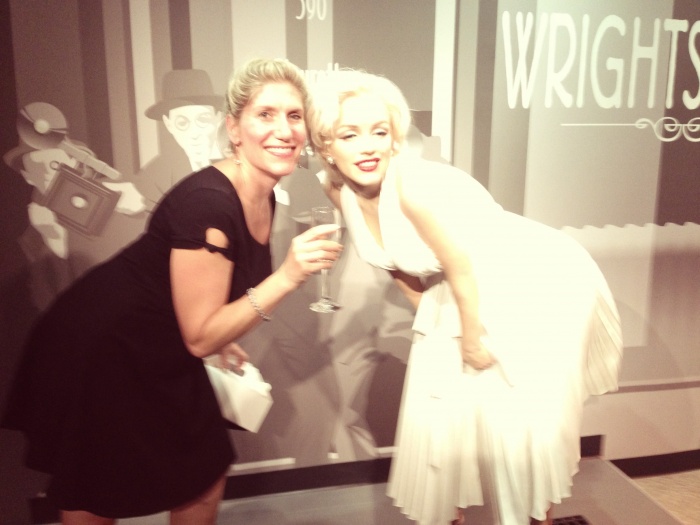 There's heaps more peeps in residence too. In the past, I've breakfasted at Tiffany's and had the fright of my life in the shower from Psycho. There's a plethora of Aussie icons to see too, including Dame Edna, Priscilla Queen of the Desert, Kylie and my old mate Crocodile Dundee!
David met his doppelganger, Bruce Willis.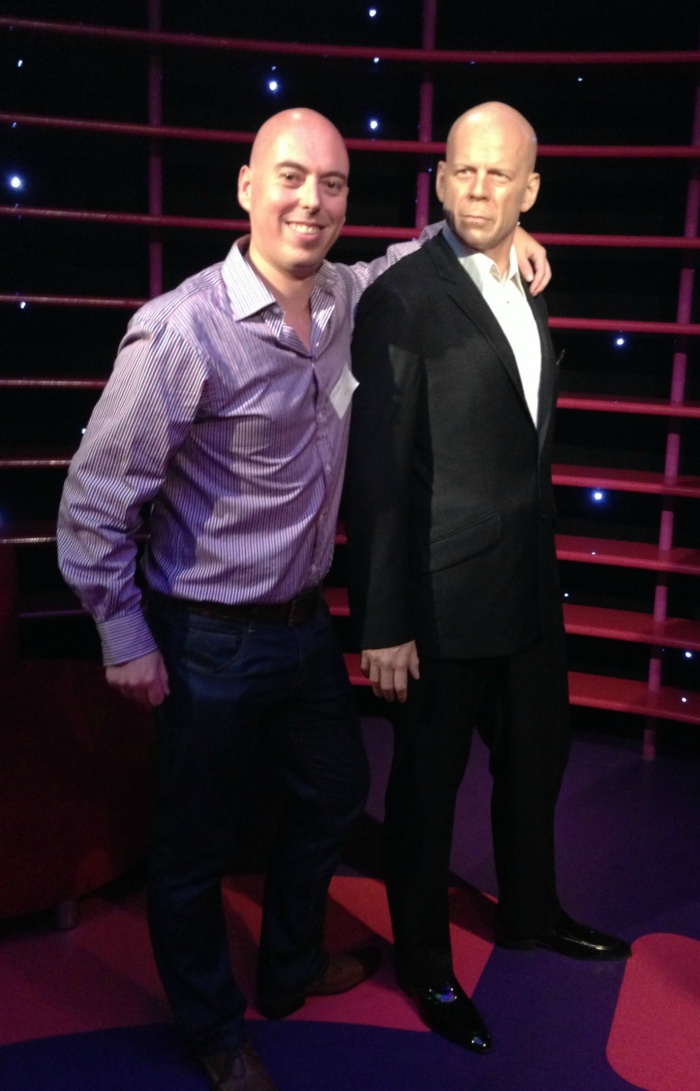 We even got up close with Brad and Ange. From one power couple to another!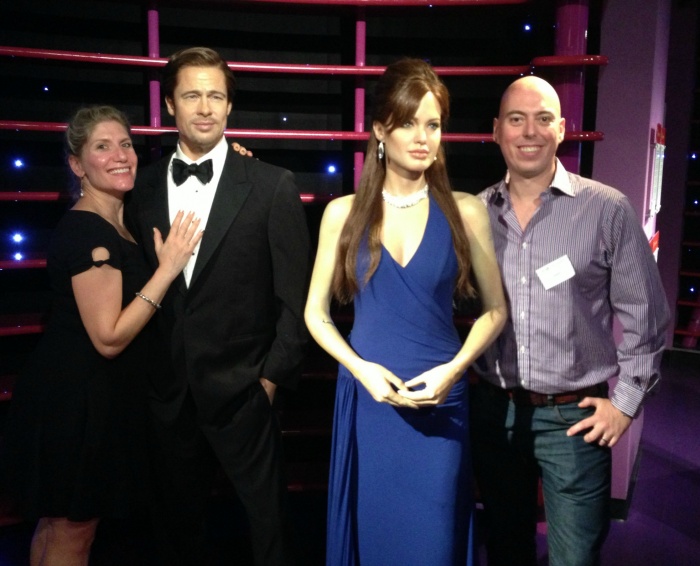 Of course, it wouldn't be a true night with the stars without an awards ceremony. The  inaugural Google Local Sydney Awards was a joy to behold and we caught up with a real, live star at the end of the night. This is James who is Sydney's  coffee guru. He won the Prize for Most Coffee Reviews in Sydney. That's  a lot of coffee. You can check it all out on his blog  BitterBliss.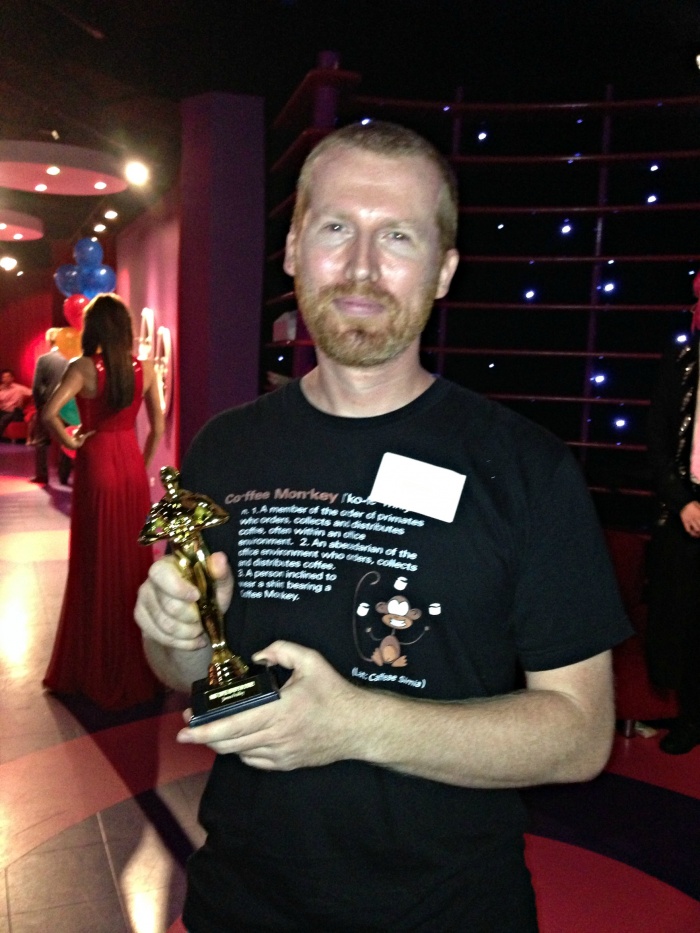 We had an amazing night, complete with the red carpet, paparazzi and stacks of stars. I'll wax  lyrical (excuse the pun) about the fun we had for some time to come, but in the meantime, if you're Sydney side why not swing by Madame's and see the stars for yourself!
So tell me, who would you like to see most at Madame Tussaud's? 
Madame Tussaud's
Email      madametussauds@merlinentertainments.com.au
 At             Aquarium Wharf (next to SEALIFE Sydney Aquarium,) Darling Harbour, Sydney
Open       Every day from 9am-8pm (but check the website for early closes)