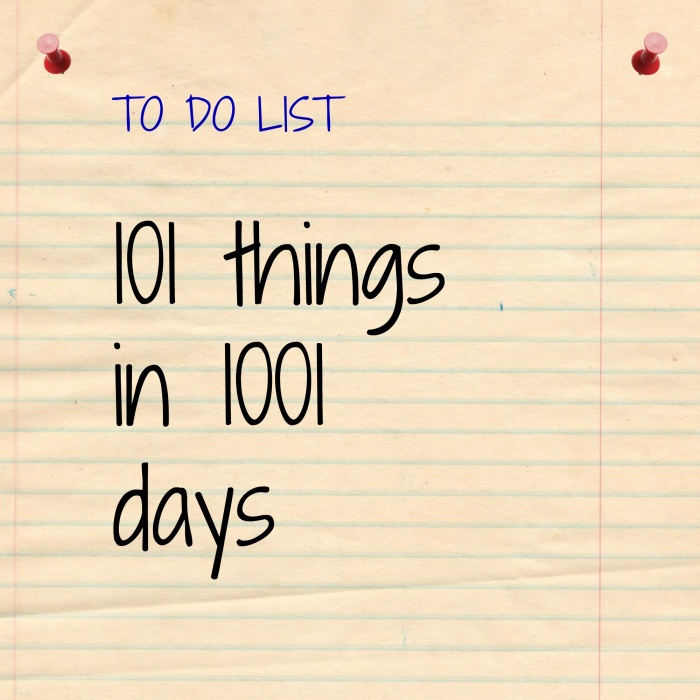 I'm always banging on how everyone needs a purpose. Viktor Frankl wrote about it, the cast of Avenue Q sang about it, my counsellor counselled me about it  and  now I live by it. Anyway,  a  while ago, I read Toni's list ; 101 things in 1001 days and it really inspired me. You can read more about the challenge at the  Day Zero Project, I think I love the idea because it's  a natural extension of my Wish List with a deadline to keep me on track. However, it took me almost 101 days to think of 101 things to achieve. There's so much I'd like to do and so little time to do it in. So, no time to waste, I better get started!
This is how it works. My challenge  should I choose to accept it, is to complete 101 tasks in 1001 days. The only criteria  is that tasks must be really specific (either measurable or clearly defined.) They must also be realisitic and involve some engagement and effort on my part. My  challenge starts today,  March 25, 2014 and will end on December 20, 2016.
Progress so far  is not crash hot! 0 out of 101! Watch this space for further updates!
ON THE BLOG
Make a light box

Give the blog a facelift

  (March 2015)

 

Get a new camera

 Olympus E-M 10 (August 2014)

Install Disqus

 (March 2014)
Make a video
Make a podcast

Blog 3 times a week

 

Words of Wisdom, one recipe, the Ultimate Rabbit Hole and She's So Inspiring

Meet a fellow blogger Chantelle from Fat Mum Slim

Do a blogging course

 Clever Cookie Blog  School (September 2014)

Link up with another blog

  Sonia Styling Weekend Rewind (August 2014)

Complete 1 month of Fat Mum Slim's Photo a Day

(March 2014)
FOOD
Make my own jam.
Try 10 new cocktails. Swedish Sangria, Drugstore Delight, Hummingbird,  Tomatini, The Token,
Try 10 new restaurants. Spakka Napoli, Una's, Aria, Bathers Pavilion, The Cottage, Fratelli Fresh, Dhaksan, Est, La Capannina
Play Recipe Roulette at least once.
Make pavlova.
Make Lamingtons.
Make a Gingerbread House.
Make 10 different soups. (Potato and Zucchini Soup)
Try 10 different teas. (Aria Symphony 3/7)
Perfect the art of making gluten free bread.
Cook mussels.
Make the KitKat/Smarties birthday cake. (David's Birthday 3/7/14)
Eat or cook food from a country I've never eaten or cooked before.
Dust off sushi maker and learn how to make sushi.

Take a cooking class.

 (Bumbu Bali 29/9/2014)

Learn to decorate cup cakes.
Make my own dumplings.
Make my own gluten free flour.
Make gluten free pizza.
RUNNING AND FITNESS
Do a spin class.
Learn to ride a bike.

Run the Sydney Half Marathon

  (May 2014)

Run the Disney Half Marathon.  (August 2014)

 Run a race in a costume.

  Disneyland Half Marathon and Disneyland 5k (August 2014)

Return to Nike Running Club.
Keep a Fitness Tips Jar.
Lose 5 kg.
Workout 3 times a week (minimum.)

Run a race with David.

 Disneyland 5k (29 August 2014)
Try a Beginners Yoga Class.

Run a race in a different city.

 Disneyland Half Marathon and Disneyland 5k (August 2014)

Run for a cause.

  The Australian Thyroid Foundation – Disneyland Half Marathon (August 31 2014)
PERSONAL STUFF
Organise our wedding photos and make an album.
Learn how to apply false eyelashes.
Learn how to do one up-style.
Read Man's Search for Meaning (again.)
Try something new every day and record it in a notebook.

Write to my sponsor child.

 (August 2014)

Spend a rainy day watching movies.

Change my job

. 

(April 2015)

Wear red lipstick.

Receive red roses

 

(September 2015 – from Heather and David!)

Plant and maintain a balcony garden.
Send a care package to a soldier.
See one of my favourite singers/bands live. Wes Carr (16/4/2014)
Back up my computer.
Do a charity walk.
Wear a bikini.
Watch the Lord of the Rings trilogy.

Become an Australian Citizen.

 

(August 26 2015)

Write a google review every time I try a new restaurant.

Meet an online friend in person

. Jackie from Hippie Mumma (26/4/2014)
WRITING
Write a list of 101 things to do in 1001 days.(

March 

2014)
Write a love letter to David.
Write 10 Snail Mail letters.
Write my will.
Write in my gratitude journal every day.

Write to a penpal.

 

Multiple times!
LEARNING
Take a photography course.
Learn how to say "hello" and "thank you" in 10 languages.
Complete 12 units of my Counselling Course.

Pass the Citizenship test.

 

(March 2015)

Do a food styling/writing course.

 

Food Writing, AWC (August 2015)
TRAVELLING
Visit Chicago

  (September 2014)

Go to Disneyland.

 

(August 2014)

Have dinner at Cinderella's Castle.

Have my photo taken with Mickey Mouse.

 Minnie Mouse (31 August 2014)

See the sunset on a beach.

 

North Durras (March 2015)

Have high tea at a posh London hotel.

 Fortnum and Mason (July 2015) 

See the Statue of  Liberty.
Take a boat trip along the Hudson.
Go to the top of 5 high buildings in different cities. (Willis Tower, Chicago, Trump Tower, Chicago, Marina Bay Sands, Singapore)
See a show on Broadway.

Sit upstairs in an aeroplane.

 

Singapore Airlines – July 2015

Go on a roadtrip.

 

Canberra – April 2015

Go on a love weekend. Blue Mountains (April 2014)
Visit a friend from a different country.

Watch the sunrise and sunset in the same day.

 

North Durras – March 2015
SEE SYDNEY
Do the Spit Bridge to Manly Walk  

September 2015

Have high coffee at the Inter Continental 

(13/7/2014)

See the Sydney Swans play at the SCG.
Ride the vernicular at Scenic World, Blue Mountains.

Go to an outdoor movie.

 Sunset Cinema, The Imitation Game (February 2015)
Visit 5 different markets.
Go to the ballet.
Go for a bushwalk.  

Blue Mountains (June 2015) Spit Bridge to Manly (September 2015)

Go on a picnic.
Visit the Art Gallery of NSW  After Hours –  (June 2014)
Phew! That's a lot of things to do and a lot of fun to have. Will you join the challenge? What would be on your list?