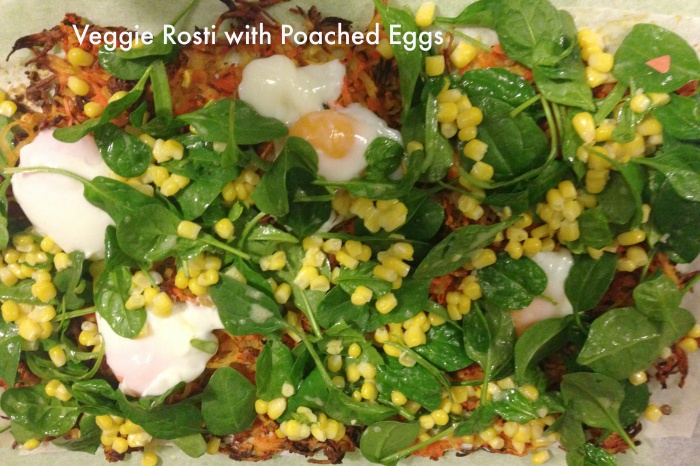 Serves 4
I love poached eggs. They are just so versatile and I could eat them at any, and indeed, every meal!  This dish is a twist on a Jamie Oliver recipe.  I love it  because it's cheap, packed with veggies and makes a brilliant brunch, a lovely lunch or a delicious dinner. It's very hands on, and although it's not the prettiest dish, it's super colourful and great for sharing. Nom!
Ingredients
500g potatoes, peeled
3 large carrots, peeled
200g pumpkin, peeled
1/2 teaspoon Dijon mustard
Juice 1/2 lemon
Extra virgin olive oil
100g frozen corn
75g baby spinach
4 large eggs
How to
Preheat oven to 180C. Line a baking tray with baking paper.
Coarsely grate the potatoes, carrot and pumpkin. Use a food processor if you have one.
Put the grated veggies in a large bowl. Season well with salt and pepper and mix it all together with your hands. Set aside for 5 minutes.
Meanwhile,  mix the mustard, lemon juice and some olive oil with a pinch of salt in a medium bowl. Set aside.
Add a drizzle of oil into another large bowl and add a generous pinch of pepper.  Taking one handful at a time, squeeze the veggie mixture to get rid of the excess liquid and then put it into the bowl. Use your hands to mix the veggies and the oil and pepper together.
Place the veggies onto the baking tray and roast for around 35 minutes until it's crispy around the edges. Check and turn the mixture half way through cooking so that it's all evenly cooked.
Meanwhile cook the corn on the stove or in the microwave. Add the corn and the spinach to the bowl with the salad dressing. Poach the eggs on the stove, or use a Thermomix.
Serve the rosti with the eggs on top. Toss the salad together and scatter it all over the rosti. Then let the fun begin, and let everyone dive in.
Other info
Prep and Cooking time: 55 minutes