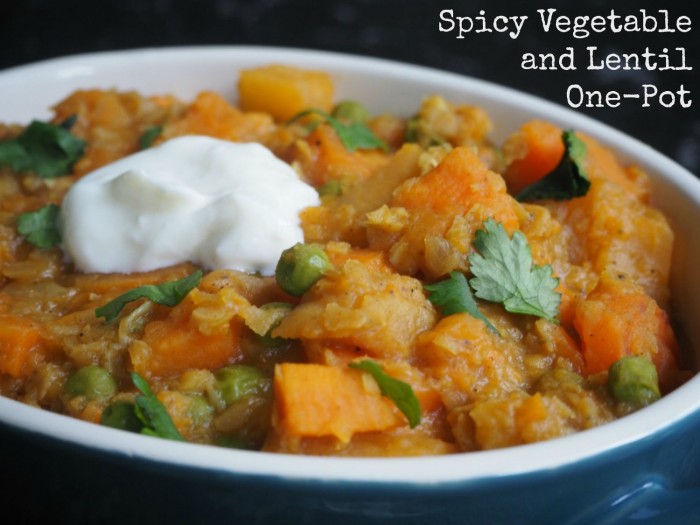 Serves 4
It's been a while since I last posted on Meatless Monday. Autumn has arrived here, it's getting chilly outside, so we're warming things up in the kitchen! This is a one pot winner dinner – cheap, hearty and easy to cook and prepare. It's spicy but nicey!  We like the stew thicker, but if you prefer a  more soupy consistency, just half the amount of lentils. It's so delicious that it will please the palate of the most ardent meat lover. I know this to be true because I tested it on a most ardent meat lover. Don't take his word for it, try it for yourself!
Ingredients
2 tablespoons olive oil
1 onion, chopped
2 garlic cloves, crushed
700g kumara, peeled and chopped into chunks
4 carrots, thickly sliced
1 small swede, peeled and chopped into chunks
2 tablespoons curry paste or powder (I used madras)
1 litre vegetable stock
200g red lentils
75g frozen peas
Natural yoghurt and rotis, to serve
How to:
Heat the oil in a large pan and fry the onions and garlic over medium heat for 3-4 minutes until softened. Add the kumara, carrots and swede, turn up the heat and cook for 6-7 minutes until the veggies are golden.
Stir in the curry paste or powder, add the stock and bring to the boil. Reduce the heat and add the lentils, cover and simmer for 10 minutes.
Add the peas and simmer for a further 10 minutes.
Check to see if  the casserole is ready; the veggies will be tender and the sauce will have thickened. If necessary, simmer for another 10 minutes.
Top with yoghurt and some coriander, if desired. Serve with rotis and dive in!
Other info
Preparation Time: 10 minutes  Cooking Time: 35-45 minutes