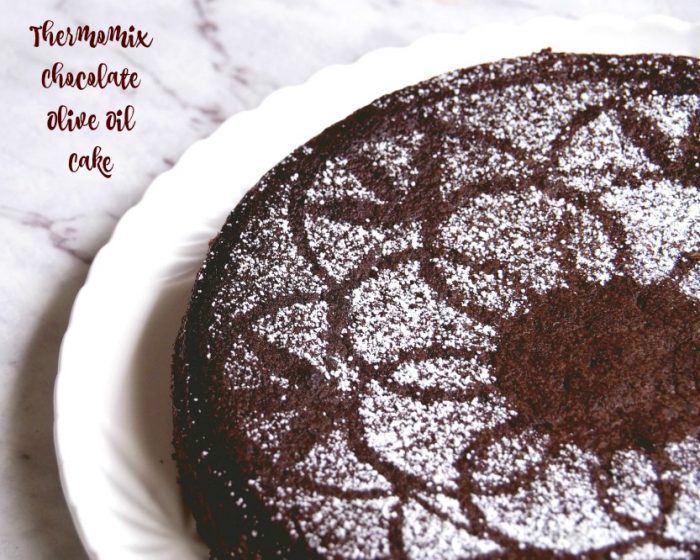 \
Cuts into 8-12 slices
I love this cake because  it's dairy-free,  gluten-free and… utterly delicious.  It doubles up as a  delicious dessert, served warm with ice-cream or served completely cool as a teatime treat.
It's even a more attractive proposition now that I can make it in mere minutes in the Thermomix, although you can find the regular recipe here. Jim from Mr and Mrs Romance taste tested this for his birthday and gave it a big thumbs up. It's the ultimate cake romance!
I think of it as the Goldilocks of chocolate cakes because it's neither too rich, nor too heavy, it's just right!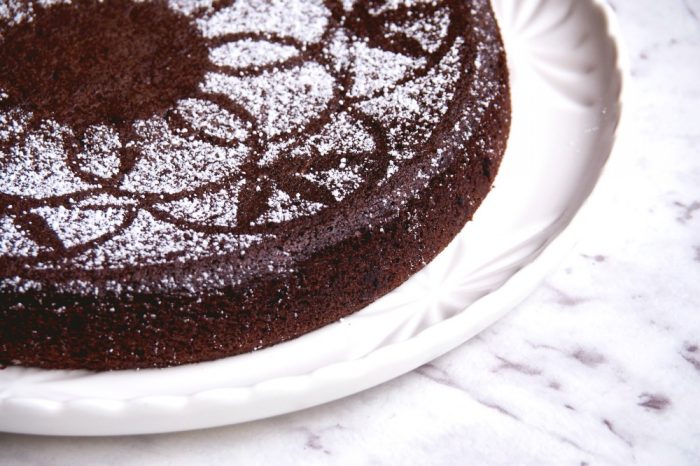 Ingredients
50g cocoa powder
1/2 cup (125 ml) boiling water
2 teaspoons  vanilla extract
150 g  almonds
200g raw sugar
150ml regular olive oil (plus more for greasing)
3 eggs
½ teaspoon bicarbonate of soda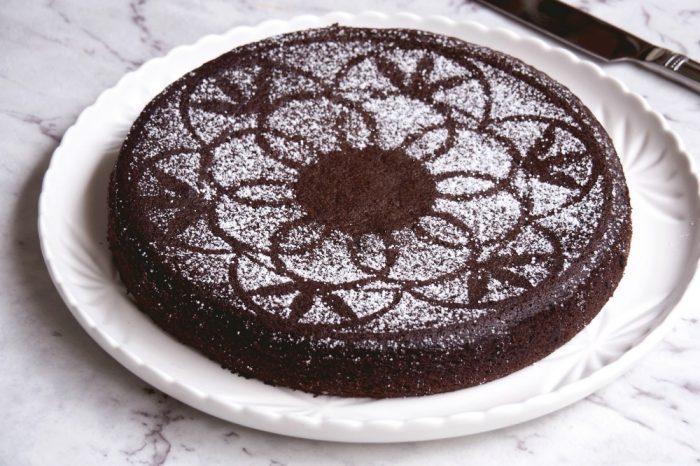 How to
Preheat  oven to 170 C/150 C fan-forced/gas mark 3. Grease springform tin with a little oil and line the base with baking paper.
Measure the cocoa powder into a bowl or jug and whisk in the boiling water until you have a smooth, chocolatey, and just runny paste. Whisk in the vanilla extract, then set aside to cool a little.
Mill the almonds for 10 seconds on speed 7. Add the bicarbonate of soda and a pinch of salt and mix for 5 seconds on speed 6. Set aside.
Mill the sugar for 7 seconds on speed 9. Insert the butterfly.
Add the olive oil and  eggs into the TM bowl and mix for 3 minutes on speed 4 until you have a pale yellow, aerated and slightly thickened cream. Scrape down the sides of the bowl after every minute.
Remove the butterfly. With the blades running on speed 3,  pour in the cocoa mixture through the hole in the lid. This should take about 45 seconds.
Add the milled almond mixture and bicarb and mix for 10 seconds on reverse speed 3.
Scrape down the sides, and stir a little with a spatula, then pour the liquid batter into the prepared tin.
Bake for 40-45 minutes or until the sides are set and the very centre, on top, still looks slightly damp. A cake tester should come up mainly clean but with a few sticky chocolate crumbs clinging to it.
Leave to cool for 10 minutes on a wire rack, still in the tin, and then ease the sides of the cake with a small metal spatula and spring it out of the tin. Leave to cool completely or eat while still warm with some ice cream, as a delicious dessert.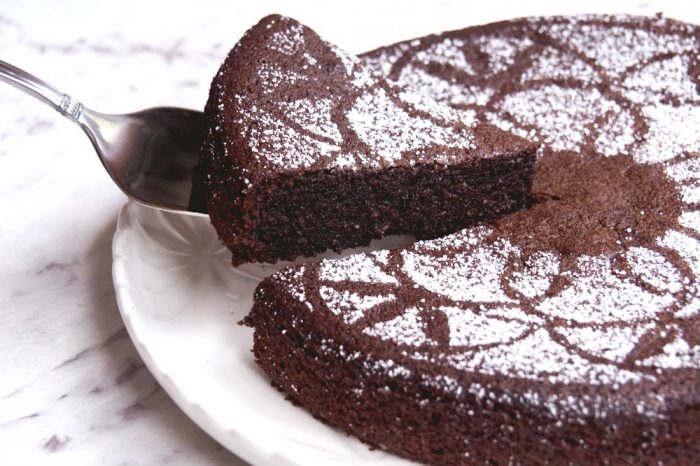 Other info
Prep and cooking time:  50 minutes
TIP! Don't use Extra Virgin Olive Oil because it's expensive and  it has a strong flavour which can overpower the cake.