To say I'm not very adventurous would be an understatement. My Comfort Zone is my favourite place to be. I like running the same routes, dining at the same restaurants and following the same routines.
I even have my own little Cooking Comfort Zone where I only attempt recipes that look simple enough for me not  to stuff up. Although, sometimes I surprise myself. I am amazed at how well I can stuff up. It's for this reason that I never bought any of Dani Valent's In The Mix books because although the pictures looked so pretty and the recipes sounded so mouth wateringly good, there was no way I was going to be able to do that  at home.
However, I've only ever heard absolutely fabulous things about Dani and her recipes so when I heard that she was going to be Sydney side I got my ticket quicker than you could say Tix in the Mix.  Her reputation really precedes her. She's been a freelance writer for 15 years,  has written 2 cookbooks for which she has won 2 Gourmand awards and is both an engaging and entertaining speaker.
I was about as excited as a kid in a candy store (only moreso) when I arrived. What I wouldn't do for two thermomixes!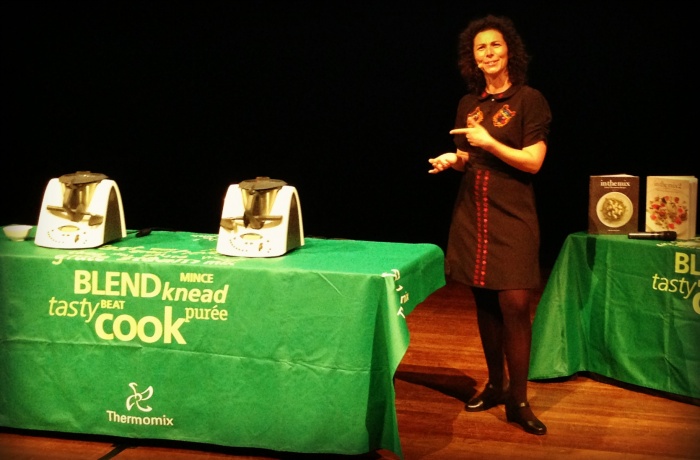 First off let me make a confession. I'm a cookbook junkie. It's an addiction that I'm really trying to control before I run out of money because I have already run out of shelf space. It turns out Dani is a cookbook junkie too. I can see a future in Cookbookaholics Anonymous, I really can.
Dani is a great storyteller and had a theatre full of thermogeeks eating out of her hand. So let me start by telling you a story.
Once upon a time, there was a lady named Dani who noticed a gap in her Thermomix cookbook collection. She wanted a book that would "unleash the inner chef and make the seemingly possible accessible." She wanted a book that would tickle the fancy of the most fervent cookbook junkie with the pages being full of fabulous photography and recipes that were delicious, homely and achievable. So as there wasn't one that she could buy, she made it herself. That's what's called making a dream come true.
Being the caring, sharing, thermomix loving type of gal she is, Dani didn't just make her own dreams come true, she fulfilled the kitchen dreams of Thermogeeks worldwide because her books connect the humble home cook to some of the greatest chefs in the world. You can make restaurant quality food from the comfort of your very own kitchen.
Thumb through the book and you will find recipes from some Australian legends, George Colombaris (The Press Club), Peter Gilmore (Quay), Ben Shewry (Attica), and international Michelin three-star chef Elena Arzak and two-star chef Andoni Luis Aduriz.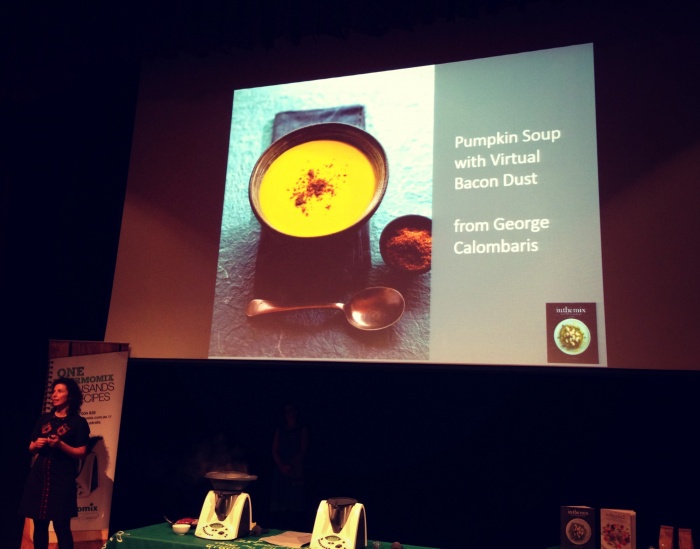 However, despite so many of  the  contributors being a veritable Who's Who of  Famous Chefs and Thermomixing, all the food in In the Mix is prepared, styled and photographed at Dani's  home. It's the ultimate home cooking experience. Only with bells and whistles.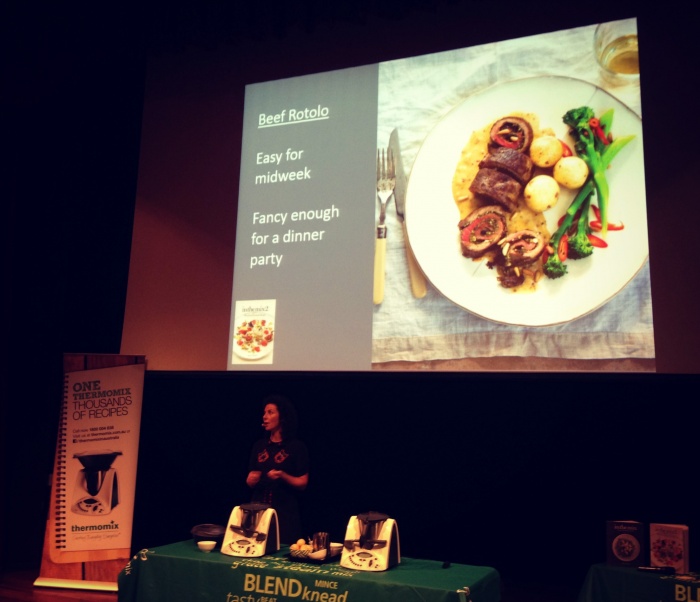 We went on a virtual tour of both Dani's books and romped through all her favourite recipes from Bacon Dust (sans pigs) to  Strawberry Gazpacho and Chilli Cherry Ripe to Beef Rotolo. It was a feast for the senses.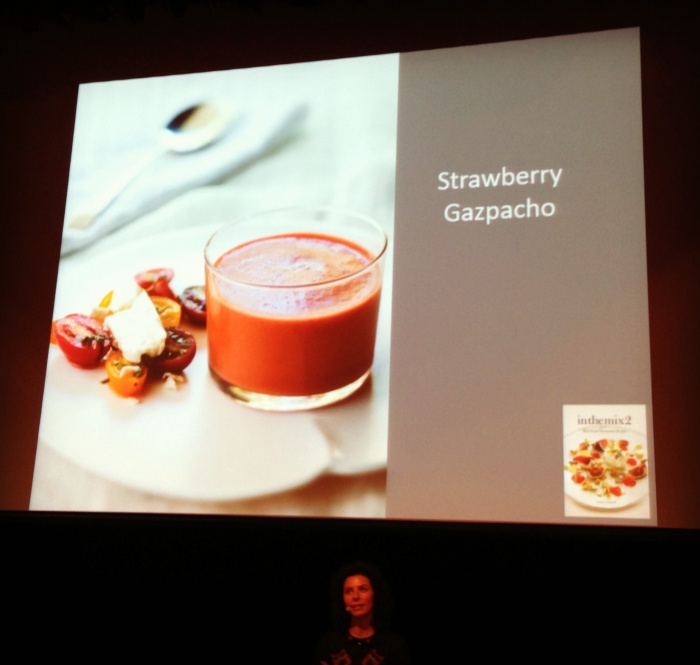 Of course, I had to buy the book. (It had me at Chilli Cherry Ripe.)  I actually don't know quite how I've  lived without it.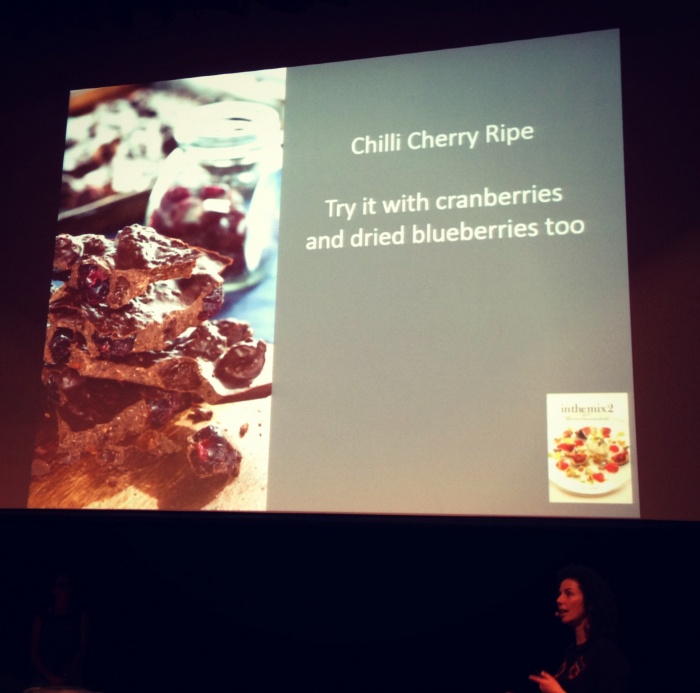 After all the fun and frolics we got to taste some of Dani's delights including the Strawberry Gazpacho, the Sardine Rillettes and the Chilli Cherry Ripe. It was all totes delicious but I was too busy eating it to take a picture of it. Ah, the story of my life.
However, I did find time to get my cookbook signed and snap a selfie. This is how I look when I'm starstruck.
It just didn't seem right to tel you about the class without making the food, so here's some I made earlier.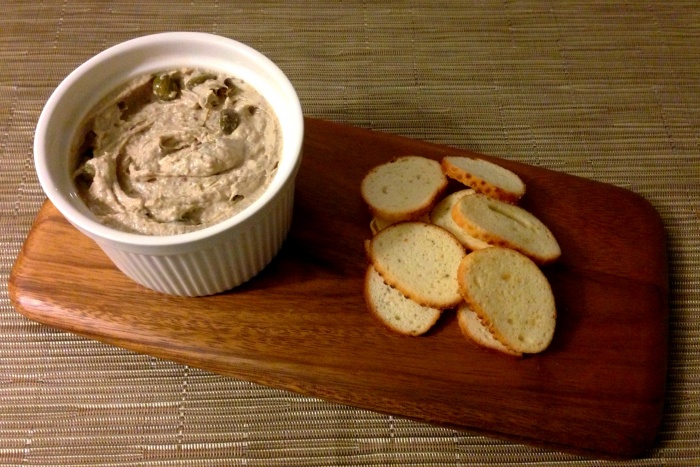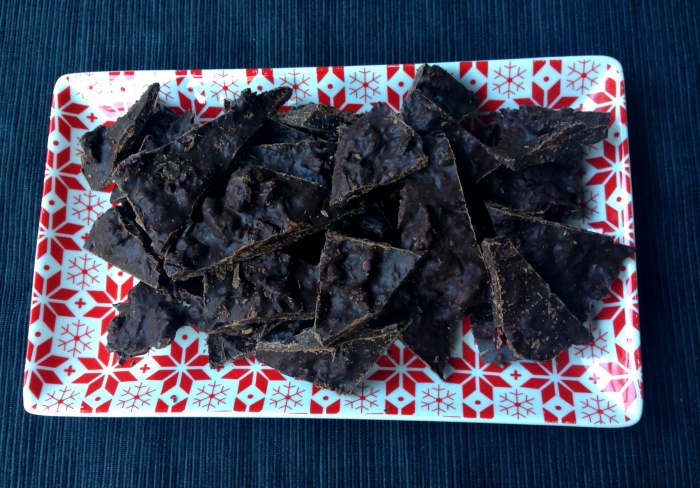 I had to snap it quickly because it's just so delicious, it won't last long!
You can visit Dani's blog
Follow her on facebook
Or buy her cookbooks here